— -- St. Patrick's Day is around the corner, and as loyal fans will tell you, one of the best parts of that is the return of McDonald's famous Shamrock Shake. This minty green beverage actually has a sweet history rooted in philanthropy.
Read on for all the details of this cult-favorite beverage – by the end, if you ever needed any reason other than celebrating St. Patrick's Day to drink a Shamrock Shake, you'll have 17 of them!
1. The Shamrock Shake was introduced in 1970.
2. It has a mint flavor and green color.
3. It's made with McDonald's vanilla reduced-fat ice cream, Shamrock Shake syrup and topped with whipped cream and a cherry.
4. A 12-ounce cup has 530 calories, 11 grams protein, 15 grams fat, 86 grams carbohydrates and 160 milligrams sodium.
5. The shake is only available for a limited time every year around St. Patrick's Day.
6. Starting in 2012, it was offered nationwide in response to consumer demand.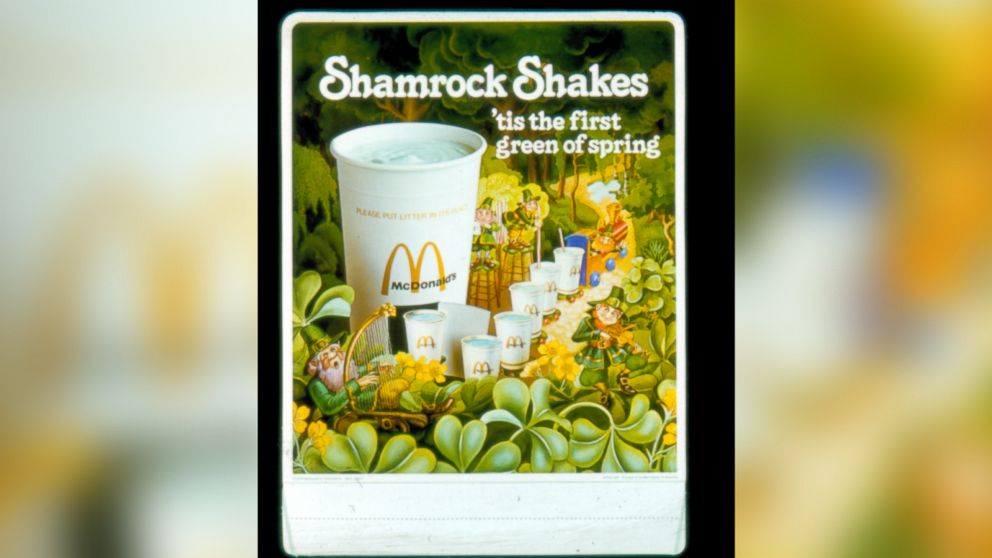 7. The shake's history is "rooted in a legacy of love" as McDonald's likes to say, with its proceeds starting the very first Ronald McDonald House.
8. The story started when Philadelphia Eagles tight end Fred Hill's 3-year-old daughter Kim was being treated for leukemia in 1974. Hill and his wife Fran camped out on hospital benches and sat in cramped waiting rooms during Kim's three years of treatment.
9. The Hills watched other parents and families of seriously ill children do the same thing. Many of the families had to travel long distances for their children to receive medical treatment and couldn't afford hotel rooms.
10. The Hills knew there had to be a solution. Fred rallied the support of his teammates to raise funds.
11. Through Jim Murray, the Eagles' general manager, the team offered its support to Dr. Audrey Evans, head of the pediatric oncology unit at Children's Hospital of Philadelphia.
12. Evans had long dreamed of a "home away from home" for families of children being treated at her hospital. Murray called Don Tuckerman, a friend from the local McDonald's advertising agency, and asked him what their next promotion was. "St Patrick's Day," Tuckerman said. "Shamrock Shakes."
13. It was perfect: The milkshakes were green – the Eagles' color!
14. With the support of McDonald's founder Ray Kroc and regional manager Ed Rensi, Tuckerman launched a week-long promotion around the Shamrock Shake, with all profits to be donated to the cause.
15. Enough funds were raised to help buy an old four-story, seven-bedroom house Evans had found near the hospital.
16. It opened in 1974 as the first Ronald McDonald House.
17. Proceeds no longer support Ronald McDonald House nationally, but local franchises may donate if they're able.