— -- A 93-year-old South Dakota woman has finally hung up her nurse's cap after more than seven decades in the medical field.
Last month, Alice Graber celebrated her retirement from the Salem Mennonite Home in Freeman, South Dakota, where she worked for over 20 years.
"I told them that [a party] wasn't necessary and the director, Shirley Knodel, she said, 'Oh no, we've got to do something here for you,'" Graber told ABC News today. "I [had fun] because of all the people coming and going that congratulated me. It was almost overwhelming."
Graber had worked as a registered nurse for 72 years since landing her first job in 1944.
She was born in Nebraska and at first, wanted to become a home economics teacher, she said.
Eventually Garber would go on to complete the three-year nursing program at St. Elizabeth Hospital in Lincoln, Nebraska.
"Nursing was my next choice and so, it was my aunt who took charge of me and she said, 'We will that you get into nursing if you wanted to,'" Graber said. "In nursing you just have to have a lot of patience and perseverance. It was one way of helping people and I thought, 'At least I'm doing something that's good.' And, I like people."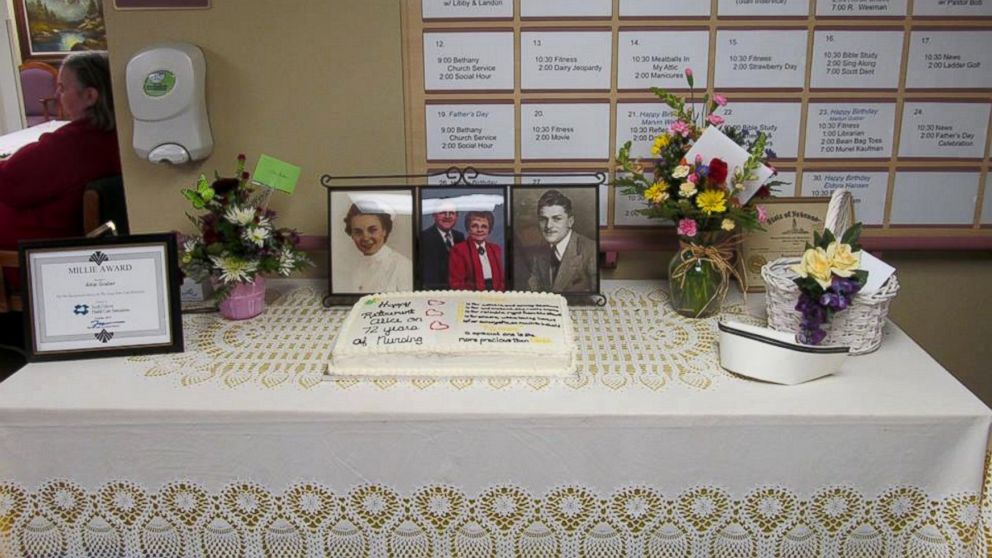 Garber married Wilbert "Jim" Graber in 1944. The couple moved to South Dakota and had two children. Jim died in 2006. Today, Graber has seven grandchildren and five great-grandchildren.
"My mother is 93 and in her generation, nursing was a sense of identity, in addition to making a difference in peoples lives especially in the local community," Garber's daughter Sharon Waltner told ABC News. "She was with parents when there was a birth and a death. These were some of the meaningful experiences that carry through the years."
Graber began work at the Salem Mennonite Home on October 22, 1996.
Shirley Knodel, director and administrator at the home, has worked with Graber since the 1970s and facilitate her retirement party on June 16. In attendance were 150 guests.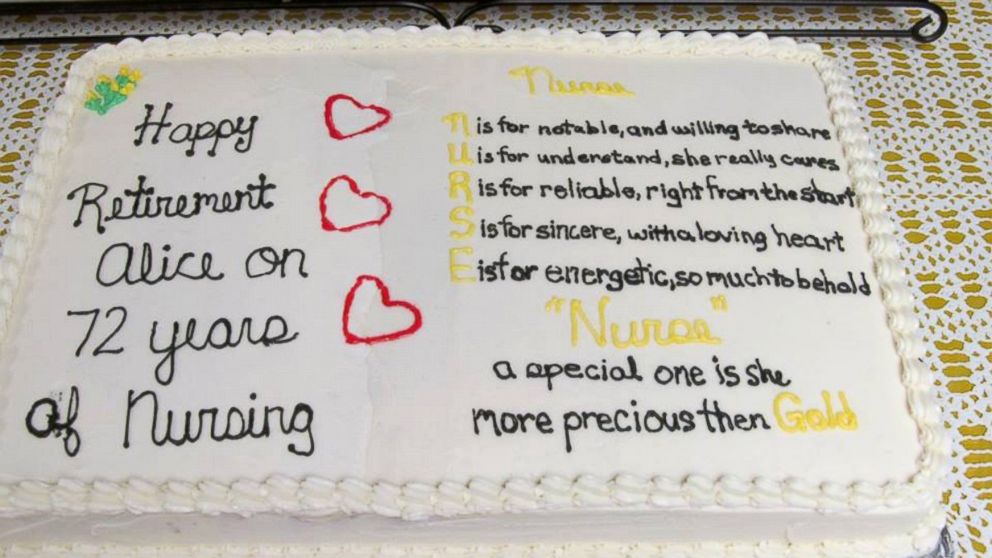 "Alice is just always a do-er," Knodel said of Graber. "That's how I would describe her. She's always out about in the public. She always walked to work. It did not matter if she was in her 90s and if it were snowing. She's just always bubbly and energetic. She's amazing."
Knodel told ABC News that Linda Young, a nursing program specialist with the South Dakota Board of Nursing, said that Graber was the oldest nurse in South Dakota.
To keep busy, Graber said she will continue her volunteer work at the nursing home, where she brings meal trays to the residents and feeds them.