— -- A 51-year-old mother with multiple sclerosis gave birth to her own granddaughter in North Dakota, acting as a surrogate for her daughter.
The pregnancy came with an unexpected and welcome side effect.
Mandy Stephens and her husband Jamie couldn't wait to get pregnant after marrying in 2013, but they had trouble conceiving and opted for in vitro fertilization.
Stephens became pregnant, and the 20-week ultrasound looked perfect. But she subsequently went into early labor and lost the baby, which she named Theo.
"There's so much excitement," Stephens, 32, said. "You carry the baby for so long, and then it's all ripped apart and taken away. Your whole world stops."
Mandy's mom, Sherri Dickson, felt the pain, too.
"Watching your child lose a child is the definition of sadness," Dickson said. "I can't describe it any other way. It breaks your heart."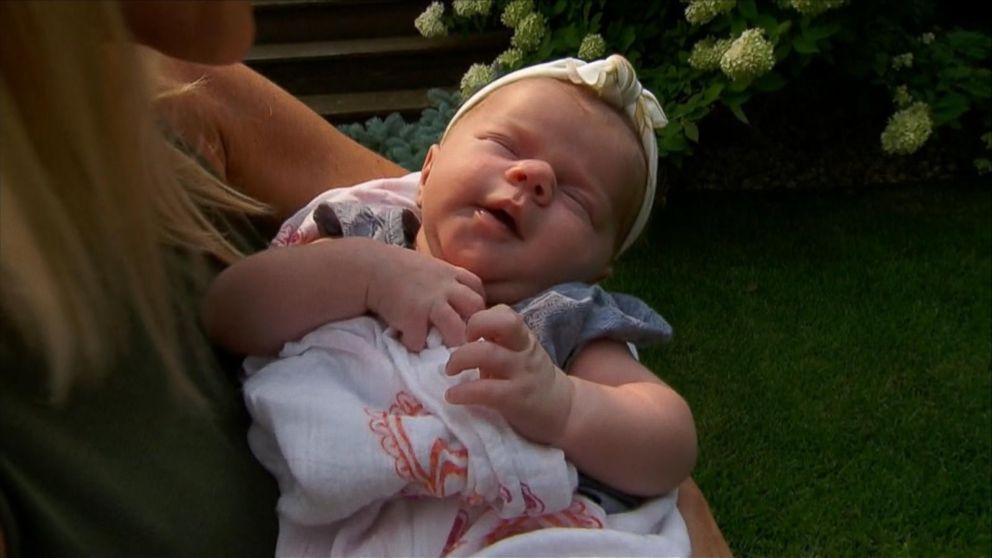 Because Stephens' cervix opened early, doctors warned the couple that a premature birth could happen again, though there is a procedure that may allow women with cervical insufficiency to carry their own baby.
The couple considered different options. Adoption? A surrogate?
That's when her mother stepped in.
"I decided that if they needed somebody to carry their child, I would volunteer," Dickson said.
The decision was easy for Dickson, who, at 51, had three grown children of her own. But there could be complications because of her age and diagnosis of multiple sclerosis, an autoimmune disease that attacks the central nervous system.
"The disabling effects of the disease may make it physically difficult for the mother to carry a pregnancy," according to Johns Hopkins Medicine. "Muscle weakness and coordination problems may increase the likelihood for falls."
But the situation also came with a potential health benefit for Dickson, whose MS was in remission: Becoming pregnant might help keep it that way.
Researchers think that protective changes in the immune system during pregnancy keep the disease at bay.
Two attempts were made with in vitro fertilization, and by November of last year, Dickson was pregnant with her daughter and son-in-law's baby.
"Pregnancy was easy," Dickson said. "I was very fortunate … I was playing tennis a week before I delivered, and working out with my trainer, but the delivery at 51 was way harder than the delivery at 33 with my last baby."
Their bundle of joy was born four weeks ago.
"It's indescribable," Dickson said. "There are times I look at … [the baby] and say, 'We did that, you know?' We gave her what she wants. Not that you ever make up for a baby you lost but you give someone that hope, you know?"