— -- When Simon Beck left his office job to follow his passion for art, he found his perfect fresh start in nature.
Beck has been dubbed the world's first snow artist, creating art on the unconventional canvas.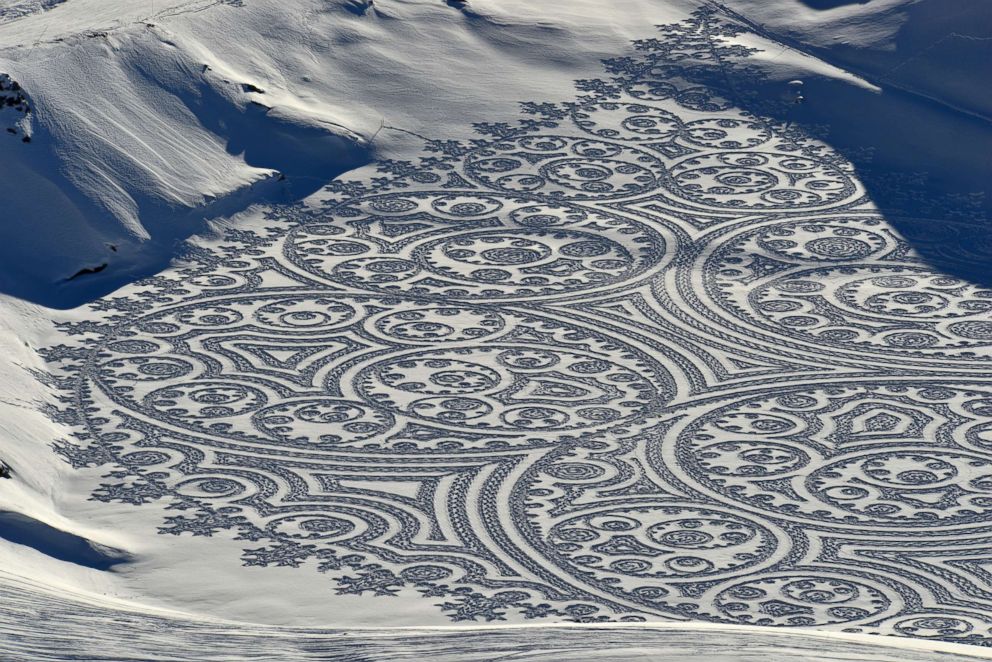 Beck told ABC News' Gloria Riviera that finding an art form that's never been done before is "incredible."
"That's the holy grail of art, isn't it?" he said. "I feel I've won the lottery and I didn't even have to buy any tickets."
Beck, 59, is a former cartographer turned snow artist thanks to his decision later in life to pursue this hobby. "The surprise was, nobody had done it before. I was amazed when I found that out on the internet and when I realized it really was worth taking seriously," he said of his decision to pursue snow art as a career.
"I had no idea how good it would look when I made my first one. I was pretty blown away," Beck said.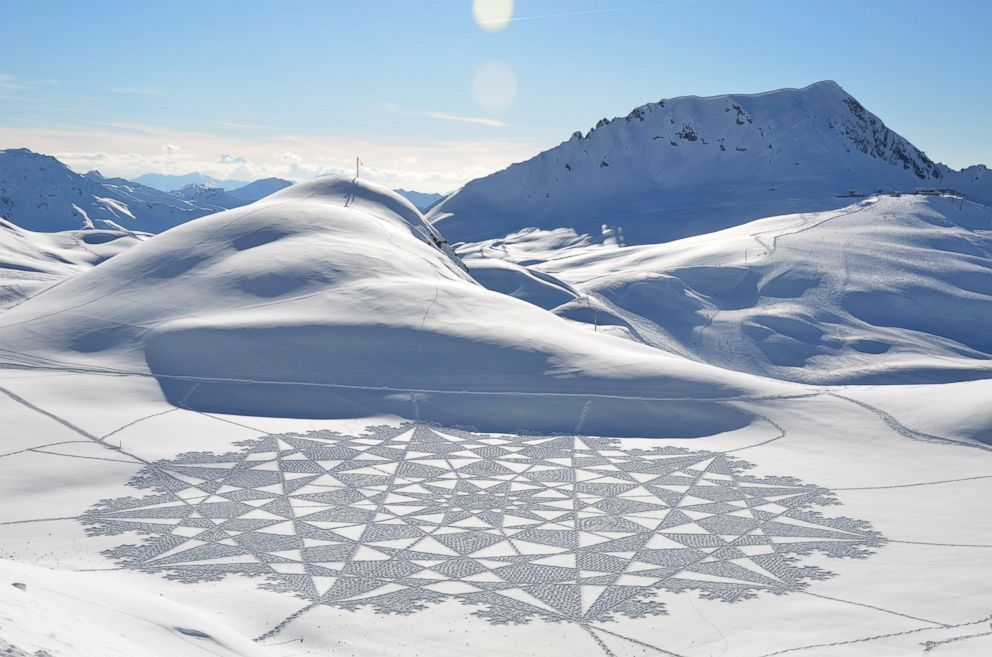 After studying civil engineering at Oxford University, Beck became a cartographer, but always had a passion for drawing and geometric shapes in particular.
"It started just as a joke one day really," Beck explained. "After skiing one day, I decided to make a drawing on this area of level snow. ... I really had no idea how good it would look when I made that first drawing, at the time I had no snowshoes, no digital camera," he said of his first ever creation that he looked down on from a ski lift.
Beck said that in 2009 his feet were giving him trouble and he decided to make snow drawing his main form of physical exercise.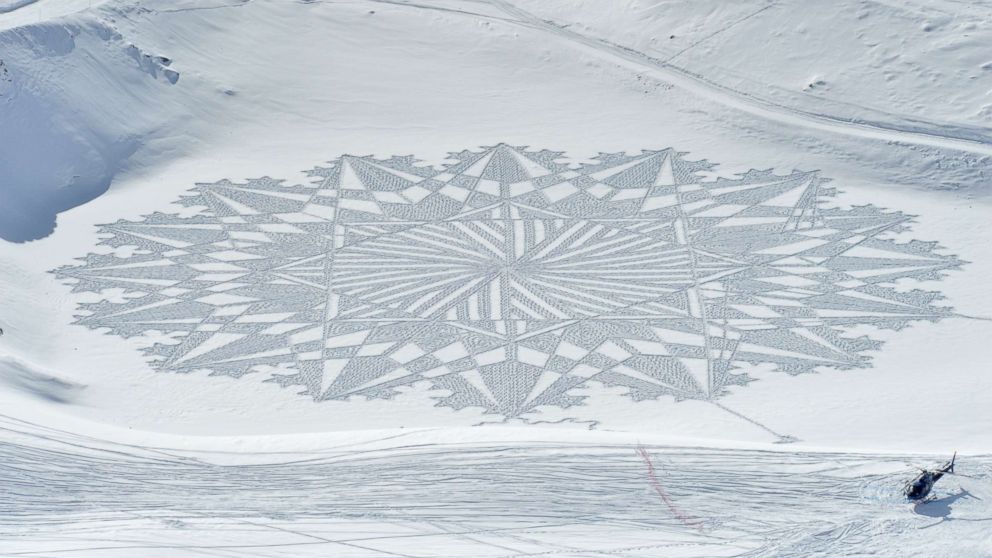 To create this work, Beck meticulously steps his way through the snow using only snowshoes and a ski pole for measurement with nothing else but the image of a design concept in his head. But as his designs developed and became more complex, Beck said he began to start drawing them on paper first.
"You would start by trying to work in the middle of the space," and move outward he explained, adding that every line he draws on paper is one line he has to walk.
One installation can take Beck hours, or even days, to create.
Beck's transfixing murals in the fresh powder have become a viral sensation since his work was first shared and his work is now sought after internationally.
"For the first time, I felt wanted. Most of the time I had been doing failed careers, and people around me are asking what's the quickest way of getting rid of this person," Beck said. "And for the first time, I felt people actually wanted me. I felt like a more valued member of society."
His art has become a global sensation and Beck has completed installations at Banff National Park in Alberta, Canada, Summit Powder Mountain in Utah and an annual winter festival in Minnesota "The Great Northern," just to name a few.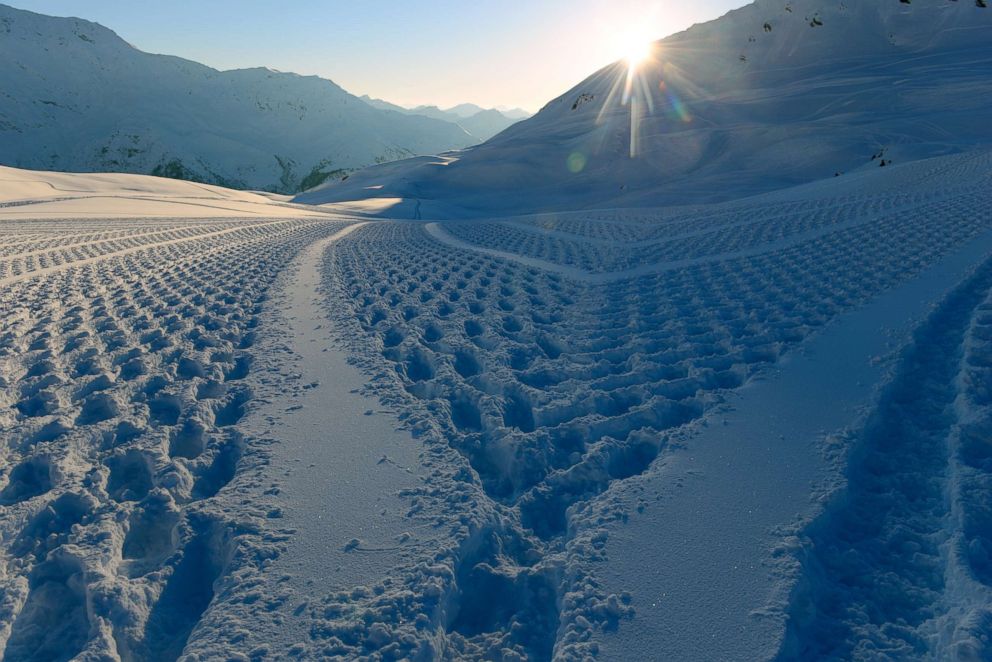 "The Great Northern" showcases plenty of winter-related talent from ice carving to curling, but the big-ticket item was Beck's latest masterpiece and his 276th creation.
While much of the world had their eyes on U.S. Bank Stadium for the Super Bowl this past Sunday, Beck was less than a mile a half away at Target Field working away on his intricate geometric display.
As Beck assessed the snowy conditions on his first ever canvas at a sports stadium, he said, "It's slightly better than yesterday. The sun is shining. We can see one or two things we couldn't see yesterday. So overall, I think it's pretty good, we should get a reasonable result."
Beck put his engineering skills to good use drawing his design to scale over an engineer's rendering of the stadium's surface.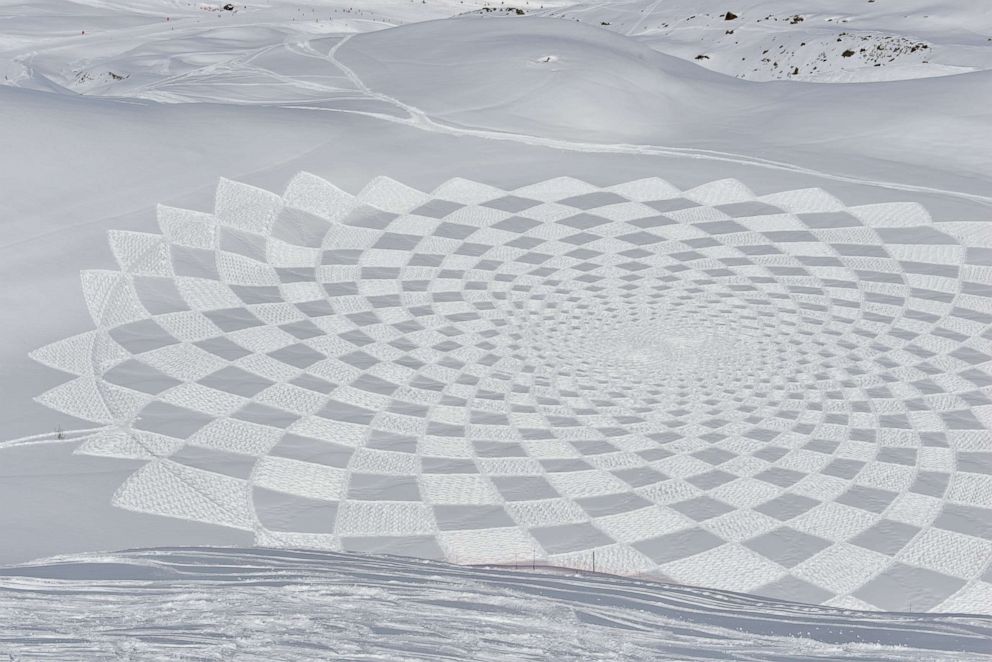 "This is an engineer's drawing of Target Field, cut down to reveal just the grass area. And this is something I drew on top of it, each of these divisions is 40 feet, the length of this side of the square is 240 feet. Gives an idea of the scale of the drawing."
Although he checks his measurements ahead of time, Beck said, "It's surprisingly hard to judge the diameter of [the] available area."
Beck straps into the snowshoes and takes calculated steps working clockwise to create a giant geometric snowflake spanning the entire snow-covered field.
For this installment, Beck started with the main circle in the middle before drawing smaller circles around the edge. "Once [the main circle] is finished, you go over the divisions between shaded and not shaded a couple more times. Leave that to last in case the wind starts blowing snow around."
"If you walk along it twice you'll get a nice smooth edge," he said. "So there's a nice curve on the boundary."
Beck used a ski pole to make light marks in the snow measuring the gaps between spaces as he moved and said that "just 6 inches" too wide or not wide enough would result in a noticeable error from above.
Beck said that the ephemeral quality of his work is part of the appeal for his creations.
"You wouldn't have a blank canvas if it wasn't destroyed by the forces of nature," he said. "And also, I mean really it's graffiti and I don't think I would do this if it wasn't going to be destroyed by the forces of nature."
After 45,000 steps and 10 hours at work, Beck's masterpiece was complete and he said the greatest satisfaction is knowing that now he's one step closer to being remembered for doing the thing he loves.
"I mean I am now the snow artist. That's what I do," he said. "It's the best opportunity I've had, yeah it's what I'll be remembered for, not the earlier failings in life."