A beloved mom, who works as an operations manager at a charter school and has become a mother figure to the entire school, got an early Mother's Day surprise today from "GMA" and chef Emeril Lagasse.
Lea Siegel, an educator from Fort Worth, Texas, was nominated by her 19-year-old son Chris Pitts, who described his mother's love as "an unconditional love that's ... unbreakable essentially."
Lagasse named Siegel the winner of his annual "Breakfast in Bed" search before leading her into the school's auditorium filled with students. Siegel was then presented with a check for $5,000 for all that she does for her school and family.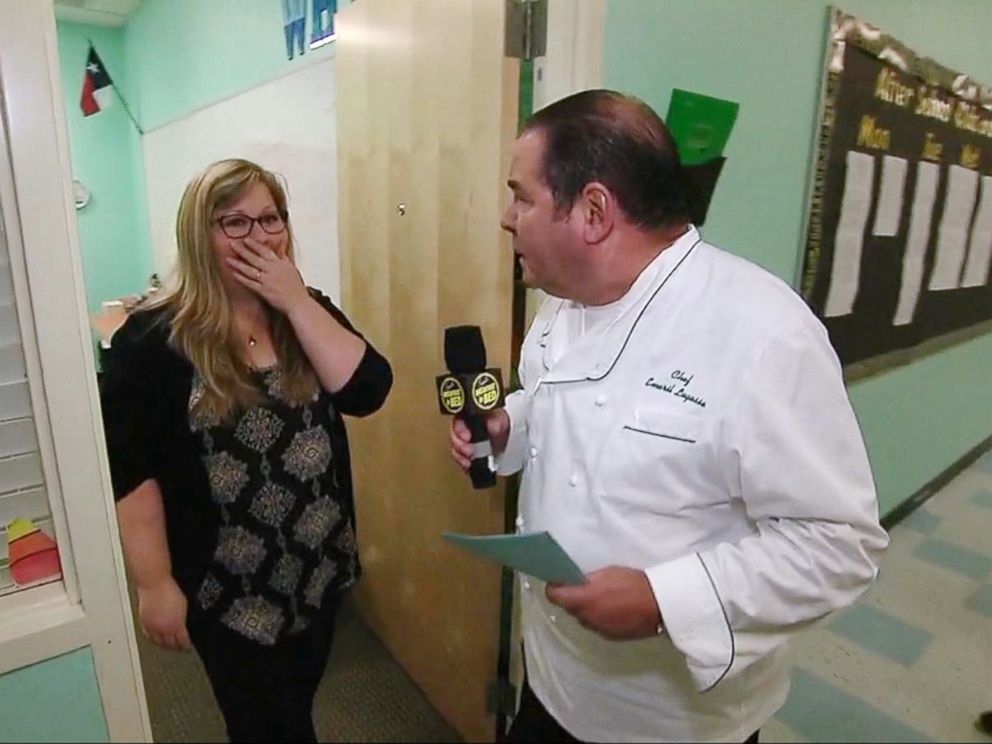 "I feel a lot of love, but I do it because I love them," Siegel said live on "GMA."
Pitts told "Good Morning America" that his mother had him while she was a teenager, writing in his nomination letter, "She could have been a statistic, a teenage mom fallen through the cracks but she worked hard, put herself through school and became a teacher."
Pitts, a freshman at Texas Christian University, surprised Siegel in the auditorium this morning.
"Everything I do in this life is for my mama," Pitts said. "So I love you forever and always."
Siegel's younger son Bobby added, "I love you very much and I knew that this would mean the world to you."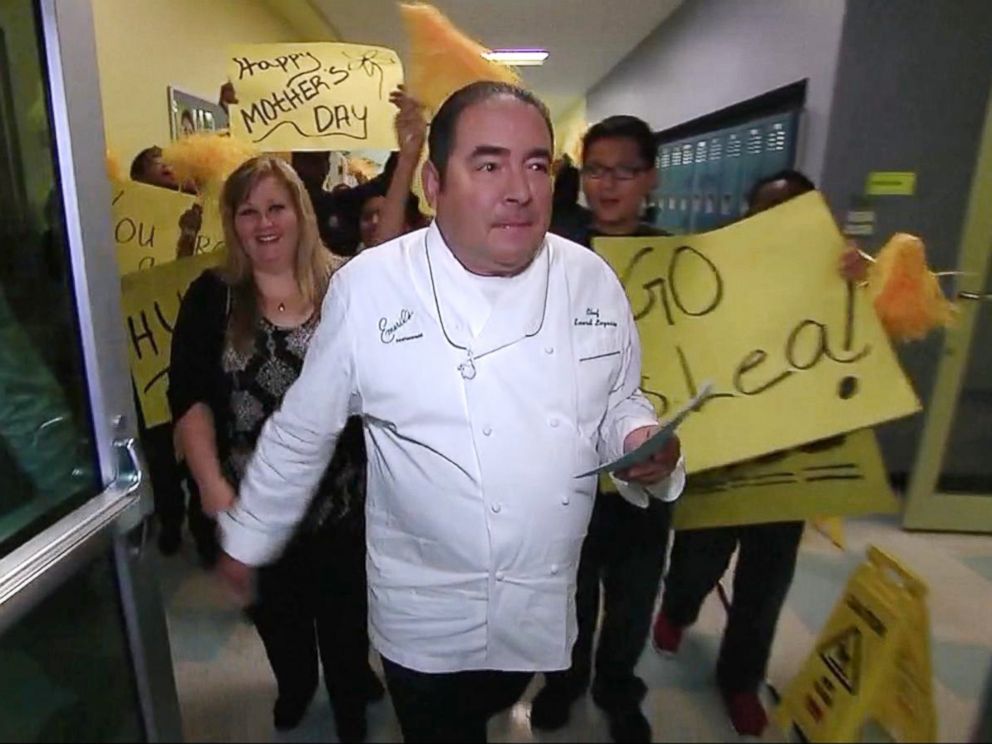 Pitts said that for a while it was just him and his mom against the world.
"She stepped up to the plate, you know, and filled both roles, mom and dad, for me, for a long time," Pitts said, adding that his family eventually grew over time when his mother married his stepfather, and they then welcomed him and his brother, Bobby, into the family.
"As a child, she struggled a lot and she made a promise to herself that ... her kids wouldn't," Pitts said, adding that he would describe her as "selfless and sharing and giving and caring."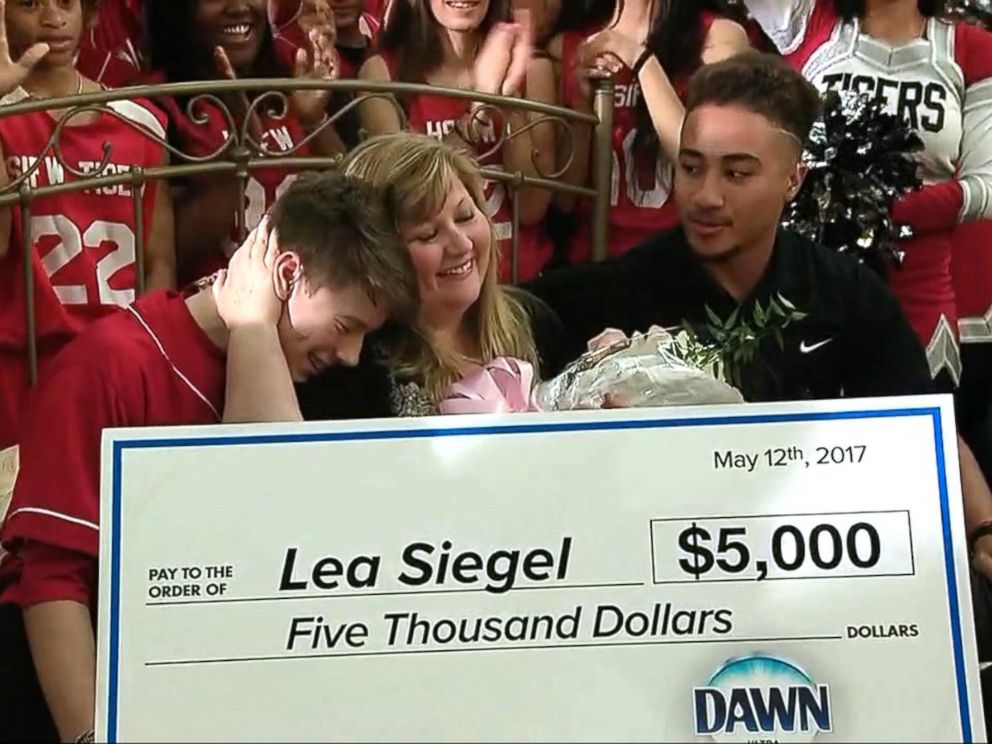 Siegel, who works as the operations manager at a school, has been called a mom to the whole school by her friends, for her work that goes above and beyond her normal responsibilities.
"She is the mom of all moms when it comes to Chris and Bobby," Siegel's colleague, Erin Wolfe, told ABC News, "but she's also the mom of the school."
Siegel quietly helps struggling students by discretely giving food and new shoes to students in need, according to Pitts. One Christmas, she organized a secret holiday dinner for 85 struggling families.
Wolfe told ABC News that Siegel will often spend her own money in helping students, saying, "I cannot even count the number of times I've had to tell Lea, 'Stop, stop, spending your own money.'"
When one student, China Scott, whose father has cancer, was not able to go to the school's prom because of the family crisis and mounting medical bills, Siegel made it her mission to find a way to not only get Scott to the dance, but also make sure that she had a wonderful night.
Pitts described his mother jumping into action, saying, "My mother went out of her way and ... was like 'I'm not gonna let that happen.'"
Through donations and by using her own money, Siegel made sure that Scott had a dress, shoes, and was able to get her hair and makeup done for the big night.
"It was just nice to have this positivity, like this dream come true," Scott told ABC News. "Just to be able to go out have a good time with your friends and not worry about what bad things will happen tomorrow."
"Really it means a lot cause you don't really find that many people that'll be there for you," Scott said.
Wolfe said she hopes that this surprise from "GMA" and chef Lagasse will help show Siegel how much everyone appreciates the selfless work she does for other people.
"I hope this helps her realize how much she is loved," Wolfe said. "And how much we appreciate all the little unspoken things, un-shared things, she does for others."
The students at the charter school held signs that described how they feel about Siegel. They read, "Fairy Godmother," "We Love You," "A Force," "You're the coolest," and "Happy Mother's Day Miss Lea."
"I try to treat every single student like they were mine," Siegel said, "and I'm really glad that they feel how much I love them, all of them."