— -- Alcohol and exercise aren't the most obvious pairing, but that's not stopping breweries across the country from holding yoga classes in their brewing rooms, followed by a pint.
It's a fair exchange for everyone involved: yoga teachers get a big space and people who might not have normally tried the practice and breweries introduce their beers to customers who may not have come in otherwise.
"Our feedback has been that they really enjoy that it's a mix of getting to do yoga and get in that yoga session, but also being able to hang out and have a happy hour atmosphere afterwards," Tammy Portnoy, marketing director for Port City Brewing Co. in Alexandra, Virginia, told ABC News. "Going to a yoga studio, there's nowhere to hang out afterwards. This way we're able to give people the social and yoga experience all in one."
And sell their beer, of course -- Portnoy said it's a way to fill the brewhouse with more people than they might typically get on a Tuesday night.
"That's the coolest part. A lot of times we don't have the most varied customers, but everybody comes out for yoga," she said. "We've had folks come out with their moms, dads, all ages come out for yoga from 22 to 60s. It's a lot of people who say they wouldn't typically have tried yoga before, but because they like coming to our tasting room, they come out."
Port City Brewing Co. went from offering it once a month to once weekly due to such high demand.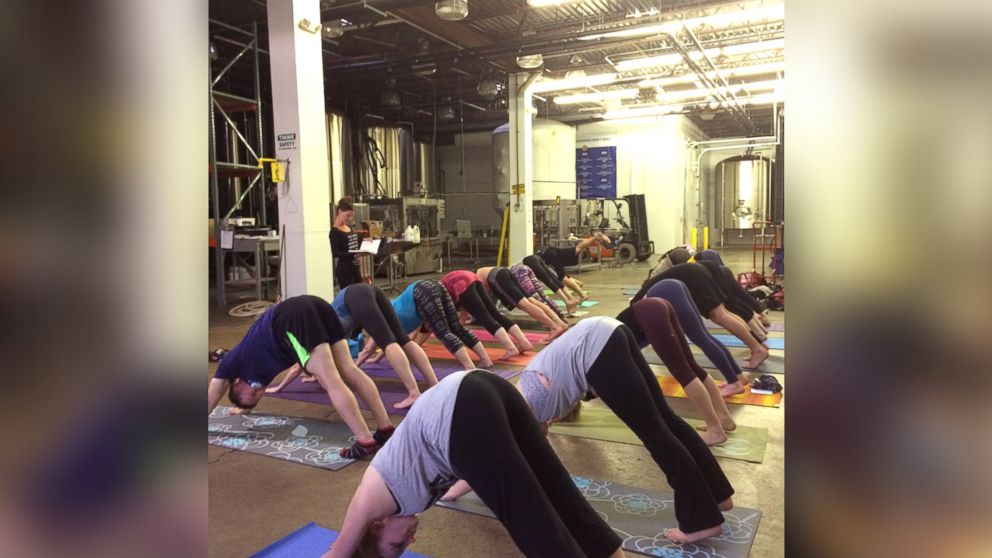 Having that varied customer base was a huge attraction point for yoga teacher Beth Cosi, who founded Bendy Brewski in Charleston, South Carolina in 2011.
"I get a lot of men, and you don't see a lot of men in yoga studios. Sometimes I have more men than women, which even after almost 4 years amazes me," she said.
Classes at breweries typically sell for $15 and include 45 minutes of yoga and a pint of beer afterward. It's so popular that more than a dozen breweries across the country offer it and BrewAsanas founder Adrienne Rinaldi is even considering franchising.
"I have had dozens of teachers reach out to me and ask me how I do it, what my pricing structure is, how I got started, how I keep track of payment and registrations and all those things," Rinaldi told ABC News. "I definitely think there is a market for it."
Pricing structures vary by brewery, with some like Port City Brewing Co. paying the teacher for their time, and others like Cosi paying for the beer, but not the space, and factoring that into her class price.
"You could pretty much do yoga anywhere and yoga is whatever you make it to be," Rinaldi said. "You meet new people and chat. It really lends to a great social environment."
That's what San Diego-based Hoppy Yoga founder Lynne Officer said it's about for her: a sense of community.
"People who have never been open to yoga – like they're not interested in wearing the outfits, going to a strange studio where they have incense or chimes and chanting – it brings this element of familiarity to them and it's less intimidating," she said. "Plus, there's a reward at the end."