— -- A Florida bride and groom were posing for photographs after their beach wedding Sunday when they heard screams of surprise from their wedding guests.
Flying high in the sky above the newlyweds, Rachel and Chandler Mills, were the Blue Angels, the U.S. Navy's flight demonstration squadron.
"People started pointing to the sky and screaming when they saw them," said the couple's wedding photographer, Jordan Burch. "But they went by so fast I couldn't adjust for them."
Burch got a second chance to capture a once-in-a-lifetime moment for the Mills when the Blue Angels unexpectedly circled around and flew past them once again.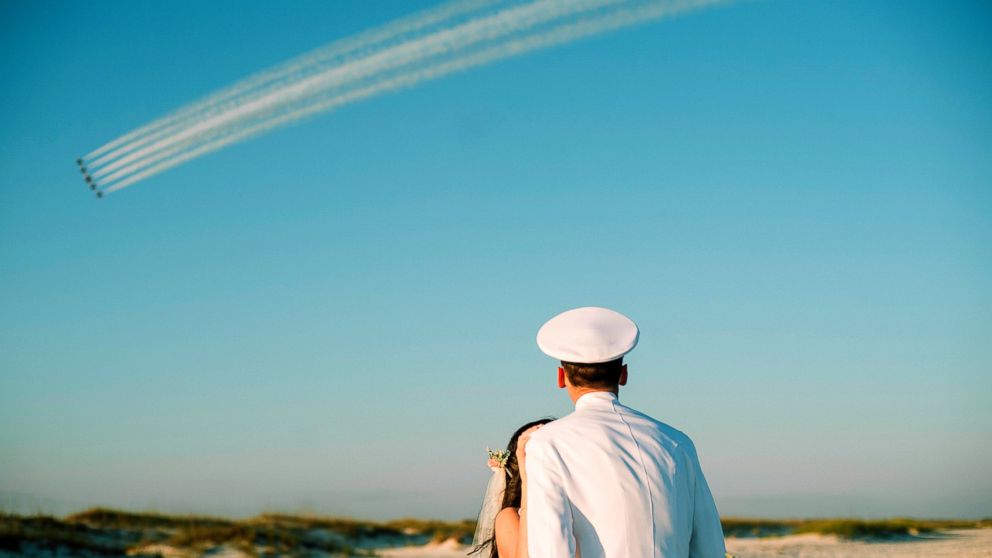 The second fly-by over Johnson Beach in Pensacola, Florida, caused a moment of chaos for Burch and the wedding party.
"We were in the middle of group portraits and I started to scream for everyone to get out of the photo because the Blues are coming," Burch recalled. "Everyone ran to get out of the photo and Chandler just ran to Rachel and kissed her."
She added, "I probably took 700 photos in the five seconds they were in the sky just to get the shot."
Chandler Mills, 26, is a U.S. Navy Ensign who moved to Pensacola, where the Blue Angels are based, last year to attend flight school.
Rachel Mills, 22, joined her husband in Pensacola after graduating from the University of Alabama at Huntsville, where the couple met.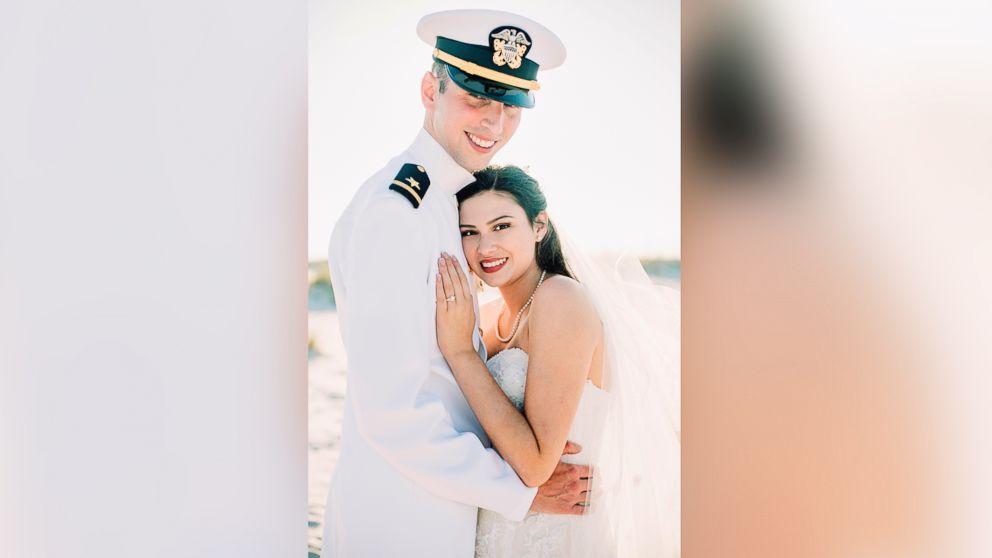 "They fly over our apartment all the time but to have them fly over our wedding was really awesome to see," Rachel Mills told ABC News.
The Blue Angels fly back to their base on Sundays so the couple knew there was a chance they could see them on their wedding day. Mills said she thinks it was her husband's white Navy uniform that caused the pilots to make a second loop, allowing for the perfect photograph.
"That was a complete surprise," she said, adding that the pilots let out the jets' blue exhaust, "which they don't normally do."
The Blue Angels did not respond to ABC News' request for comment.
The Mills plan to stop by one of the Blue Angels' practices next week to say thank you for the gesture.