— -- Brides are stepping up to help brides-to-be after the sudden bankruptcy of a national bridal dress chain left many without wedding dresses.
Women are using the hashtags #AlfredAngelo and #dressmatchmaker to find strangers who may have purchased wedding gowns from Alfred Angelo Bridal, the chain that suddenly closed its stores last week after nearly 80 years in business.
The bridal chain, which said on its website that it had more than 60 stores, informed customers via the website and messages on closed storefronts that it had filed for Chapter 7 bankruptcy on July 14 and advised them to contact the chain's bankruptcy trustee via email.
"We will post additional information regarding the status of pending orders on this website as it becomes available or otherwise contact you as we receive more information regarding your purchase," reads the statement, in part, on Alfred Angelo's website. "We apologize for the inconvenience and hardship resulting from this event. We appreciate your patience. Thank you."
Amber McGraw, 27, said she paid $995 to purchase her wedding dress and accessories at an Alfred Angelo store near Columbus, Ohio, the same week the chain declared bankruptcy.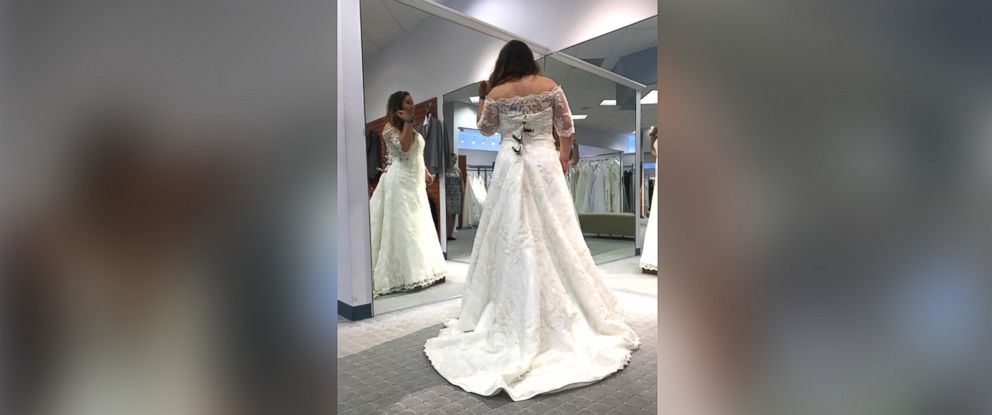 McGraw, a student who is also in the National Guard, took to Twitter to express her shock and fear that she wouldn't have a dress for her September wedding to Derek Pack.
"When the news first broke I panicked because we've been engaged for seven years and I've been saving up this whole time," McGraw told ABC News. "Not only am I out my wedding dress, but I'm out almost $1,000."
Hundreds of miles away in Chicago, a stranger, Aly Porter, saw McGraw's story online and wanted to help. Porter, who works in the technology industry, has for the past four years purchased new wedding dresses at discounted prices and donated them to a charity that provides the gowns to brides-to-be in the military.
"I had about 25 gowns in my basement getting ready to ship off to this organization," Porter, a mother of two, told ABC News. "I had five dresses that happened to be in Amber's size and so I offered them to her."
Pryor sent photos of the dresses over Facebook to McGraw, who chose an Ian Stuart gown and veil that Pryor estimates would retail for over $7,500.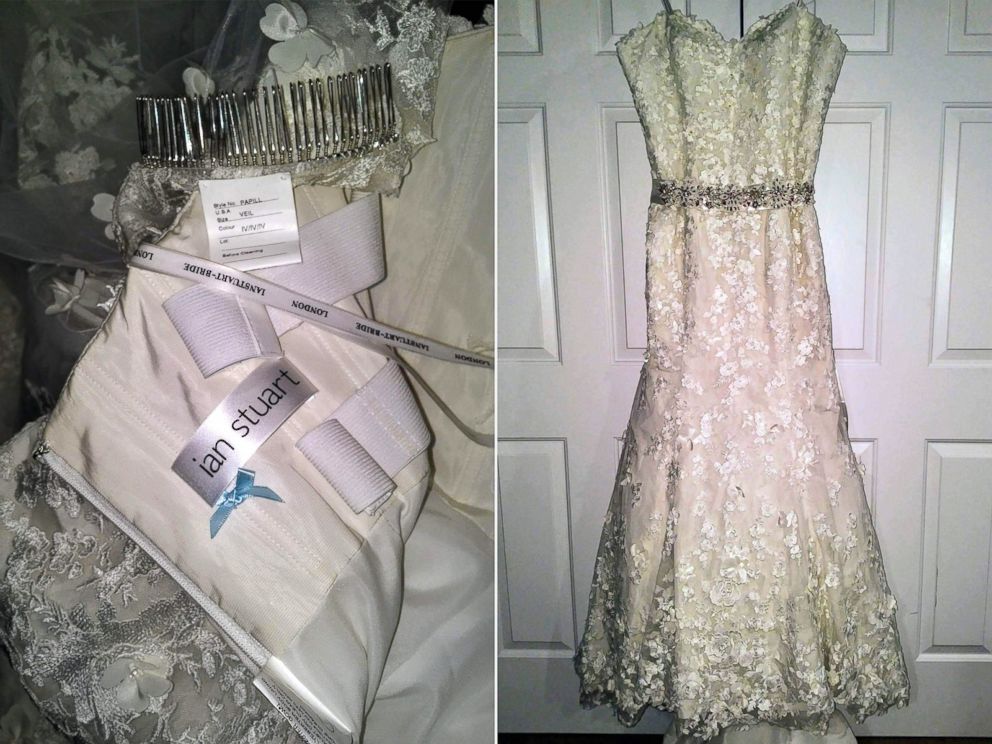 "I just knew that's my dress," McGraw said. "It's the kind of dress you rip the pages out of the magazine for."
She added, "I've got a Cinderella story. That's for sure."
Porter mailed the dress and accessories to McGraw on Monday.
"Truly, I dropped the box off at Fed Ex and my heart was full," she said.
Cassandra Duck wore a dress she purchased from Alfred Angelo at her wedding three years ago. When the 33-year-old from Malden, Mass., saw the chain had closed, she immediately posted an offer on Twitter to donate her dress to any bride-to-be in need.
"I put myself in these women's shoes. This could have easily happened to me, too," Duck told ABC News. "I took a loan out of my 401(k) to get my wedding dress. Who has an extra $1,000-plus laying around to get another one?"
She continued, "Then I thought about what I could do to help and my dress, although sentimental of course, was just sitting in the closet. I haven't touched it since our wedding day."
Duck said she has received positive feedback on Twitter, even from a dry cleaner owner in Michigan who offered to clean the dress for free.
Jennifer Gable, of Riverside, California, started a Twitter account for herself just to be able to offer the dress she wore at her own wedding to another future bride.
"I got married five years ago this month [and] I remember how exciting and stressful it was," Gable, 29, told ABC News. "I would be devastated if I was in a situation where my dress was ripped out [from] under me with no warning."
She added, "I love my dress but it's literally just sitting my my closet so why not let another bride enjoy it."
Retailers and wedding brands have also stepped-up to help brides-to-be left without wedding dresses.
The Knot has set up a dedicated email address, dress911@theknot.com, for brides affected by the Alfred Angelo closing.
"Our team at The Knot has been getting a lot of heartfelt messages from brides affected by this news and are working hard to help these brides find other options," The Knot Executive Editor, Kristen Maxwell Cooper, said in a statement to ABC News. "While the details of each bride's gown dilemma varies slightly, overall, these women are looking for an expert to speak with to ease their fears and find solutions, that's where our team comes in. In addition to our dedicated email address where brides can reach members of our team, our editorial team at TheKnot.com is continuing to update our coverage with new details from Alfred Angelo as they become available, as well as new offerings from retailers across the nation."
David's Bridal is offering brides-to-be with receipts for Alfred Angelo dresses a discount of 30 percent off to purchase new bridal dresses, according to the chain's website.
Alfred Angelo declined to provide a comment on its bankruptcy filing. Patricia Redmond, a lawyer for the company, described the outpouring of support for brides who have Alfred Angelo dresses on order as "truly inspiring" in an email to ABC News.
ABC News' Enjoli Francis, Linzie Janis and Micahel Mendelsohn contributed to this report.