— -- A Charlotte pizzeria is being praised after the store's owner posted a sign explaining why it had a unisex bathroom -- "because sometimes gender specific toilets put others into uncomfortable situations."
Juli Ghazi created the sign five months ago when the second location of Pure Pizza opened. Recently, it got viral attention after a friend posted a photo of the sign to Facebook Saturday.
The sign, which hangs above the bathroom's sink, reads:
"We have a unisex bathroom because sometimes gender specific toilets put others into uncomfortable situations. And since we have a lot of our friends coming to see us, we wanted to provide a place for our friends who are: Single Dads with daughters, Single Moms with sons, Parents with disabled children, those in the LGBTQ community, (and) adults with aging parents who may be mentally/physically disabled."
The sign concludes with, "Thank you for helping us to provide a safe environment for everyone."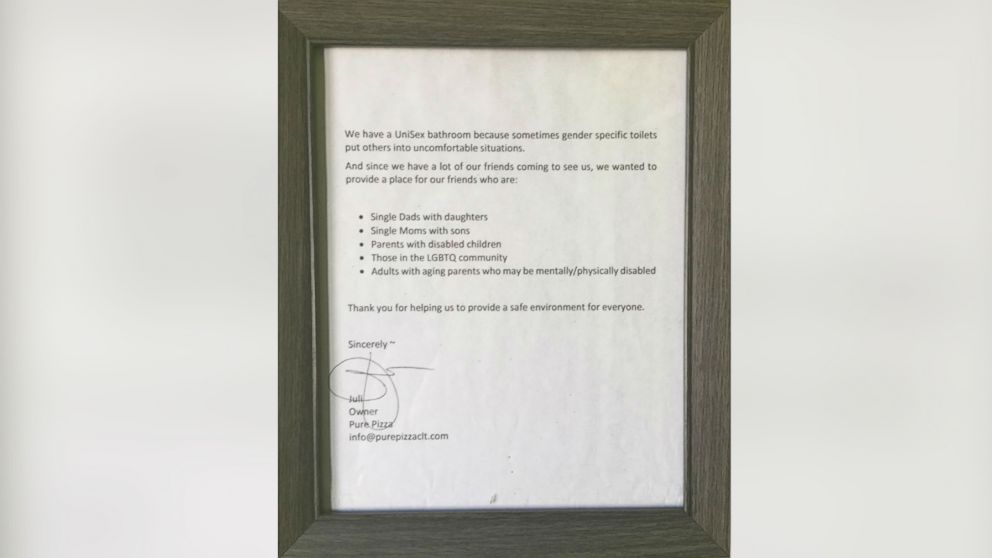 Ghazi, 43, tells ABC News she decided to create a unisex bathroom when her second location opened because there was a need from her employees.
"I had one employee who is a single dad of a 5-year-old, another who is a single mom with two boys and a good friend of mine has a dad with dementia," she recalls. "All of these stories started coming to light about individuals who have a need for a gender neutral bathroom so it really opened up my eyes."
Ghazi says she was surprised by all of the recent attention her sign is getting because it's been up since the location opened. Also, "Unisex bathrooms and family bathrooms have been around forever."
Still, she said she understands why the sign, which she placed above the sink to "encourage people to look at it and read it," touches people.
"With this sign it touches on ageism, it touches on homophobia, it touches on individuals with disabilities and communities of individuals that tend to experience more discrimination and that's why it resonated on so many levels," she said. "People have been reaching out from around the world and saying, 'You heard us, you heard our voice. Now we're able to be a part.'"