Children Take Santa's Polygraph Test at London Mall
Santa turns to science to help compile naughty or nice list.
December 13, 2013, 2:44 PM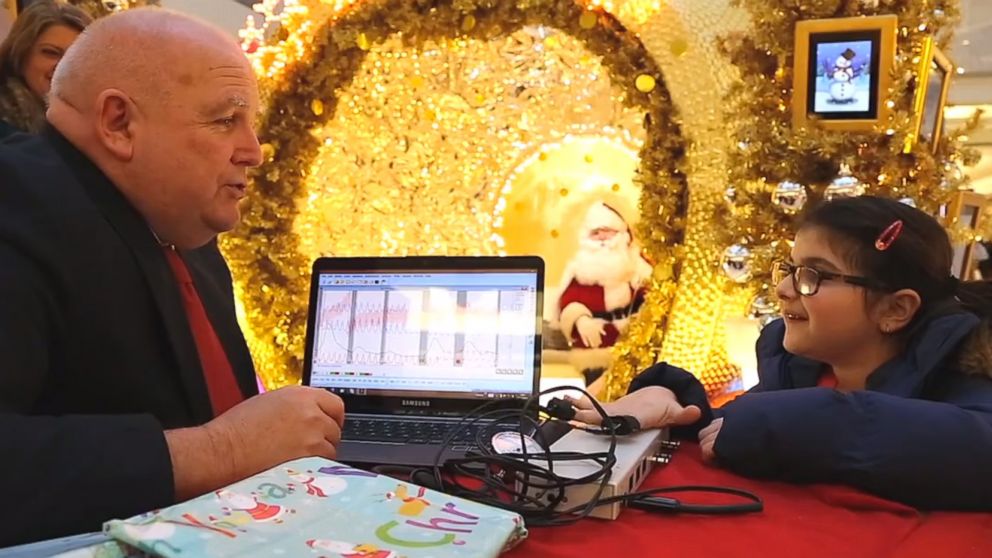 LONDON, Dec. 13, 2013— -- The unsuspecting children are led down the stairs and deep into a murky dungeon where a uniformed man wires them up to a sinister machine. The dreaded lie detector will have no mercy.
Well, in this case even the guilty don't have much to fear. The man is a cheerful Santa and the "dungeon" is jolly Ol' Santa's grotto.
But the lie detector is for real.
This year, Father Christmas decided to treat his followers with a little less trust and use London as a testing ground for his new approach to drawing up his naughty and nice lists.
London's Hammerson shopping malls will be putting children's honesty to the test, as polygraph machines have been set up to ensure kids are being good this Christmas. Organizers said the initiative is designed to instill a sense of honesty among children during the festive season. In a trial run at London's Brent Cross Shopping Center, a polygraph expert asked children a range of questions, such as "Have you been good this year?" and "Do you tidy your bedroom?
After all, Santa only delivers to the well-behaved, so naughty kids could be in for a shock this winter. Those prone to the odd fib may be looking forward to little more than a lump of coal come Christmas Day.
In these tight times, this deception-defeating initiative may make perfect sense. Mothers and fathers of the more rowdy bunch could save a buck or two, or in this case, a pound or two. Some London parents, by being less generous this year, won't be just plain mean -- they will have Santa's polygraph statement to support them. Confronted with a document of such gravity, Little Andy's or Mary's counter arguments will bear no weight.
In fairness, Father Christmas doubts his polygraph will spring many unpleasant surprises and is expecting that the tests, to be carried out between Dec. 18 and Dec. 21, will only show how honest and well-behaved young Londoners are. With expensive presents like the Xbox One and PlayStation 4 out this month, parents will be sure to keep a close eye on their little ones' performance.
So kids, it may be a season to be jolly, but now, first and foremost, is a season to be truthful! Santa has a new bag of trick to figure out how he'll be handing out his bags of presents. The good ol' days are over.