— -- Snow lightly falling through the trees and forming soft, graceful drifts; one of the magical delights of winter. But after the snowmen have been built and the hot cocoa finished off, one inescapable fact remains: You now must remove that snow.
When done incorrectly, snow-clearing can injure your body and damage your vehicle and even the hardscaping around your home. Find out the best way to clear snow quickly and efficiently.
When Do You Start?
The question of when to clear snow is not as easy to answer as it seems. It is tempting to begin clearing walkways and vehicles when the first layer of snow develops. But additional snowfall will only negate your efforts. By the time you've finished, it's time to start all over again.
What can be worse than that? Waiting too long. Pedestrian-packed snow forms ice that is hard to chip away. More snow means higher snow banks, which are difficult to reach with the snow shovel or snow blower. Eventually, warmer weather turns that soft, easy-to-scoop snow into heavy, dirty slush.
Generally, you will want to wait until the snowfall has completely stopped, but no longer than six to eight hours after it has stopped.
Even the law has become involved in this question. Many municipalities require that homeowners clear publicly accessible walkways in front of their residences down to bare concrete within a certain timeframe. For example, most cities in the Washington, D.C., area have this requirement, with the timeframe ranging from six hours to 48 hours after the snowfall has ended.
The Right Tools Make Your Job Easier
Are you ready to fight the snow? Like any warrior, you need the right weapons.
Show Shovel: Choose smaller shovels because larger ones can be hard to lift. Ergonomically correct curved shovels allow you to reach lower without bending down as far.
Walkway Ice Melt: After shoveling, use a magnesium chloride-based ice melt, not rock salt, in order to preserve your walkway and plants. Sprinkle it onto any ice that was not removed by the snow shovel.
Snow Brush-Ice Scraper: These are invaluable for brushing away light snow from delicate surfaces, such as your car. Telescopic handles allow you to reach high, remote sections of your vehicle's windshield.
Snow Blowers: Not just for fastidious homeowners, snow blowers are essential for places that receive heavy snow or for anyone who has large expanses to clear.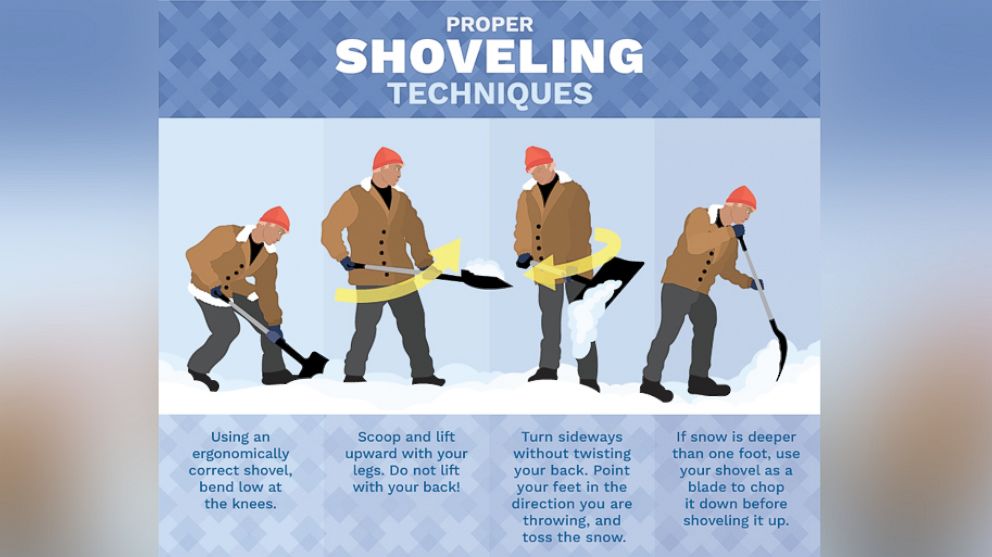 Proper Shoveling Technique
Treating snow shoveling like an annoyance that needs to be finished quickly means possible spinal injury, muscle fatigue, ruined clothing and poor results. But the moment you begin to think of snow shoveling as a form of exercise involving a little exertion and sweat, all of the pieces fall into place and it makes more sense.
Doctors recommend that, like any other athlete, you begin by stretching your lower back, legs and arms. Dress warmly in layers of work clothing that can be progressively removed as you heat up. Have water on hand to keep hydrated.
For snow that is 1-foot deep or less:
1. Bend knees, dip moderately low.
2. Scrape from under the snow.
3. Lift with legs, keeping lower back straight.
4. Toss to the side, making sure it is not an area that also needs to be cleared. Do not twist to the side. Rather, turn your entire body to the side, then toss the snow.
For snow higher than 1 foot, chop the snow downward, to bring it down to ground level. Then start at the first step listed above. If the snow is wet and clumpy, cut the maximum height in half to about 6 inches, as this kind of snow is very heavy.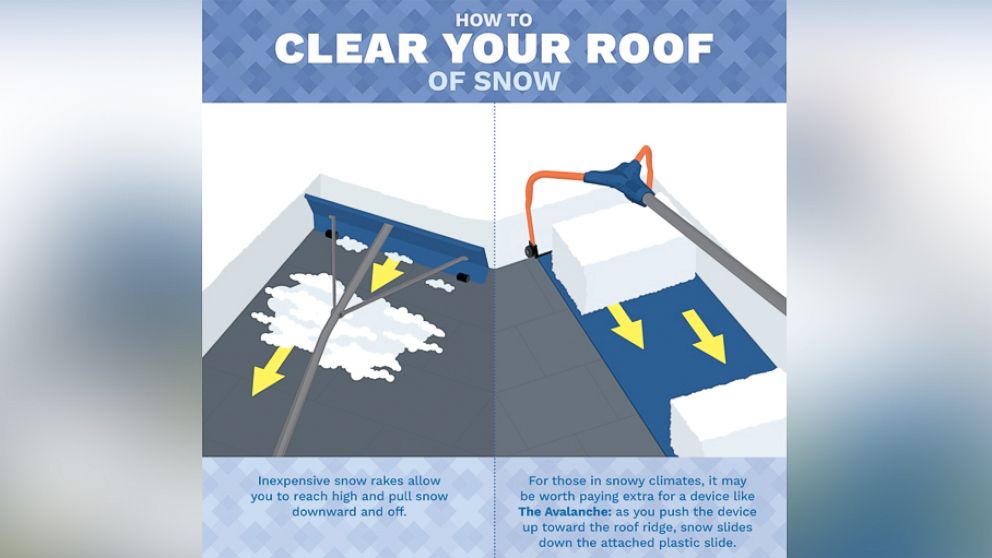 How to Clear RoofsRoofs were meant to bear a reasonable amount of snow. As a result, under normal conditions, it is not necessary to clear snow from your roof.
But there are exceptions: an unusually heavy amount of snow has fallen; your roof does not have ice dam protection; or a large snow bank is poised above a walkway, threatening to fall when the weather warms up.
Never walk on a snowy roof. Remove snow only when you are standing at ground level. There are two ways to do this:
The Avalanche
A patented tool with a 16-foot-long handle called The Avalanche allows you to remain on the ground while removing snow. You push the wheeled device onto the roof, forcing it into the snow. A flexible plastic slide follows the device, allowing the dislodged snow to slide off of the roof. While a fairly expensive item at about $142, it does get rave reviews from customers who have used it.
Snow Rake
Snow rakes are far less expensive (about $40) and work on the same principle, without the plastic slide and wheels. At one end of a telescoping 17-foot aluminum handle is a plastic head that acts much like a garden hoe. You raise the rake and chop down into the snow, immediately pulling back to force the snow off of the roof.
Snow rakes require more effort than The Avalanche because there is no plastic slide to ease the snow's path down the roof.
Clearing Your Vehicle of Snow
Two of the worst ways to clear your vehicle of snow are seen in abundance after snow storms: hot water poured on locks and icy windshields, and shovels used to clear snow from the vehicle.
Never use hot water on your vehicle, as this can cause glass to crack on contact. Avoid using a snow shovel to clear any areas around your vehicle. Many owners incorrectly believe that they can judge where to stop the shovel before hitting the vehicle.
Instead, try these safer and more effective methods:
For snow 6 inches deep or less, use your brush-scraper to sweep off snow, starting at the roof and working downward.
In a pinch, wear a waterproof coat and glove, making sure that the gap between the glove and sleeve is closed. Or put a kitchen-sized trash bag over your arm. Then sweep off the snow with your arm.
Plastic dust pans make excellent "shovels" for clearing snow from vehicles.
Once you have car access, start the engine and defroster. After the defroster has been running for five to 10 minutes, clear crumbling ice from the windshield.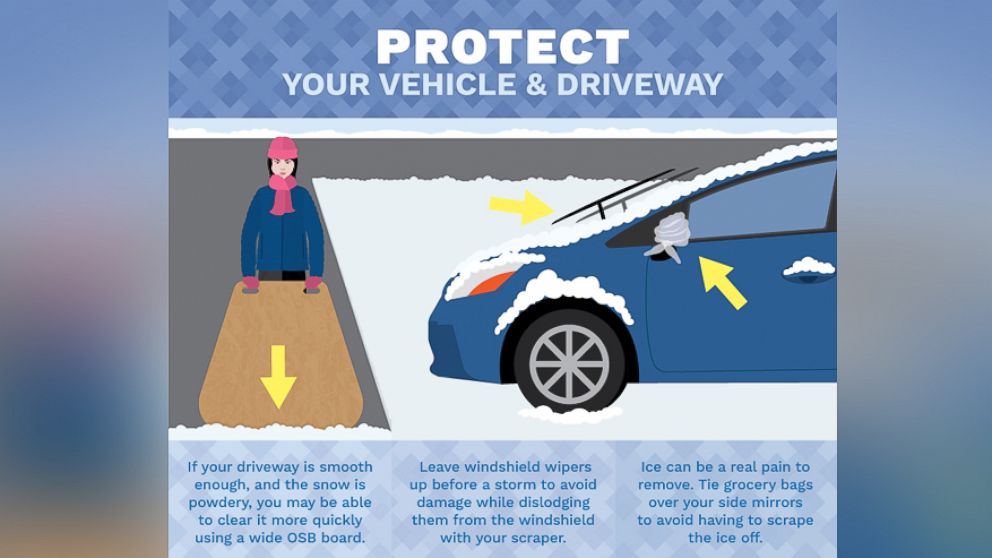 Clearing a Variety of Driveways
Not all driveways are created equal. Adapt your technique to the kind of driveway you have:
Concrete: If snow is low enough and your concrete smooth enough, one neat trick is to use a 4' x 4' section of 1/4" OSB (oriented strand board) as a "snow plow" to push the snow away. The wood is soft enough to prevent gouging your concrete. If that is not an issue for you, set the edge of your snow shovel against the concrete and push forward.
Asphalt: If you have a heavily pitted asphalt surface, remove as much snow as possible using the method described above. Then apply ice melt to the lowest layer of remaining snow or ice on areas where you will walk.
Gravel: Use your snow shovel to take off top snow, leaving 1 to 2 inches. Your goal is to avoid disturbing the gravel. Going deeper will remove gravel along with the snow.
Snow on your property is no problem to clear if you use safe and efficient methods.
Lee Wallender began remodeling homes when he transformed a World War I-era farmhouse into a comfortable new home. He has been writing about home remodeling on About Home Renovations since 2006.