Deceptively Delicious Disguised Dishes
These foods will fool you until they reveal their true ingredients.
November 8, 2013, 5:23 PM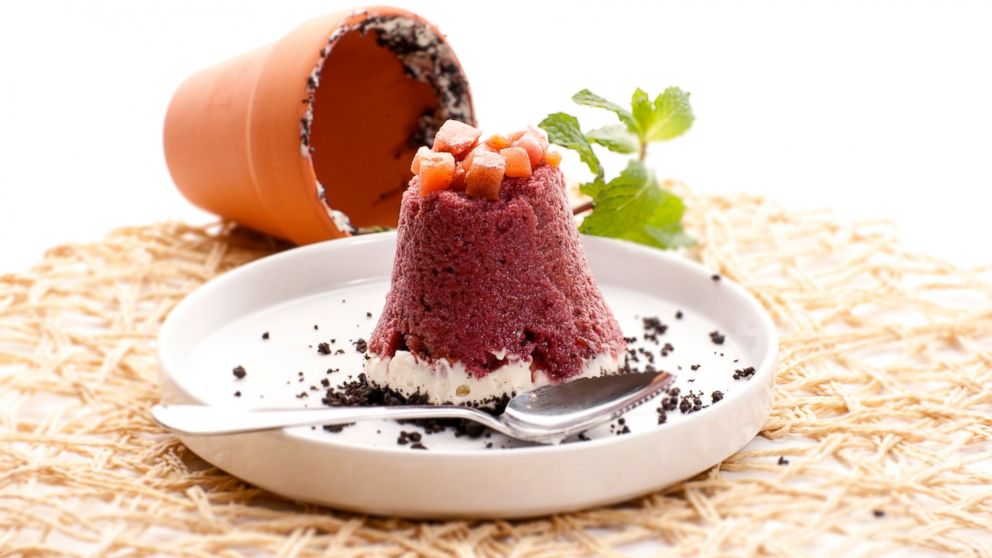 Nov. 9, 2013— -- intro: Talk about inventive presentation! The eight dishes in this gallery deceive the eye and trick the senses. Yes, they're delicious, but what are they? You'll have a hard time believing, even after we tell you.
quicklist: 1title: Giant Octopus Cake | Highland Bakery, Atlantatext: It's 200 pounds of tentacled, sleepy-looking sea creature ... and for those who dared to approach it with a spatula, it also turned out to be buttercream delicious! This giant octopus cake wowed the online photo communities, but was hardly a career high point for baker Karen Portaleo, who's known for inventive, lifelike specialty cakes. She's done cakes to look like sumo wrestlers, a wombat, a rhino and even a Louis Vuitton handbag -- with the handbag dog peeking out.media: 20831034
quicklist: 2title: Pecan Plate ... and Foie Gras | Azul Sensatori, Riviera Maya, Mexicotext: At Le Chique, the signature restaurant in Azul Sensatori on the Riviera Maya, chef Jonatán Gómez Luna Torres has cleverly hidden chocolate-covered foie gras morsels within a dish of pecans. It's a sweet, savory, nutty puzzle.media: 20830992
quicklist: 3title: Candy Cap Mushroom Ice Cream Sandwich | Americano at Hotel Vitale, San Franciscotext: There's always that one stubborn diner in every group who contends that mushrooms ruin a dish, and that they can always pick out that earthy flavor, no matter how faint it is. As a real test of their tastebuds, order this dessert and see if they can figure out the secret ingredient that makes the gelato filling so delicious. Foraged by Chef Kory Stewart himself! media: 20831014
quicklist: 4title: Hearts of Palm Linguinetext: As many times as those in the know explain -- this linguine is actually made of hearts of palm – you still expect a regular linguine with chopped hearts of palm. But no. Those noodles are actually delicate strips of the vegetable itself. It is a delicious, guilt-free, totally baffling take on an Italian classic.media: 20831024
quicklist: 5title: Turkey and Mashed Potato Raviolitext: It's become the norm to experiment with ravioli, filling them with butternut squash, shrimp – a chef on Oprah Winfrey Network even used elk recently. The surprising thing about this version is that most people don't expect to see their traditional Thanksgiving dinner stuffed into neat little noodle packets. Behold, the majestic bird, the steaming mash, the tureen of gravy -- suddenly no longer in table-groaning portions, but bite-sized ones.media: 20831054
quicklist: 6title: "The Harvest" Cake | Spot Dessert Bar, Manhattantext: This super-cute and odd little dessert comes to the table inside the flowerpot, with the dark cocoa cookie crumbs densely packed to look just like potting soil, and a green sprig planted in it. It looks exactly like a plant, but it's actually a fruity shortcake. One of many dishes to love at this sweet spot co-owned by Chef Ian Kittichai.media: 20831002
quicklist: 7title: Grana Padano Granita | Alice Restaurant, Milantext: Granita is a dessert ice, made with sugar and often fruit. During an Identita Golose cooking seminar in Eataly last month, it made a surprise appearance in an eggplant parmesan. Visiting Italian chef Viviana Varese whipped up a deconstructed eggplant parm that defied all texture norms. Flavor-infused chilled tomatoes were topped with sweet, creamy icy granita made of fresh Grana Padano parmesan. At Chef Varese's restaurant in Milan, the remainder of the cheese is fried and served as an appetizer.media: 20831044
quicklist: 8title: Candy Corn on the Cob | Your Kitchentext: Of all the creations in this roundup, here's the one to try at home even if you're not much of a cook. Take a tube of cookie dough and stick candy corns in it, pointy end first, close-packed enough so eventually they look like real corn kernels. Et voila. Alaskantomboy's tutorial on Instructables brought this to the Internet masses, but other crafty folks have made candy corn-covered push pops, cakepops and entire layer cakes. media: 20830982