— -- There were a different kind of yells and cheers during last week's pep rally at Lassiter High School in Marietta, Georgia, as one teacher proposed marriage in front of the entire student body.
Robbie Galvin, 30, asked his girlfriend Sydney Wright, 26, to marry him, surrounded by the crowd of 2,000 high schoolers, after a lip sync performance he asked her to attend.
"I came to watch [his performance] and then he ended it completely different than he had practiced," Wright of Smyrna, Georgia, told ABC News. "I'm just so happy that someone got it on video because it's hard to take it all in when you are so thrown off."
Galvin is a history teacher and the girls' varsity soccer coach at Lassiter High School.
He decided he'd ask Wright, his girlfriend of more than a year, for her hand in marriage at the Aug. 25 pep rally in the school's gym.
"I love the kids and I love my colleagues," Galvin said. "I knew it would be really special to share [the proposal] with the community."
Galvin invited Wright to the pep rally where he sang "I Want It That Way" by The Backstreet Boys alongside Scott Kelly, the school's athletic director. After changing t-shirts, Galvin switched gears and began performing "Marry You" by Bruno Mars.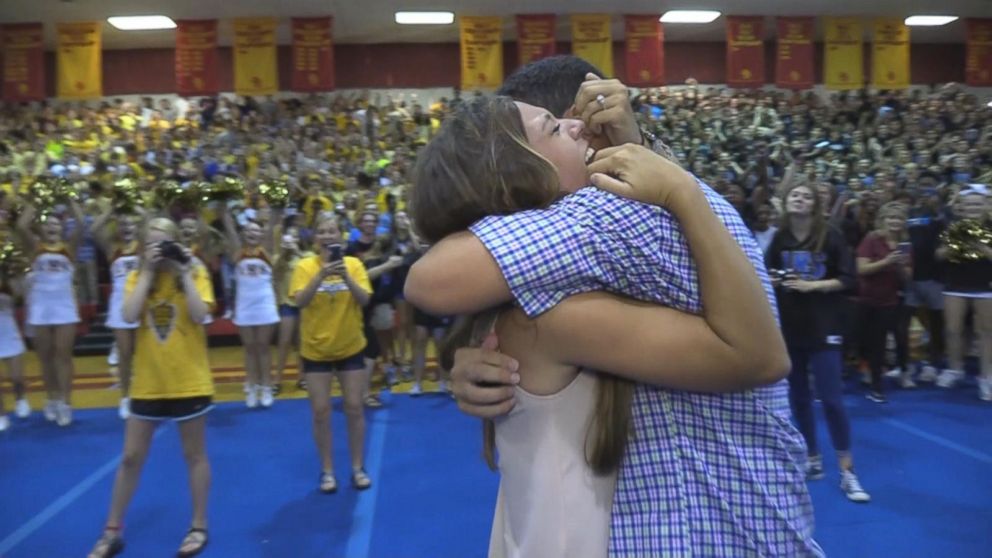 Wright was then escorted out to the center of the gym where Galvin asked her to marry him. The emotional moment was captured on video by a school representative.
"The reaction the kids gave was unbelievable and hers was as well," Galvin said. "It was just unreal watching the video. I just feel so loved."
Wright added, "We are just humbled by the outpouring from everybody."
The couple hopes to wed in early June of next year, after school lets out for the summer.