This Family's Annual Card Tradition Shows How to Win at Christmas
The Bergeron family has been creating hilarious Christmas cards for 13 years.
December 2, 2015, 3:56 PM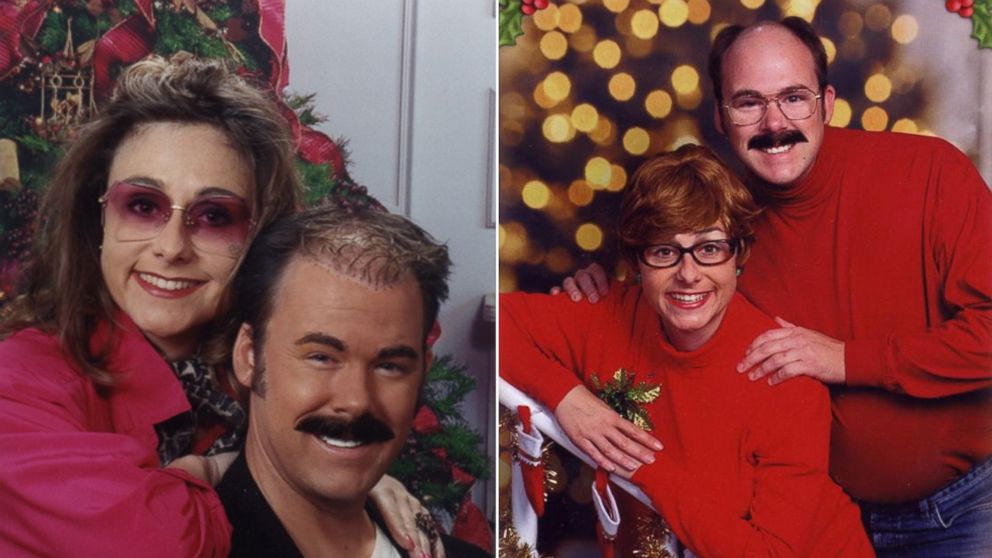 — -- 'Tis the season for decking the halls, drinking too much eggnog and of course, perfecting your Christmas card pose. And no one has perfected the Christmas card like the Bergeron family from Aliso Viejo, California.
For 13 years straight, Mike and his wife Laura have taken their annual holiday cards to a whole new level, posing in hilariously wacky outfits to create new personas for themselves.
"On the Internet you see there will be posts of Christmas cards gone wrong, where it's just a bunch of unintentionally funny Christmas cards," Mike Bergeron told ABC News of the inspiration for their first funny card in 2003.
"And you know when you see those, you think to yourself, 'Boy I wish I had one of those to hang on my fridge so when friends come over they'll get a kick out of it.' So we got the idea to intentionally make funny Christmas cards to give to all our friends and family, and after a while, it turns out people who didn't even know us started loving the cards," he said.
The trend continued with them "trying to look like different people" each year.
"Basically we take the world around us and we try to pull from different ideas. Some years we go for silly and some years we go for real," Mike said.
And it's certainly been a hit with their newfound fans that can't wait for the card to hit their mailboxes every holiday season.
"Oh, they're super, super highly anticipated," he explained. "It definitely ramps up and everybody starts talking bout them. On Facebook, I do a full reveal."
The clever couple now has two daughters, aged 5 and 3, who participate in the photo shoots, which are planned months in advance.
"We have a running list. We have a list with a bunch of ideas on it that's written down and then throughout the year if we come up with any ideas we add them to the list," Mike said of how they choose each festive theme. "Around October, we sit down and decide on which one we're most excited about for that year. We try to have the picture taken by Thanksgiving."
When asked how the family could ever top themselves the following year, Mike replied, "That's the hardest part. The hardest part is how do you top it? We don't really try to top it. We just try to put the best put foot forward and hopefully it resonates with people."
The Bergeron family is picking up this year's family photo later today, but until it's revealed, enjoy these festive photos from years past.