— -- Days before Thanksgiving, one South Carolina woman got her holiday wish to adopt the little girl she fostered and fell in love with.
Melissa Birchmore of West Columbia officially became "mom" to 5-year-old Jeneva on Nov. 21 at Sumter County Family Court.
"It felt like the world was lifted off my shoulders," Birchmore, 52, told ABC News. "It was a feeling that you can't describe. [Jeneva] is pretty excited. She understands she is what she calls [herself], 'my forever girl.' She came in and she meshed and fit and it's never been her plan to leave."
Birchmore has been a foster care mom since 2009, fostering 14 children over the years.
In 2013, Jeneva came into her life. The two immediately developed a special bond, Birchmore said.
"She came in and made herself at home," she said. "She was meant to belong. She's very much a girly girl. Even though shes a little bit sassy, she demands that she fits in and be included. She's very fun-loving. She adapts to whatever her surroundings are."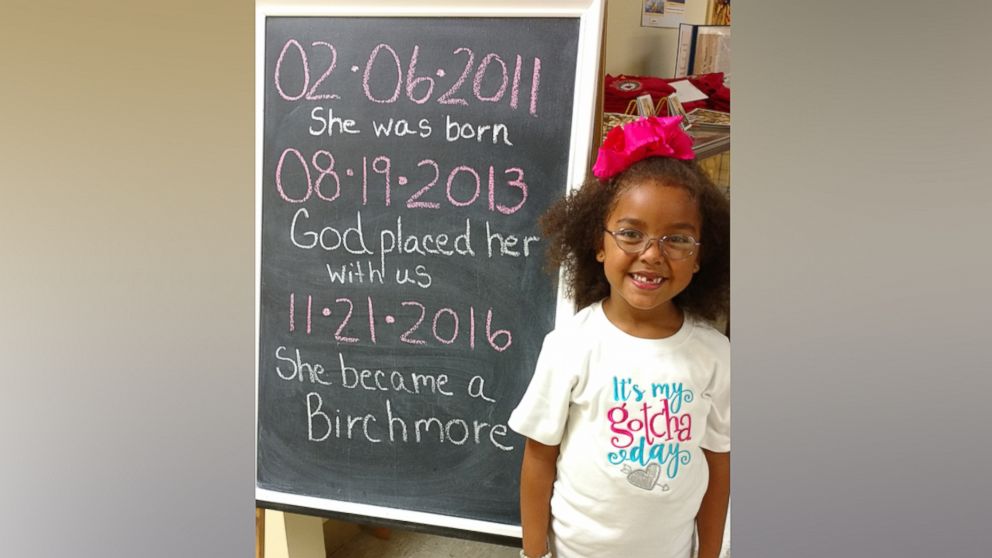 Jeneva was a victim of neglect and often "bounced around" under the care of various relatives for years before Birchmore became her foster mother, Birchmore said.
"From the beginning, I loved her and didn't want her to go anywhere," she added.
At family court on Monday, Birchmore signed the adoption papers in front of a judge and her loved ones.
The family is hosting Thanksgiving dinner Thursday and Jeneva is excited to celebrate with her new cousins and "cook with mommy," Birchmore said.