— -- One bride ended up with the greatest "something old" she could possibly imagine.
Julia Cain, of St. Louis, Missouri, was the third person in her family to wear her heirloom wedding gown. Better still, her grandfather is the man that walked each of the brides, adorned in that sentimental gown, down the aisle.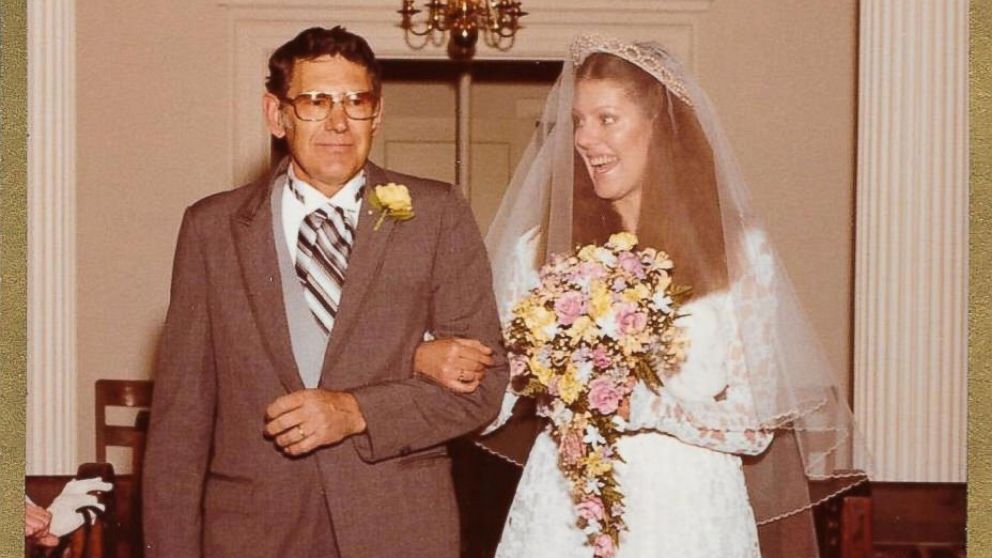 "Since my father passed in the 1990s, my grandfather Harold walked me down the aisle," Cain, 26, told ABC News. "Harold has walked with all three women who wore the dress: his first wife, my mother and me."
Cain says her grandfather was thrilled she wore the same dress as his first wife and eldest daughter.
"Not only is it sentimental, but that man loves a discount," Cain quipped. "I think he was excited the dress that was meant to be worn once has gotten so much use! He was honored to give me away, and I was so happy he made the trip from Colorado to be there. I'm the first of the grandchildren to get married, so it was an emotional day for everyone."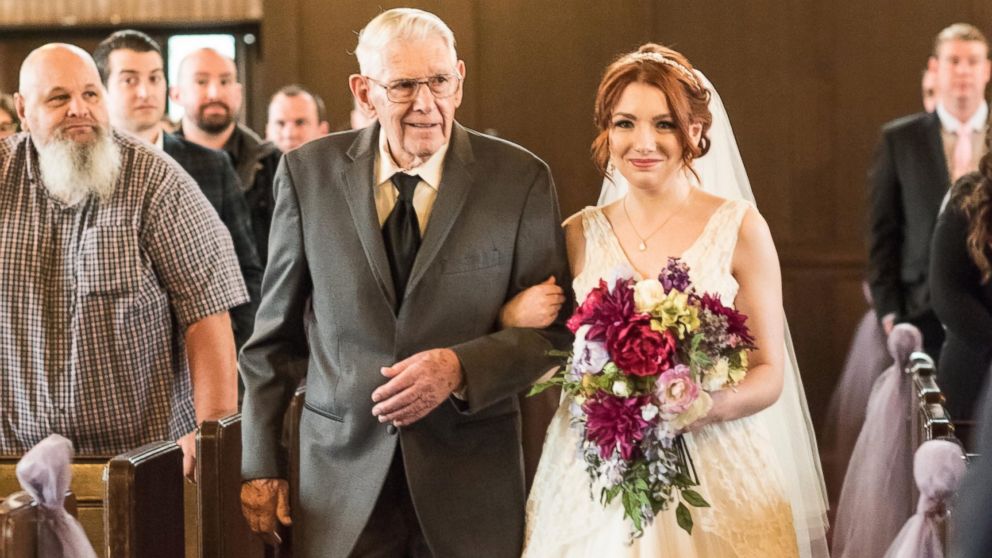 Cain's grandmother, Phyllis Jo Raymond, originally purchased the gown at a department store in Denver, Colorado, to wear down the aisle on May 9, 1953. She chose to wear it with a hoop skirt underneath to add more volume.
Next, Cain's mother, Susan Kay Traver, inherited the vintage dress, wearing it on her big day in Denver, Colorado, on April 23, 1983—almost exactly 30 years later. An extra lace panel had been added to the jacket to fit her shoulders since she was much taller, and the hoop skirt was eliminated to add more length to the dress.
Finally, on March 12, 2016, the dress was Cain's.
"When I first tried on the dress as a teenager, we never thought I would wear it for my wedding," she recalled. "After the initial shock of 'Look how dated and wrinkled this is!' wore off, we thought I'd perhaps re-purpose some of the lace."
She and her mother, Susan, would often talk about her future wedding throughout college, mentioning the idea of reusing the gown as a way to save money and "wear something truly unique."
However it wasn't until Cain actually got engaged that she really took that idea to heart.
"She brought the dress down from my hometown of Springfield, Illinois, and I tried it on again," the bride remembered. "This time the dress did not look flattering and we started to worry. It seemed really frumpy and discolored. We tried it with the jacket, without the jacket, without straps at all, with a deeper neckline [and] nothing seemed to help. Right before giving up, we tied a sash around the waist, and the entire dress changed. By visually raising the waistline up a little bit, the gown transformed into my dream dress!"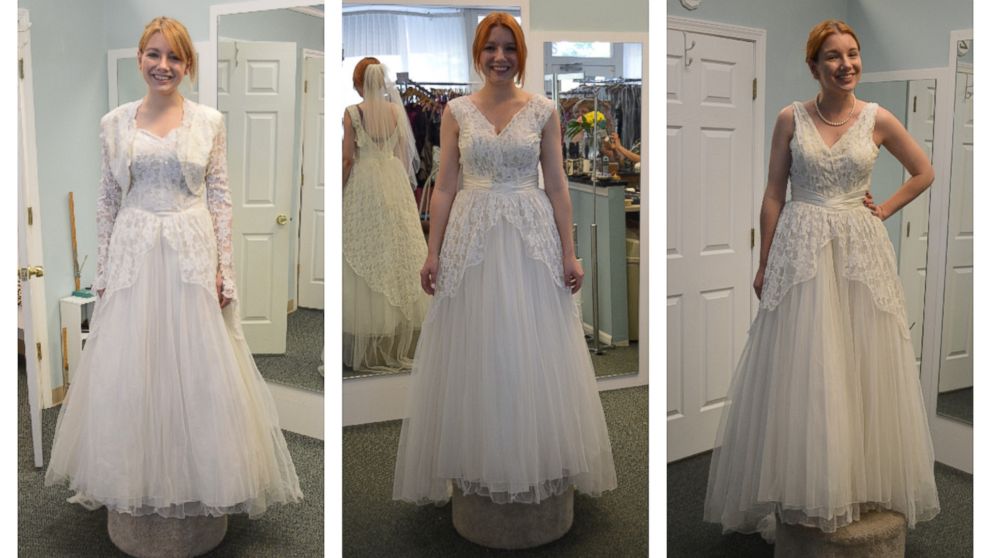 Her mind was made up. She'd carry on the wedding gown tradition, wearing it on her big day 63 years after her beloved grandma.
"Several months of work with a local tailor, two crinoline skirts, and one intense cleaning later, it was perfect!" she said.
It was truly a fairy tale wedding dress for Cain, who couldn't wait to show the revamped gown to her groom.
"Lance knew I was wearing an heirloom gown, but he didn't know too much about how it would look altered," she said. "He'd seen it in photos at my mother's house, but he didn't see the finished product until I walked down the aisle."
Needless to say he was not disappointed in his bride's fashion choice, and it's safe to say her grandmother wouldn't have been either.
"My grandmother would have loved that I reused her gown," said Cain. "She had fantastic taste, so it's not too surprising her pick would stand the test of time so well. In addition to loving fashion, she was an intense bargain hunter; reusing was definitely her style."
The over-the-moon newlywed says that although using her family's vintage gown wasn't the easiest of wedding ideas, she would "absolutely recommend reusing a heritage gown to other brides. I ended up with a one-of-a-kind gown and a fantastic story at a fraction of the cost of many new dresses."
There are a few things to keep in mind when choosing to take this route, however. Cain outlines them on her blog, OhJuliaAnn.com, where she chronicled the dress' journey.
"Give yourself ample time. It took months to rework the dress," she explained. "Find a talented tailor and communicate with him or her clearly about your wants, the costs, and the timeline. Make sure the dress can handle a cleaning and extensive handling before investing in the alterations. And don't be turned off from the idea just because you don't love the original dress! I certainly wasn't planning on getting married in a super-high sweetheart neck dress with a damaged lace jacket — it's amazing what a few changes can do!"