— -- A set of triplets who were born premature paid it forward last week after donating pajamas to the babies of the NICU in the hospital where they were born 10 years ago.
"I couldn't be more proud," dad Ty Swarts of Shawnee, Kansas, told ABC News. "I'm really happy to see [them] giving back -- especially to young kids. It's just a really big learning lesson...."
In lieu of birthday gifts, Luke, Taya and Brady Swarts, former Overland Park Regional Medical Center NICU grads in Overland, Kansas, completed what they call "Project Preemie" by donating more than 205 pairs of pajamas to the NICU.
The siblings, born April 14, 2006, got the idea to give back to the tiny residents of the NICU after seeing a photo of themselves in pajamas the nurses gave them while they were in the hospital.
"They were born at 32-and-a-half weeks," mom Jill told ABC News. "We were fortunate enough to only have them stay for three weeks. They all came home on the same day, which is very unusual for multiples."
She added: "The NICU put them in PJs so we thought, 'Let's go off that, pay it forward and put more PJs in the NICU for little guys and little girls.'"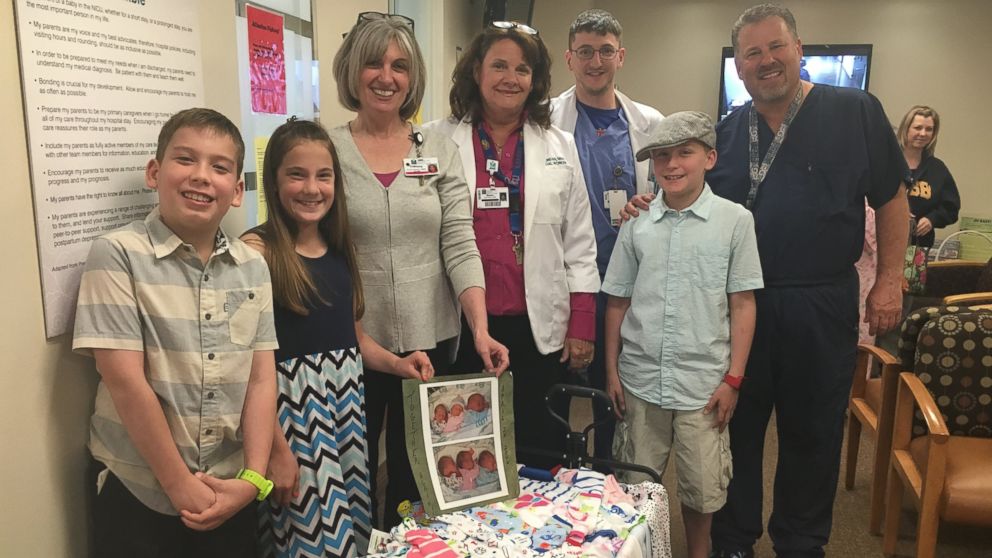 Jill said Luke, Taya and Brady began "Project Preemie" by collecting preemie pajamas from friends and family.
They also had a 10th birthday swim party where their classmates brought pajamas instead of presents.
On April 22, the trio brought the 205 pairs of PJs to the hospital, where they handed them out to moms of preemies.
"When we got there, we were able to meet with the two original doctors from when we were there," Jill said. "They asked if we'd like to meet with one of the moms and that moment was the most special of all. She explained her baby that was in the NICU, and Brady, Taya and Luke picked out their favorite pajamas. She received three pairs -- one from each of them."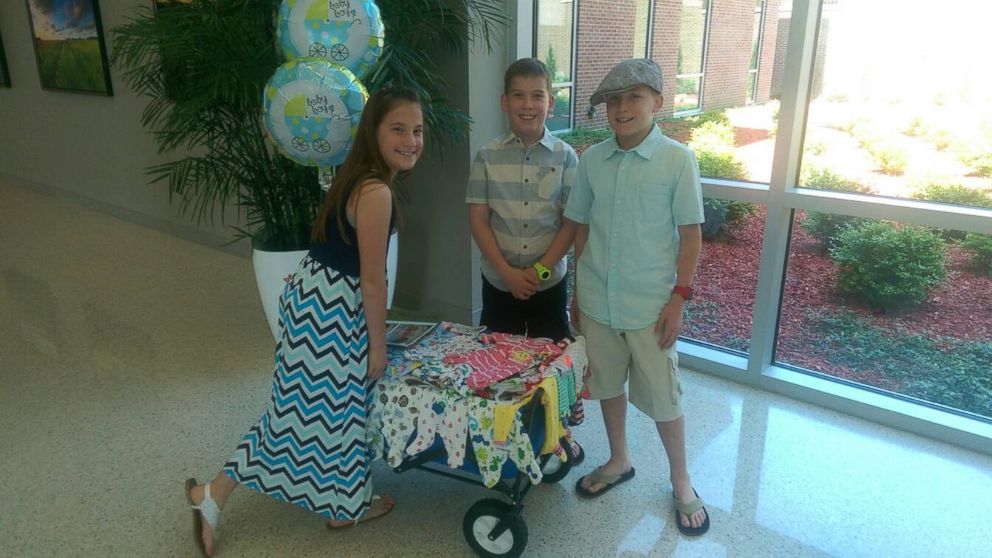 Taya, 10, said her favorite part about the preemie project was presenting the pajamas to the mothers at the hospital.
"It showed the moms the same type of respect that we got when we were little," she said.
Dr. Kathleen Weatherstone, medical director of the Overland Park Regional Medical Center NICU, was one of the staff members who cared for the triplets when they were born.
Weatherstone was also present when the siblings carried out their kind act.
"This opportunity with the Swarts triplets was especially meaningful because we not only celebrated their 10th birthdays, but were also the recipient of their #PreemiePJProject," Weatherstone released in a statement to ABC News. "The physicians, nurses and entire NICU team are humbled to part of something so special and thank the youngsters for their creative generosity. This donation accentuates the spirit of family that defines our NICU."
In the end, the kids sent out handwritten letters to all who donated to their cause.
"I would like to do something like this again," Luke told ABC News.
Brady and Taya agreed.