— -- Jon Voight showed a stranger an act of kindness Friday when he bought her Thanksgiving groceries.
Sydney Gholston, 28, met the Academy Award-winning actor on Nov. 18 while waiting in the checkout line at a Kentucky Walmart.
"I was helping the lady scan the turkeys and the man behind me said, 'You must have a big family. That's an awful lot of turkeys,'" Gholston told ABC News about the encounter. "I said, 'I work at the Home of the Innocents.'"
She said the man seemed very interested in knowing more about the home.
"I looked up and said, 'You look a lot like Angelina Jolie's dad' and he said, 'Why would I look like that?'" Gholston said.
"He joked around with me at first."
In her shopping cart, Gholston said she had six turkeys meant to be for a Thanksgiving celebration for the children of the Home of the Innocents in Louisville.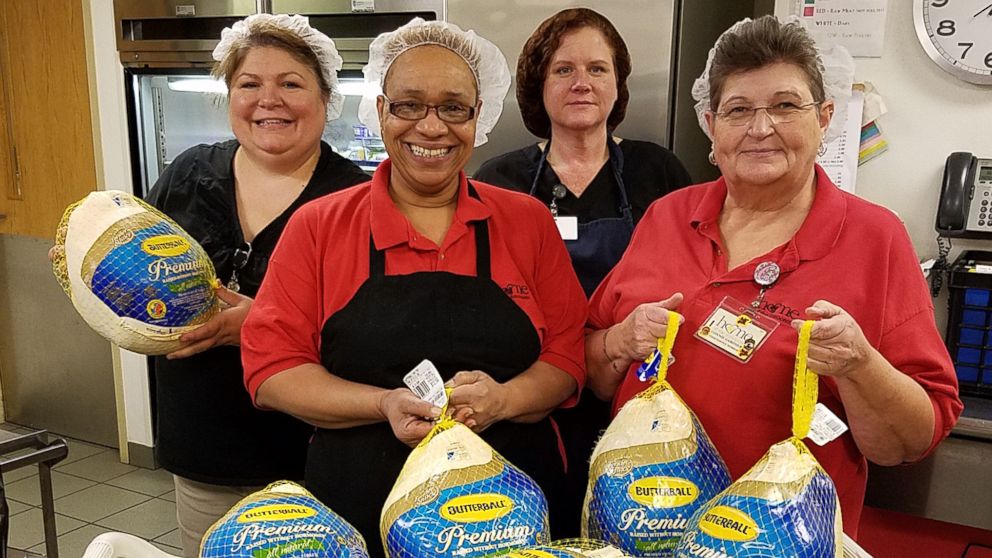 She works as the director of food and nutritional services at the home, which is a non-profit that offers help to kids in crisis. The organization provides loving and skilled care to medically-fragile children as well as children who are victims of abuse, abandonment and neglect, she said.
After speaking, Voight offered to purchase all six turkeys, which were 12 to 14 pounds each.
"I thanked him and and we took a picture," Gholston said. "Very nice guy. He was very interested in what we did at the home. He said that was wonderful."
Home of the Innocents shared the photo of Gholston and Voight on its Facebook page.
"Jon generously paid for the turkeys to feed our kids next week!" they wrote. "We are so thankful for his generosity!"
Gholston said the turkeys will be cooked for about 70 children during Thursday's Thanksgiving celebration.