— -- What do you do when you have over 1,000 people, 1,200 mattresses, and 70,000 square feet of space? You break a Guinness World Record.
Aaron's Inc., an appliance and electronics store, broke the world record for largest human mattress domino. The feat took place on March 22 as part of the company's annual manager's meeting at the Gaylord National Resort and Conference Center in Maryland. The domino chain was successful on the first attempt and took thirteen and a half minutes to finish, beating the 2012 record by 50 mattresses.
This was no small task.
"Mass participation records like these are pretty complicated," Kristen Ott, public relations manager for Guinness World Records North America, told ABC News. There are specific rules regarding the mattress size, distance apart, and general set up. For every 50 people, there has to be a steward to monitor and ensure that the rules are being followed.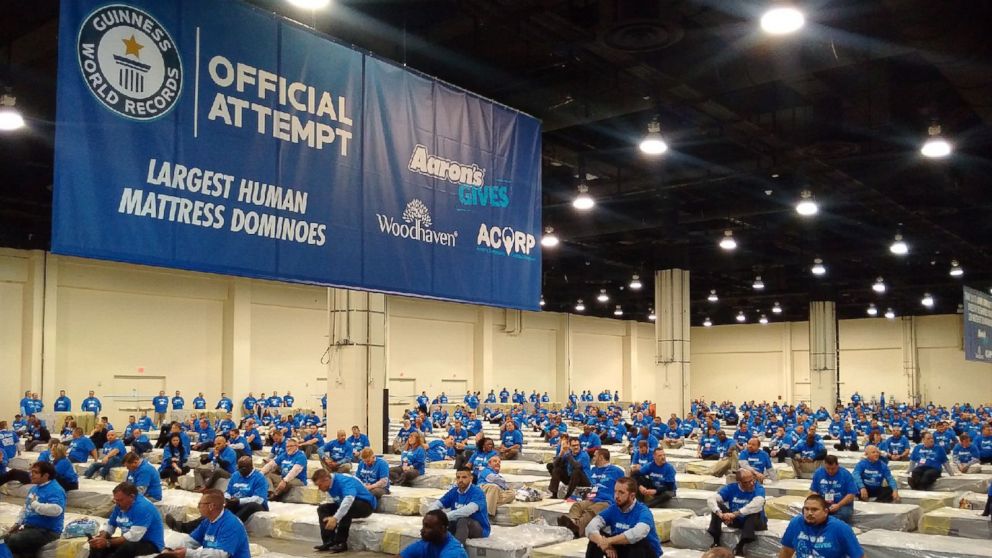 Aaron's began planning for the event last November.
"We were trying to think of a team-building event that would involve a large number of [managers]," Garet Hayes, director of public relations, told ABC News. The company worked with its manufacturer to make and ship all of the mattresses and hired "Domino Wizard" Robert Speca to design the chain.
Although World Record winners don't receive any monetary prize for their accomplishments, they do get a certificate and bragging rights. In this case, the record breakers weren't the only winners--Aaron's donated all of the mattresses to organizations helping those in need.