— -- When Wanda Nations lost her sentimental decades-old engagement ring in the parking lot of a restaurant on Feb. 9, she said she had little hope of ever finding it again.
"It was cool that night, very cool, and my ring I suppose was slipping down on my finger," Nations, of Dalton, Georgia, told ABC News. "I've also lost about 30 pounds, so I knew it was loose, but it didn't feel that loose."
After she and her husband, Pete, searched the entire Western Sizzlin' restaurant and parking lot in the dark with a flashlight to no avail, Nations attempted a last-ditch effort to locate the heirloom ring by calling to place a plea in the comments section of her local paper, The Daily Citizen.
Typically a forum for residents to place rants and raves about everything from politics to sports and even pothole complaints, it's not every day a comment includes a heartfelt request to help locate lost, 62-year-old diamonds.
"I lost my wedding ring, possibly inside or outside of the Western Sizzlin' steakhouse on Legion Drive next to Lowe's," Nations said in her voicemail to be published in the "Today's Forum" section of the paper. "It has a wide band with a cluster of small diamonds on the top. It has great sentimental value. The band is 37-plus-years-old and the cluster is 62-plus-years-old. If found, please, please turn it into Western Sizzlin' and leave where you can be reached and you will be given a reward."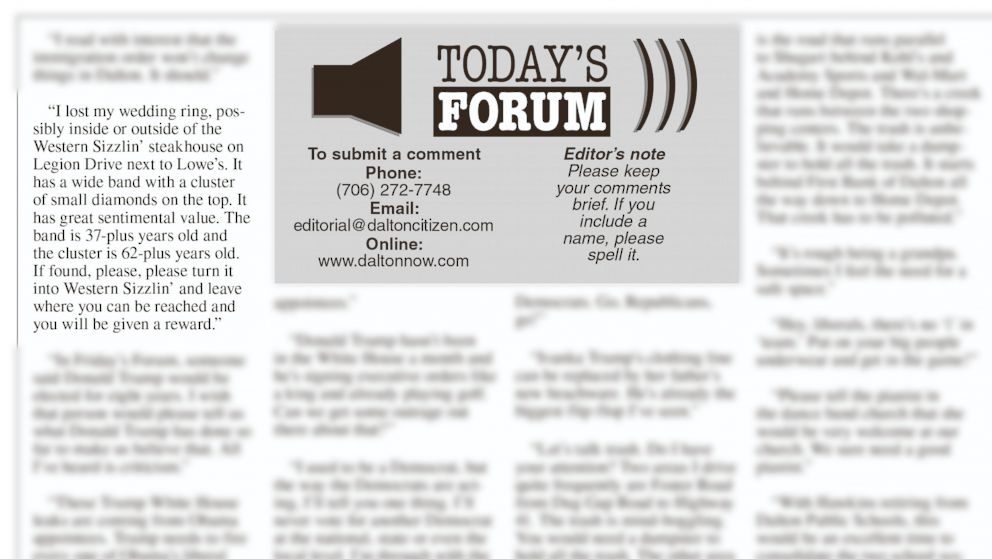 A man named Rodney McConkey had eaten at the restaurant the very same night as the Nations, and as he and his son Chris, who happens to be the IT director at The Daily Citizen, were walking to their car, Rodney "saw a sparkle" on the ground. It was Nations' beloved ring.
"You ladies say that us men stand and run our mouths, but if I hadn't been doing that I wouldn't have seen it," McConkey said with a laugh. "My son and I were just getting done with supper and we walked out and we stopped there to talk to each other for just a few minutes and I happened to look down and there it was and I thought, 'Oh, my goodness.' I saw it sparkling and I just reached down and put it in my pocket to look at it when I got home."
At the time, McConkey had no idea how to go about locating the owner so he held onto the jewelry for safe keeping.
"I've been burned on other things that I've found and put in the paper for people to claim," he explained. "Other people show up and get it and then the right people never do receive their merchandise back. And this thing had so much sentimental value to it."
But the moment McConkey, an avid reader of his son's publication, saw the anonymous comment in the paper the following week looking for a ring that sounded exactly like the one he'd found, he knew just what to do. He called his son Chris to show him the ring and ask for help locating the woman who left the sorrowful voicemail.
"The fella went back on their computer and looked through all their calls and he found me," Nations, 82, said of Chris' efforts. "And then Chris called me and made the appointment to come down there to the newspaper office to meet his dad."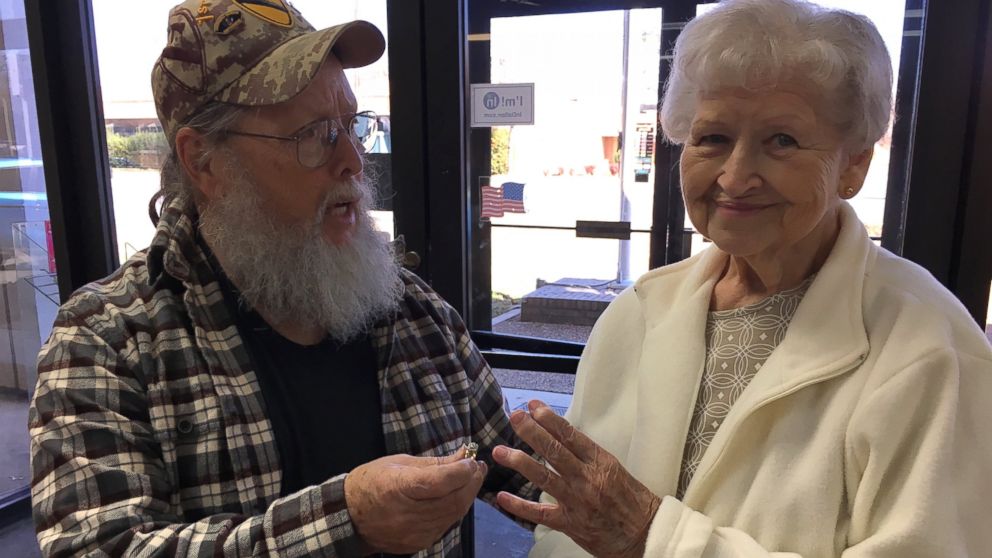 From there, it was a seamless transition getting the diamond-clustered ring back on Nations' finger.
"She teared up as soon as she saw it. It was beautiful," McConkey recalled. "And lucky enough, on the day we found her, that was mine and my wife's anniversary too. It was wild. Everything just fell together."
Nations is also in awe of the random string of incidents that helped lead it home.
"We wouldn't have found it without the help of the newspaper. They were very, very courteous about it and everything just fell into place," she said. "We're just really happy to have it back."
She now wears a ring guard to keep it in place, and is over the moon she'll still be able to pass the cherished ring down to future generations.
"I've had it so long it just is part of me," she explained. "It wasn't really an expensive ring but I'd always gotten a lot of compliments. Back 62 years ago, my husband had just gotten out of the Navy and he didn't have a lot of money to spend on a ring, but it was a very pretty ring back then and the clusters are still so pretty. I was just tickled to death to get it."
"I was afraid we were going to spend our 63rd anniversary wanting to know what happened to my ring," she added. "I really wanted one of our two boys or four grandsons to have it."
And now, it's safe to say they will.