— -- Meet Big Blue, a 1990 school bus converted into a 189-square-foot motor home complete with a bathroom, dining area and bedroom.
"Adventuring Bus Driver" Patrick Schmidt, 29, told ABC News today that he bought Big Blue from a church back in Santa Barbara, California in March for $4,500. He explained, he'd been working at an airport in Seattle at the time, but that he wanted "more out of life" and wanted to try and "live tiny."
"I was tired of wasting money on rent for an apartment that I was never using because I worked so much," Schmidt said. "It didn't feel natural to spend my free time in my car, to and from work, and feeling too tired on my days off to do anything. There had to be something better, there had to be more. Tiny Living, I thought, might be the answer."
After purchasing Big Blue, Schmidt quit his job and drove the bus to his parent's home in Las Vegas, where he and his dad spent nearly four months and $8,500 transforming the bus into a little house on wheels.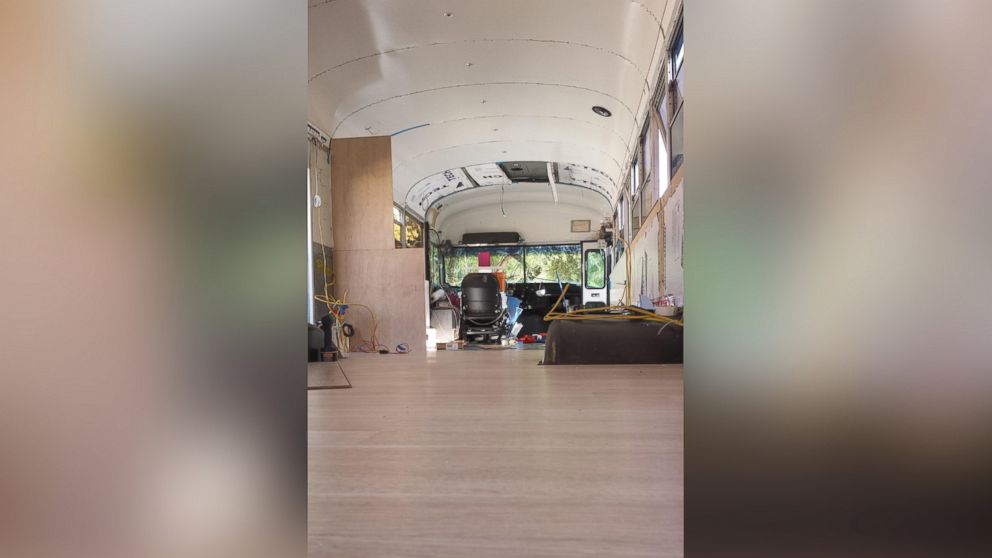 The bus has wood floors and a white ceiling. Its kitchen and dining area include a deep sink, fridge, freezer and mini diner-style booth. The bathroom, which is the length of two windows on the bus, has a fully functioning hot-and-cold water shower and working toilet, both drain into a 32 gallon waste tank. Across the bathroom is a storage area for clothes and bedding. And at the back of the bus is a full queen-size bed.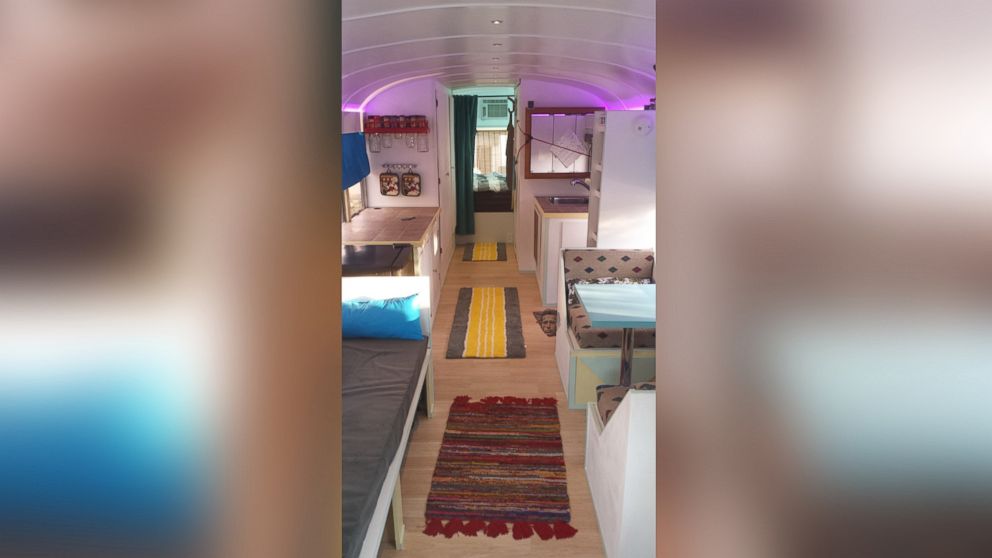 "I spent so much time working on that bus, that when it was done, I almost had a sense of 'I'm not hungry,' as in, 'The bus is done. Great. Now what?" Schmidt said. "But as you can imagine, as soon as I sat in the bus driver seat and hit the gas, looking into my rear-view to see my tiny home, I only had the open road on my mind."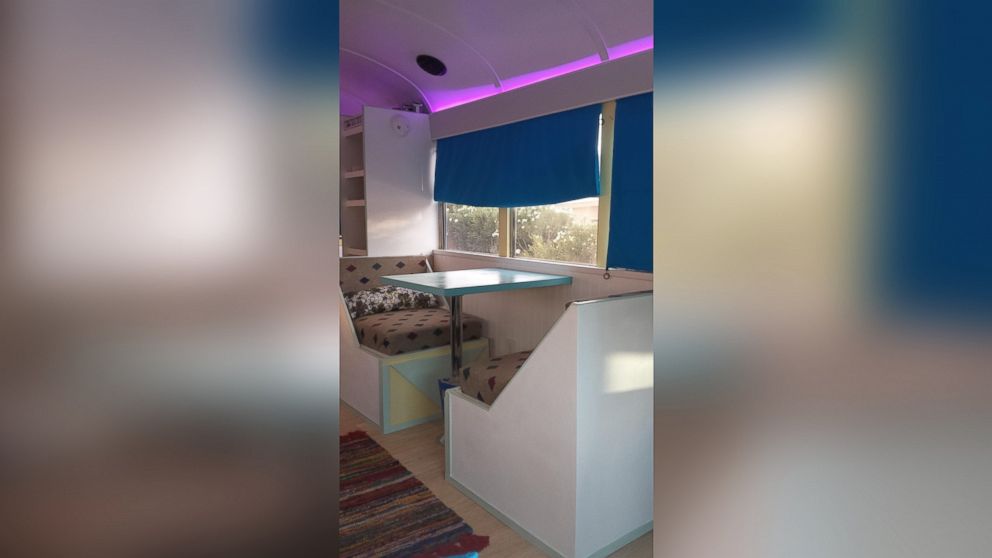 The 29-year-old went on a 10,000-mile cross country adventure from August to the end of October this past year, during which he traveled through 30 states.
"Everywhere I went I can see heads turning, smiles on peoples face," he said. "People give me thumbs up, the peace sign, waves, all sorts of ways to show their love and appreciation."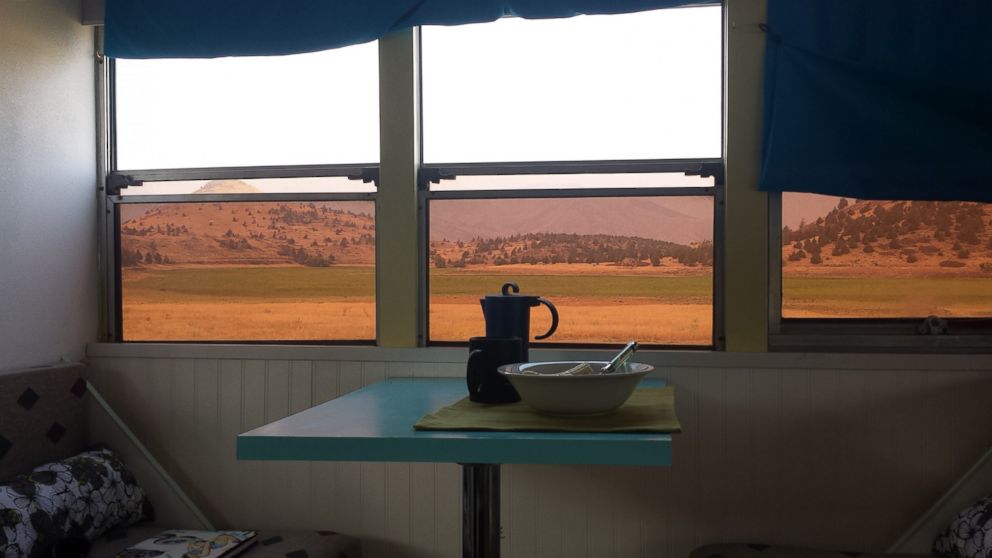 Schmidt explained that he has used the money he's saved over a decade to get by, though he emphasized that he doesn't spend much and that he really only spends on essentials.
The 29-year-old adventurer is currently in Florida, where he's living in his friend's driveway for the rest of the winter, before he heads back west to look for odd jobs here and there. He added that, he plans on going back to Washington state, where he may rent out his bus as a bed-and-breakfast tiny home.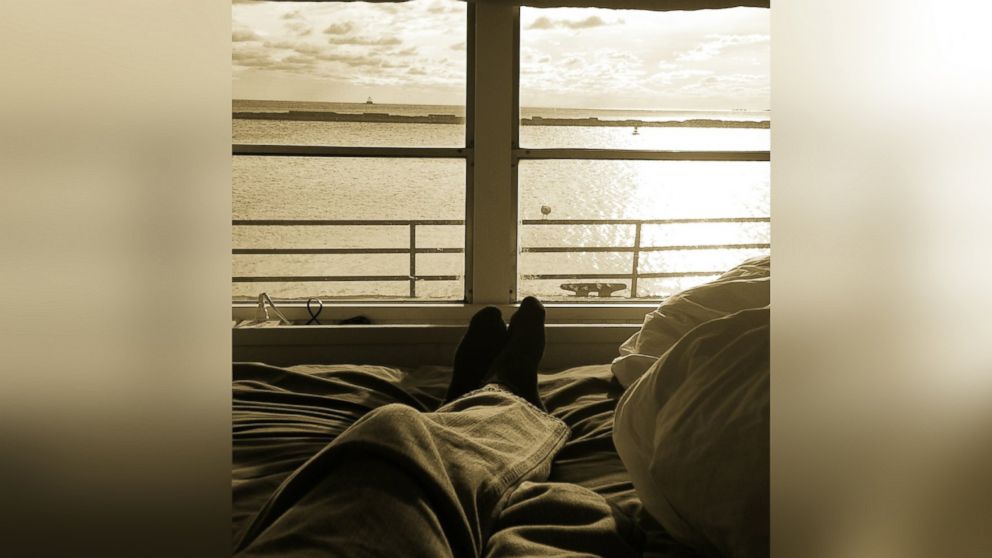 "I am truly having a wonderful time on the bus journey," Schmidt said. "There is no destination in sight. This is not just a road trip for me, but a complete lifestyle change. I want to live smaller, and have as positive of an impact on this world as possible. I want to consume less, waste less, and live more."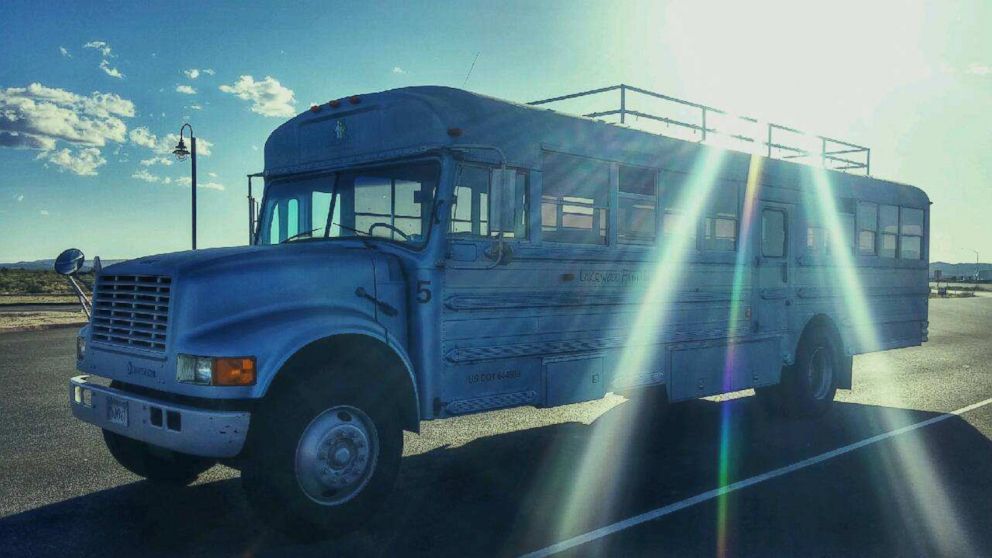 He added that he's received widespread support from his followers on social media who've told him that he's "an inspiration" for following his dreams and passions.
"The advice I have for others is to go do whatever you can, even if they are little steps, to move towards your goals," Schmidt said. "You can have the life that you've always wanted. I never thought it was possible, and here I am living and blogging on a School Bus Tiny Home, on the adventure of a lifetime."