It's often referred to as the "Superbowl" or "Oscars" of fashion. The annual Met Ball, held as a fundraiser for the Metropolitan Museum of Art's Costume Institute, has turned into a moment for star-studded risk-taking fashion.
This year's gala, held last night, was no different with Sarah Jessica Parker, Beyoncé, Rihanna and more making headlines with their sartorial choices interpreted for the theme "China: Through the Looking Glass."
The annual gala is overseen by Vogue editor Anna Wintour to not only gather A-plus celebrities from the worlds of music, fashion, film and sports.
Gala-goers were treated to the first look of the Asian-influenced exhibit – the Costume Institute's biggest ever – and attendees embraced the theme, donning elaborate headpieces, gorgeous trains and lots of red and gold, seemingly the colors of the evening.
Sarah Jessica Parker, a Met Ball regular, wore a large Philip Treacy headpiece with a dress she designed in collaboration with H&M, admitting the look was a "risk."
"It's always risky," she told ABC News on the carpet. "Every year, it's risky."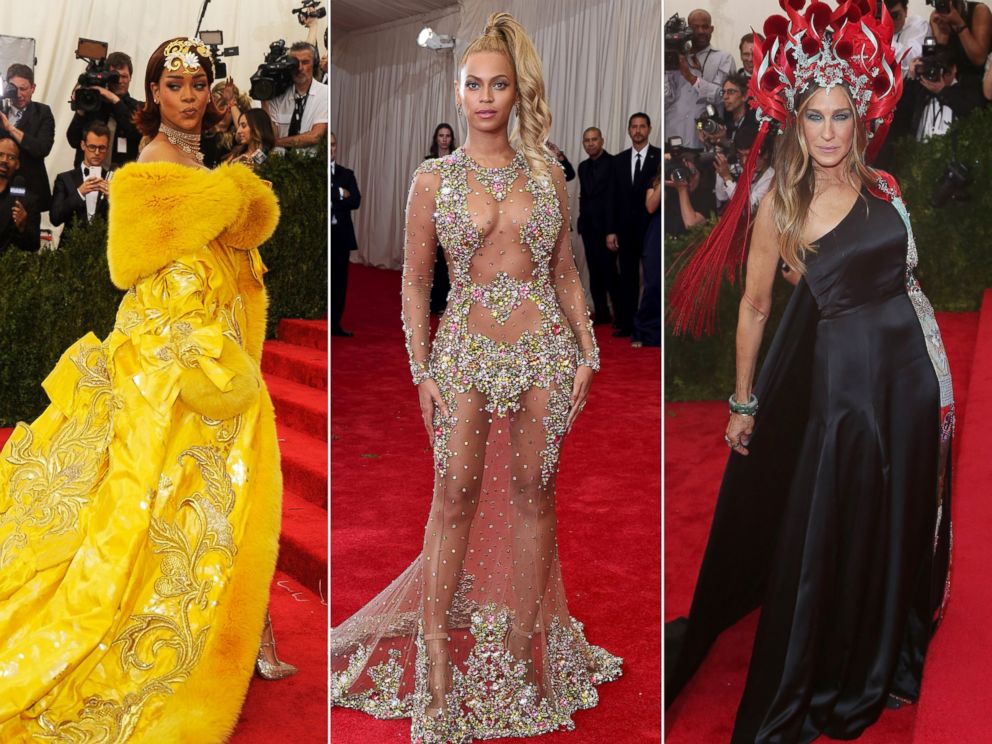 Other celebs took their risks in the form of baring it all. Beyoncé dazzled in a largely sheer Givenchy confection, arriving 90 minutes after most of the guests had arrived to ensure she didn't have a wardrobe malfunction.
"It took her five hours to get into that dress," Yahoo Style editor-in-chief Joe Zee said on "Good Morning America." "Every bead had to be glued on ... to make sure it was still very strategic."
Rihanna made a grand entrance sporting a yellow coat from Chinese designer Guo Pei that extended several feet and required its own entourage.
"Of course Rihanna would show up in this coat lined with fur and literally take four people to get her out of the car and walk the carpet," Zee said. "That is a princess."
Amal Clooney, on the other hand, took an understated approach to the night in a red John Galliano gown.
"Talk about over the top in a different way. Stripped down, minimal, not a single piece of jewelry around the neck or wrist," Zee said. "I think Anna Wintour had a little bit of say in this particular dress."
Last year's Met Ball raised some $12 million. No word yet on how much this year's raised, but it definitely raised the spirts of fashion lovers everywhere.