— -- Body activist and model Ashley Graham today announced a new swimsuit line dedicated to swimwear for curvy women.
Graham, who was the first so-called curvy model to have an ad in the iconic Sports Illustrated swimsuit issue, appeared live on "Good Morning America" to discuss her new swimsuit line, which is offered in partnership with the plus-size swimwear company swimsuitsforall.
The 28-year-old also answered questions from fans about which style of swimsuit would work best for people with either flat busts or large busts, as well as questions from a woman who has a tummy after having two kids and another who is short and wants to have the appearance of longer legs.
Graham, who wears a size 14, said she wanted her line to make women feel confident and sexy at the beach. The line features 11 style of swimsuits -– some of which incorporate metal detailing or Swarovski crystals.
ASHLEY'S ADVICE
Flatter busts: Find a suit with a halter, Graham said. One such suit -- her Espionage-style bikini, with double-cross top -- would help to give the wearer great shape and lift, she said. The braided straps draw attention to the chest, and can be tied even tighter in the back to create more cleavage.
Ashley's pick for flatter busts: Ashley Graham x swimsuitsforall Espionage Black Bikini - swimsuitsforall, $55.30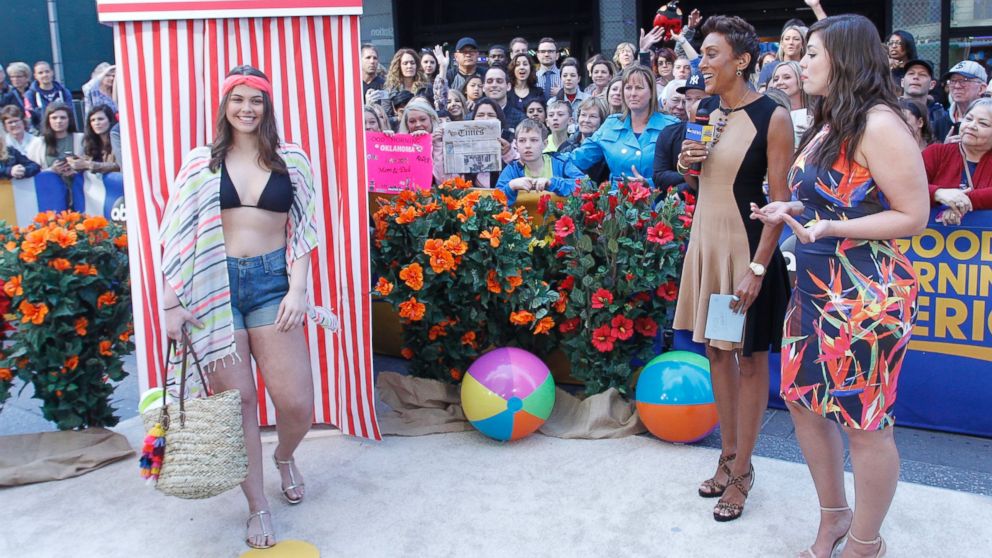 Larger busts: Find a suit with support, such as a built-in bra. Graham said several suits in her collection –- such as the Stakeout and Spy styles -– have bras built in, offering both style and support.
Ashley's pick for larger busts: Ashley Graham x swimsuitsforall Stakeout Swimsuit - swimsuitsforall, $138.60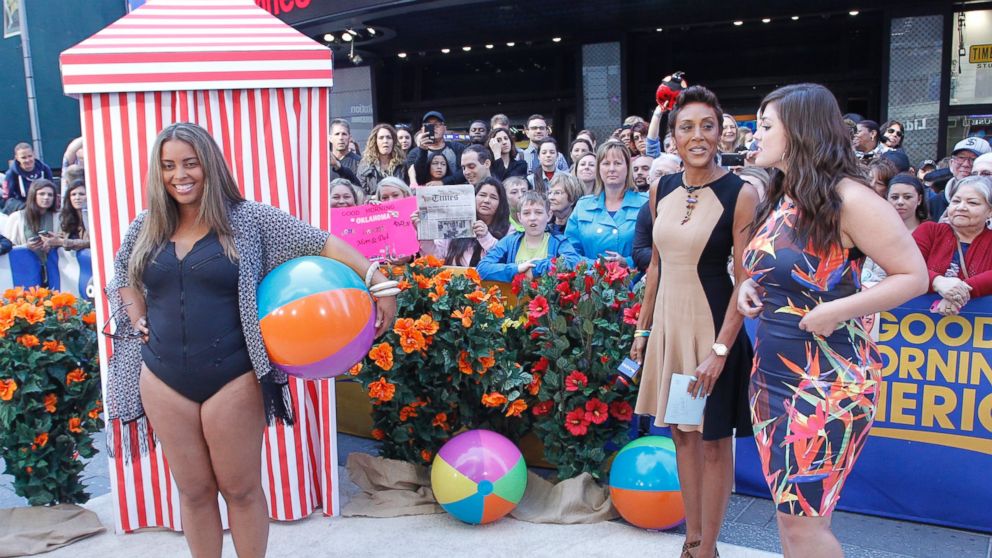 Post-baby tummy: Choose a suit with tummy control and ruching. Ruched fabric is great for smoothing and creating definition at the waist, Graham said. Her Trimshaper suit has a tummy control panel, which gives added support through the midsection. Another suit features a sweetheart neckline along with a halter, which draws the focus up higher on the body.
Ashley's pick to confident about your midsection: Solid Control One-Piece Tank Swimsuit by Trimshaper, JCPenney, $54.99
Short people who want the appearance of longer legs: Choose a bikini. Showing a little bit of skin will help make the wearer's legs look longer by focusing people's attention to the exposed skin, Graham said.
Ashley's pick for the illusion of longer legs: Women's Crochet Suit by Xhilaration. Bralette bikini top - Target, $14.00
Bottom - Target, $14.00