— -- For most people, getting dressed every morning seems like a simple task.
But at 17 years old, Lauren Thierry's son Liam still has trouble dressing himself. That's because Liam has autism.
"A lot of people with autism have issues with fine and gross motor skills," Thierry told ABC News on Friday. So Thierry started Independence Day Clothing, a fashion line for those with cognitive impairments or physical handicaps, so that people like Liam could get dressed independently and look just like everyone else.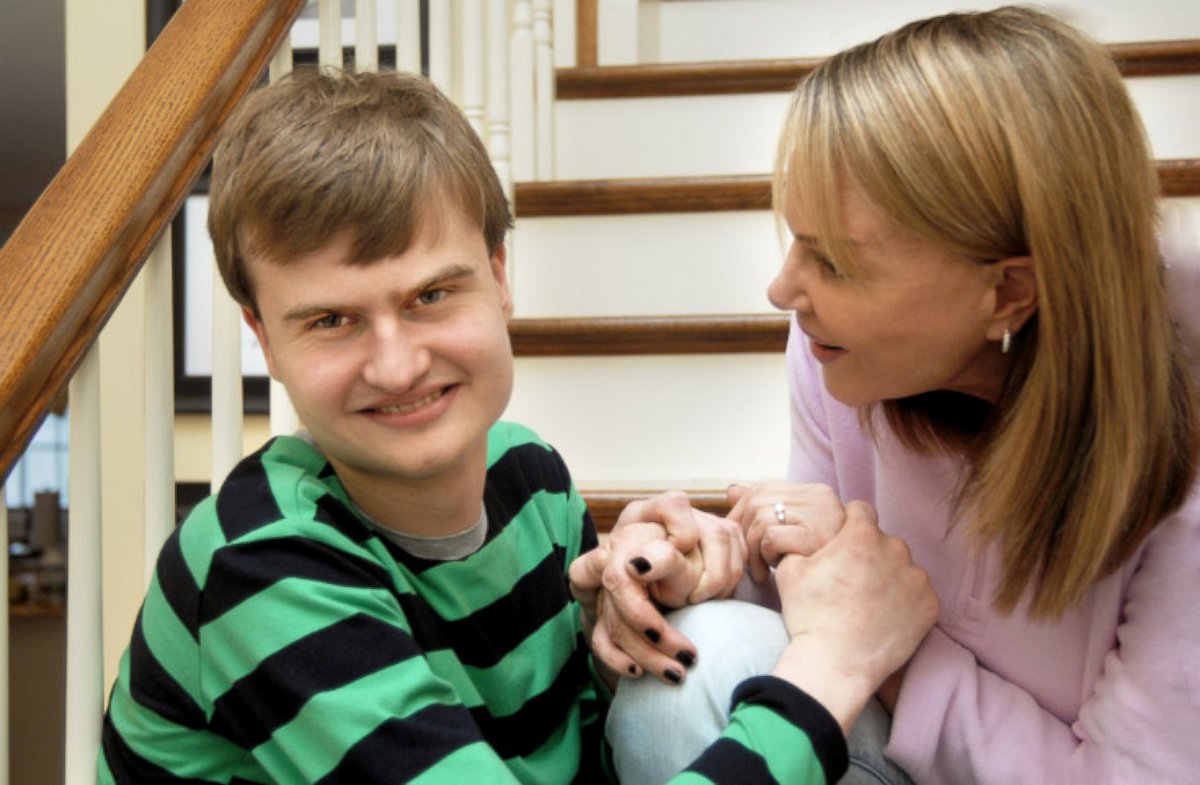 "I know it sounds like such a non-issue, and yet, if your kid can't get dressed, they can't get out of the house," Thierry, who lives with her family in Madison, Connecticut, said. "You start to realize mom is not going to live forever."
Thierry said everything crystallized for her one day when she attended a baseball game with Liam, who was then 11 or 12, her husband and their two other children.
"Liam had to go to the men's room by himself, and he came out with his pants around his ankles," Thierry said. "I was just mortfied ... so I started designing."
Before she launched Independence Day Clothing 8 months ago, Thierry had been a financial news anchor for over a decade. She then left her job to care for Liam and to advocate for autism causes.
Thierry didn't have fashion experience, but having dressed Liam for years, Thierry said she knew what Liam and kids like him needed.
"First of all, they deserve better than t-shirts and baggy sweatpants," Thierry said. "I said whatever Liam's gonna put on – he's not going to look like that kid in the baggy sweatpants and the monochrome t-shirt that may or may not be inside-out. That was my son's uniform for years."
Instead, Thierry worked with a designer to create fashionable clothing so that Liam could dress like anyone else.
"But they need some help, so there are hidden helpers: there are no buttons, no zippers, no tags, and no laces," Thierry said.
The clothes are not identified as specifically for males or females, and they are also constructed without a designated back or front so that it will never look like someone is wearing them backwards. Because people with autism have sensory issues, Thierry said, she made everything with super sensory smooth fabric, so nothing in uncomfortable or difficult to put on.
"These are clothes that are for moms that are not going to live forever," she said. "These are clothes that are going to launch them into independence."
There is also an option for parents to have GPS devices embedded into their children's clothing. Though she realizes it may be controversial to some, Thierry called it a "lifesaver."
"I don't look at it as a spy technique," she said. "If you ever felt that pit in your stomach of, 'Where is my special needs kid who cannot speak up or tell you where he lives,' [you'll understand.]"
Kimberly Ha, a Programs and Outreach Associate at Organization for Autism Research, told ABC News that Thierry has "the right idea."
"Every now and then, people accidentally wear their clothes inside out or put their shirt on backwards. For some people with disabilities, this can be a daily struggle," Ha said. "These reversible clothes have been tailored to meet the sensory needs of children with autism, and can help make a considerable difference in morning routines. The best part is that the clothes have an optional GPS tracker pocket for those that tend to wander away or get lost easily."
Anyone can wear Independence Day Clothing, and Thierry will soon be extending the line to children's, extra-large and double-extra-large sizes. Since launching, Thierry said the response has been overwhelmingly positive.
"We really changed the conversation," Thierry said. "They can get up, get dressed and feel good about themselves. Why not start the day on a positive note?"