— -- A Michigan mom's Facebook post is taking the Internet by storm after she thanked Santa Claus for his kind words to her son with autism during their Dec. 4 visit to take holiday photos at the mall.
"I thought, he did a wonderful job and this man needs to be recognized," Naomi Johnson of Muskegon, Michigan told ABC News. "I have had so much positive reaction and people from families with children with autism thanking me sharing their story, giving them hope that they can take their children out and be accepted.
"To give people that hope [by] sharing a simple story about a five-minute conversation that my son had with Santa is just amazing."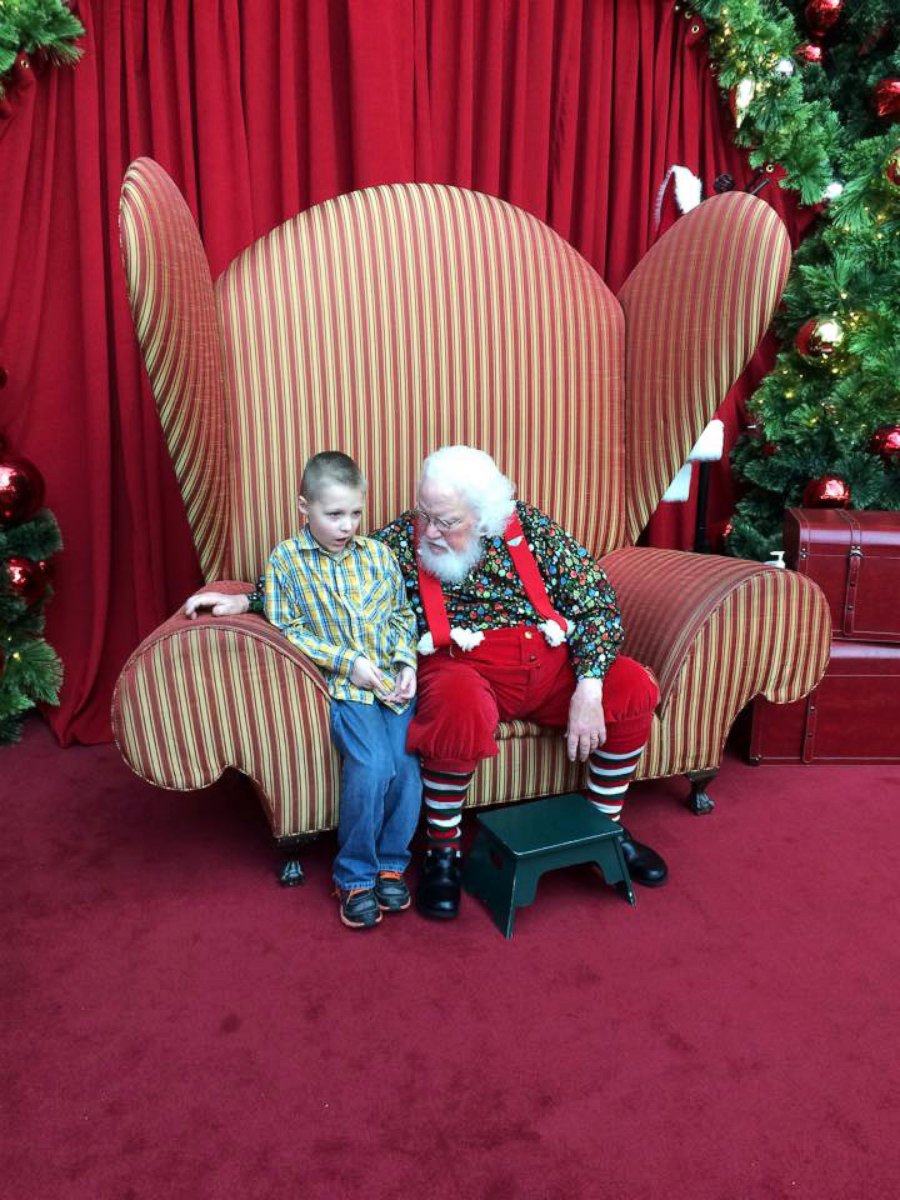 Johnson, 32, said it was Friday when she took a drive to RiverTown Crossings shopping mall in Grand Rapids so her son Landon, 6, could see Santa Claus, along with his aunt and four cousins.
"He [Landon] went up there, he told Santa what he wanted and they chatted for a couple of seconds," she said. "We waited for the pictures to be printed and he went back to talk to him again. I look, and Santa's got his [Landon's] hands in his. A couple of minutes go by and Santa is in deep conversation with my son.
"I didn't know what was being said," Johnson added. "I just thought it was really cute, but it wasn't until moments later that I found out what had happened."
During the drive home, Johnson said she and her sister asked Landon what he and Santa were chatting about, to which he replied:
"I wanted to tell Santa that I had autism," Landon told his mom. "He wanted to know if it bothered me, having autism, and I said, 'Sometimes.' And Santa said it was OK to be who I was."
Johnson said that since her son's story brought her to tears, she felt it was necessary to thank the Santa Claus at the mall in a Facebook post.
"Santa asked L if it bothered him, having Autism?" she wrote. "L said yes, sometimes. Then Santa told him it shouldn't. It shouldn't bother him to be who he is. L told Santa that sometimes he gets in trouble at school and it's hard for people to understand that he has autism, and that he's not a naughty boy. Santa told L to not worry and that he has been a very good boy being who he is. They sat, and chatted for at least 5 mins. Santa payed close attention and listened to him. This just melts this momma's heart! My child is a great advocate for himself. But this day was different. He opened up to this person about who he was and he was accepted..."
The note generated 99,000 "likes" in just two days.
"You knew it was going to impact Landon in the most positive way," Johnson said. "I always tell him he's unique and special, but when Santa says it to him, it really means something."