Mom Pushes Triplets in Stroller for Half-Marathon, Possible World Record
Suzy Goodwin, 35, finished the race in just over two hours.
October 31, 2016, 1:33 PM
— -- A North Carolina mother of four children may have set a Guinness World Record after racing a half-marathon while pushing her 14-month-old triplets in a stroller.
Suzy Goodwin, 35, ran the North Carolina Halloween Half Marathon in Fayetteville on Sunday in 2 hours, 1 minute and 19 seconds, according to race results.
Goodwin has submitted her official race time to the Guinness Book of World Records. If it's approved, she will set the world record in a new category: completing a half-marathon with a triple stroller.
Also the mother of a 3-year-old son, she said she has run 50 marathons in 42 states since she started running 15 years ago. After finding that the triplets enjoyed being in the stroller while she ran, she raced to a first place female finish in a 5K in May and then was inspired to set a world record.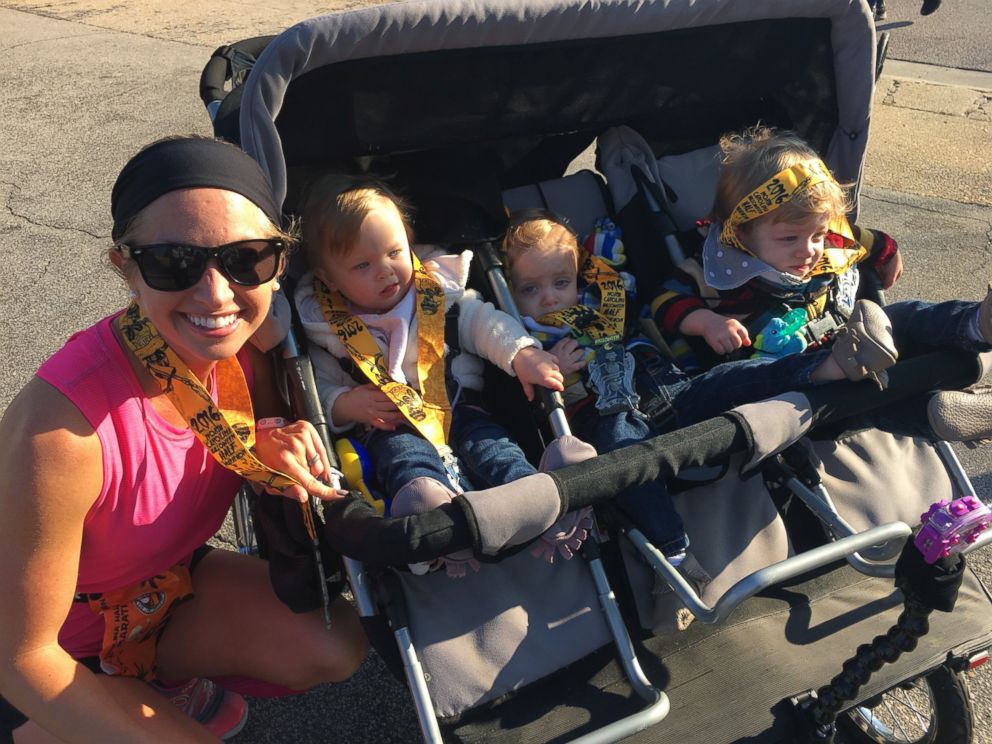 "A triple stroller record is just obscure enough," said Goodwin, whose husband is an Army captain stationed at Ft. Bragg. "There are people I'm sure who will come along and break it, but in the spirit of camaraderie, I hope they do."
During the race she stopped to change a diaper around Mile 7 and kept her babies happy with pacifiers, crackers and entertainment.
"It was the most proud I've ever been to run," Goodwin said. "It's always great to pass the men and hear them mutter under their breath, 'The mom with three babies just passed me.'"
She said she ran the race to support the nurses and doctors of the neonatal intensive care unit at Cape Fear Valley Health, where her triplets — Charlotte, Gabriel and Gideon — spent the first 10 weeks of their lives.
"The most satisfying thing is hearing from nurses who haven't seen the triplets in a year saying, 'It's great to see the Goodwin triplets,'" she said.
She added, "This is the biggest way I know to say thank you and honor the work God did through the NICU nurses and doctors."