— -- Whether they made you smile or made you cry, ABC News' top parenting stories of 2015 were ones that left impressions on readers around the globe.
From a dad who refused to give up his newborn baby to airline kindness gone viral, here are the some of the most memorable tales of the parents who did, and are, doing it right.
Dad Refuses to Give Up Newborn Son With Down Syndrome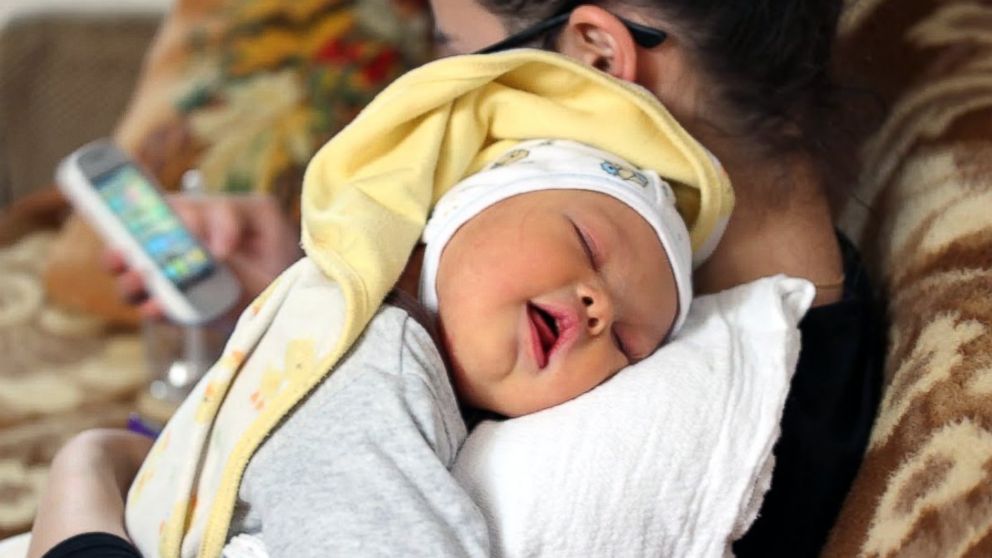 Back in February, a man named Samuel Forrest of Armenia took the Internet by storm after sharing his riveting story about facing his wife's ultimatum to give up their newborn son, Leo, who was born with Down syndrome, or be prepared to sign divorce papers.
"They took me in see him and I looked at this guy and I said, 'He's beautiful; he's perfect and I'm absolutely keeping him,'" Forrest told ABC News.
"This really came out of the blue for me," he continued. "I don't have a lot, I have very little in fact. The goal is to raise enough for a year so I can get a part-time job so Leo doesn't have to be in daycare and I can help care for him. He's lost a lot in two weeks. It'd be different if he had his mommy."
In less than two days, the Internet raised over $500,000 for Forrest's campaign titled "Bring Leo Home."
Mom's Facebook Apology for Kids' Movie Behavior Brings Recipient to Tears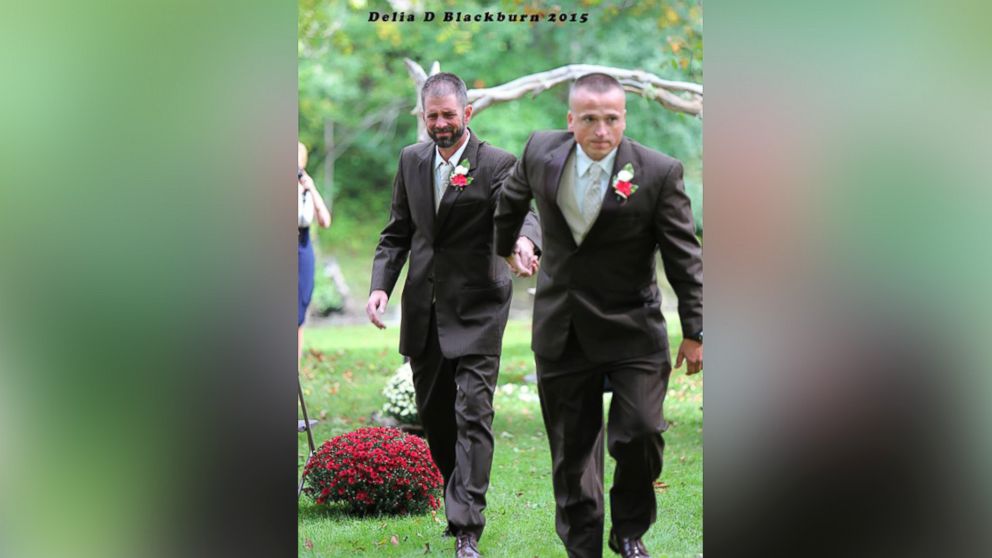 A moviegoer was moved to tears after receiving an apology over social media from a mom who said she was mortified by her children's "rude and obnoxious" behavior at the same theater.
Kyesha Smith Wood, of Birmingham, Alabama, dropped off her son, daughter and stepdaughter at the movies, she said in a Facebook post. The son is a teenager and the two girls are 13, according to ABC's Birmingham affiliate, ABC 33/40.
"My son later told me, much to my humiliation and embarrassment, that my girls were rude and obnoxious during the movie," Wood wrote. "After the movie she approached my girls and told them that her husband had been laid off and this was the last movie she would be able to take her daughter to for a while and my girls ruined that for her...Please message me if this is you. I apologize profusely for their disrespect."
The post was later shared by Sgt. Jack Self on the Jefferson County Sheriff Facebook page, which eventually reached Rebecca Boyd of Adger, Alabama, the mom from the movie theatre, who soon contacted Wood about her apology.
"She's the most gracious, kind and forgiving woman," Wood told ABC 33/40. "I am so humbled by that."
Boyd told ABC News in March that she believed Wood's daughters to be "good girls" and that she'd like to see them again.
Wisconsin Woman Makes 29-Gallon Breast Milk Donation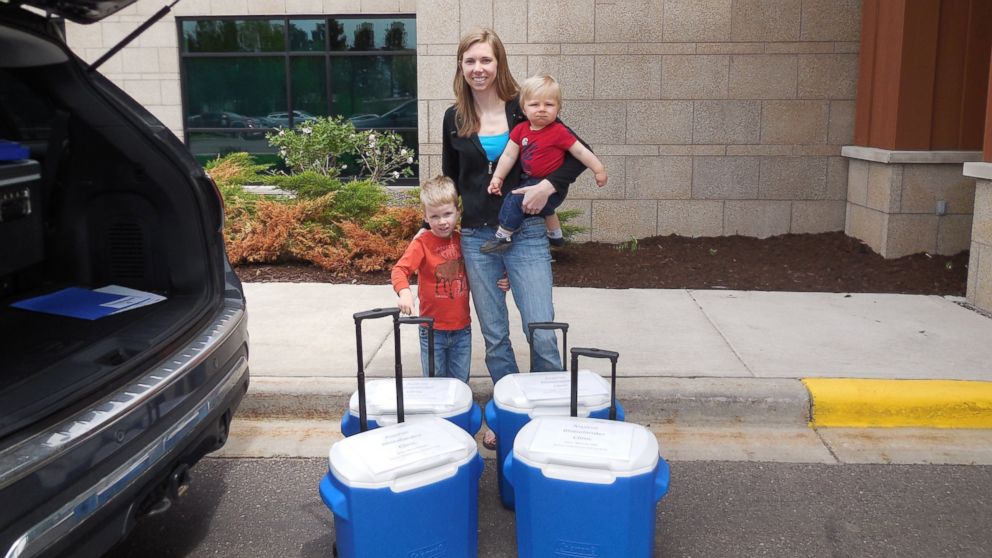 A mom of two from Wisconsin impressed parents all over the world after sharing word of her generous 29-gallon breast milk donation with ABC News in June.
Amy Bormann of Rhinelander, Wisconsin, said she was breast-feeding her second child when she soon realized she had two deep freezers full of back-up supply. Not wanting her milk to go to waste, she asked a local lactation consultant about donating.
Bormann ended up donating a whopping 3,702 ounces to The Milk Bank donation center at Aspirus Wausau Hospital in Wausau, Wisconsin.
"It's such an easy process and I would hope that if other moms had extra milk they would donate, too," she said. "It's totally worth it to keep at it a little longer. Every little bit goes a long way."
Mom Dying of Cancer Writes Greeting Cards for Toddler's Future Milestones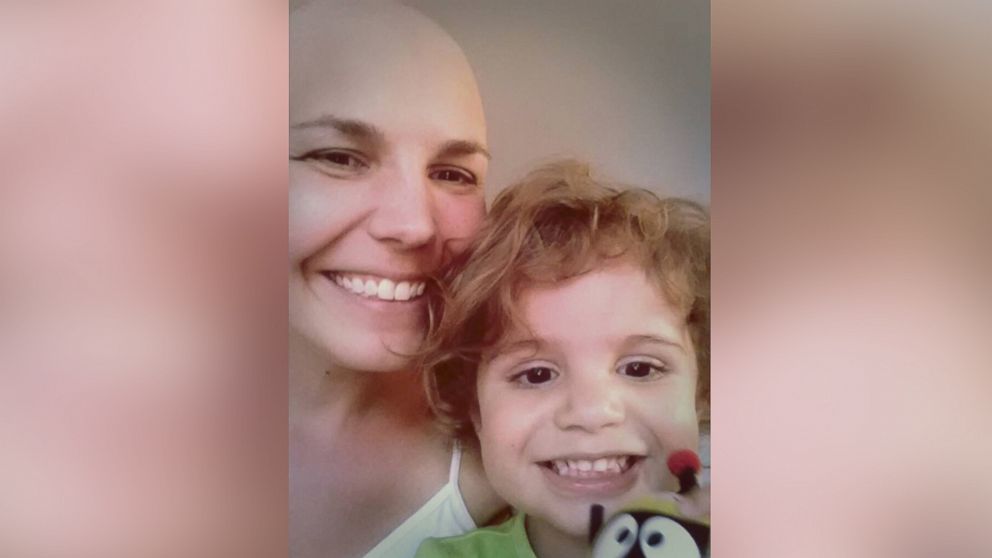 Despite her terminal breast cancer diagnosis in 2014, mom Heather McManamy was determined to remain forever in her daughter Brianna's memory, by filling out greeting cards for the 4-year-old's future milestones.
McManamy told ABC News in July that she was up to 40 cards and later increased that number to 70, after following up with us in early December.
"They're like this physical representation of 'this is all of the stuff I'm going to miss,'" she said. "I'm going to miss everything and I never like missing anything. I'm always the last one to leave the party."
McManamy died Dec. 15, but her positive attitude and humor shared in her final Facebook post touched the hearts of all who read it.
"So…I have some good news and some bad news," Heather penned in a prepared note. "The bad news is, apparently, I'm dead. Good news, if you're reading this, is that you are most definitely not (unless they have wifi in the afterlife). Yes, this sucks. It sucks beyond words, but I'm just so damn glad I lived a life so full of love, joy and amazing friends....
"I love you, Jeff," she continued, addressing her husband. "I believe that the awesomeness that is Brianna is our love brought to life, which is pretty beautiful. It absolutely breaks my heart to have to say goodbye. If it's half as sad for you as it is for me, it breaks my heart over again because the last thing I ever want to do is make you sad. I hope that with time, you can think of me and smile and laugh, because, holy s--- did we have a breathtaking life."
McManamy's memoir titled "Cards for Brianna: A Lifetime of Lessons and Love from a Dying Mother to Her Daughter," will be released in April 2016.
Mom Searches for Mystery Child in Heartwarming Photo With Disabled Son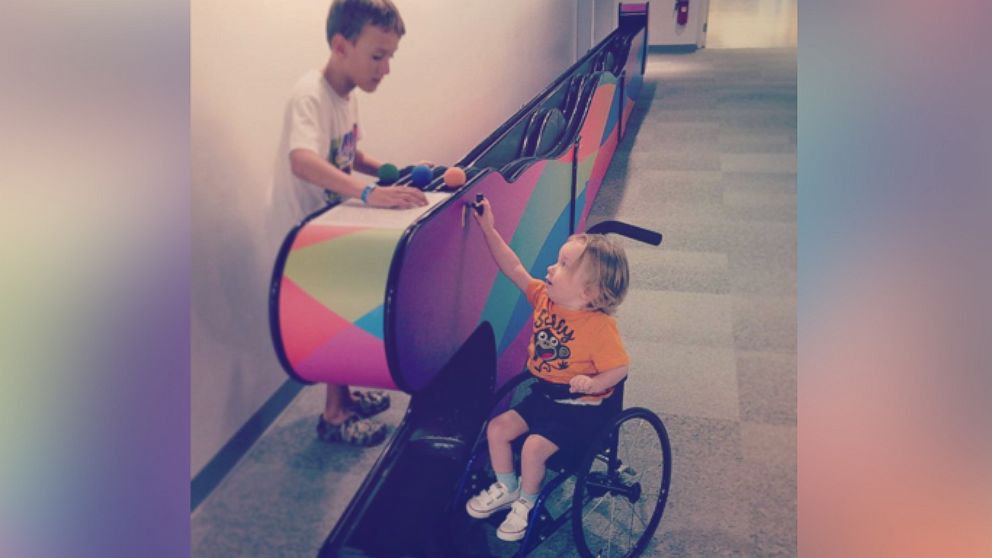 One mom experienced a touching moment when she witnessed an unknown boy interacting with her 18-month-old son, who is wheelchair-bound, at a local science center.
A Florida mom's attempt to track down the parents of a mystery child captured in a photo with her disabled son yielded an overwhelming response on Facebook this August.
"To the little boy at the science museum, I don't know who you are, but thank you for being amazing," Katie Myers of West Palm Beach, Florida, wrote in the photo caption. "You let my son play and engage with you. You helped him pick up balls from the floor when you saw that he could not. You didn't ask what was wrong with him or why he couldn't walk, you just saw him. Kaden is a lot like you, he is very curious and wildly smart. He wants to know how everything works.
"Thank you for helping him turn the lever when you noticed he was too weak to do it himself," she continued. "You will probably never see this but just by being you, you make this world better. #cureSMA #kadencan"
Myers told ABC News that her aim was to thank the child for being kind to her 18-month-old son Kaden, who is wheelchair-bound, and taking the time to play with him at a local science center.
Myers' heartwarming post racked up over 225,000 "likes" and upward of 51,000-plus "shares."
Mom Writes Heart-Wrenching Note on Alcohol-Related Crash That Killed Baby, Husband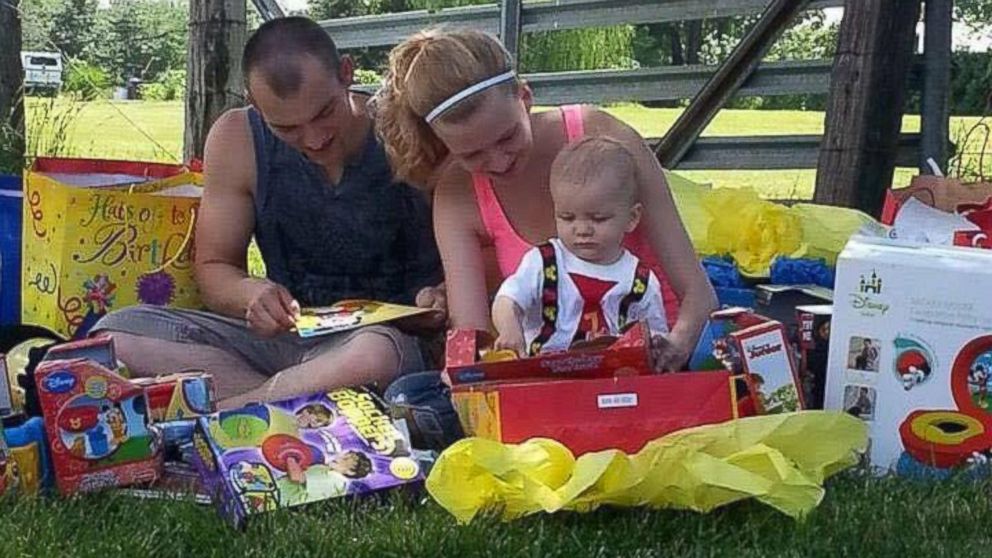 A grieving mom's post broke the hearts of thousands of Facebook users in September.
Destiny Mantia of Winfield, Missouri, shared the devastating recap of how an alcohol-related car accident took the lives of her husband and infant son on the one-year anniversary of the crash.
"That day the Destiny that was a mom and wife died as well. I've sense had to find myself," Mantia wrote, in part, on Facebook. "I never knew the strength I could pull out that I never knew I had....This hurt, pain and our future could of all been prevented if someone would have stepped up and stopped this selfish woman from drinking and driving. You can save someone's life too! Don't allow your friends and family drink and drive. Don't share DUI checkpoints. Be an advocate! Stand up with me! Let's stop this. One is too many. DONT DRINK AND DRIVE!"
Mantia told ABC News that she hopes her story helps reduce the number of alcohol-related injuries and deaths.
See Touching Way Father of the Bride Honored Bride's Stepdad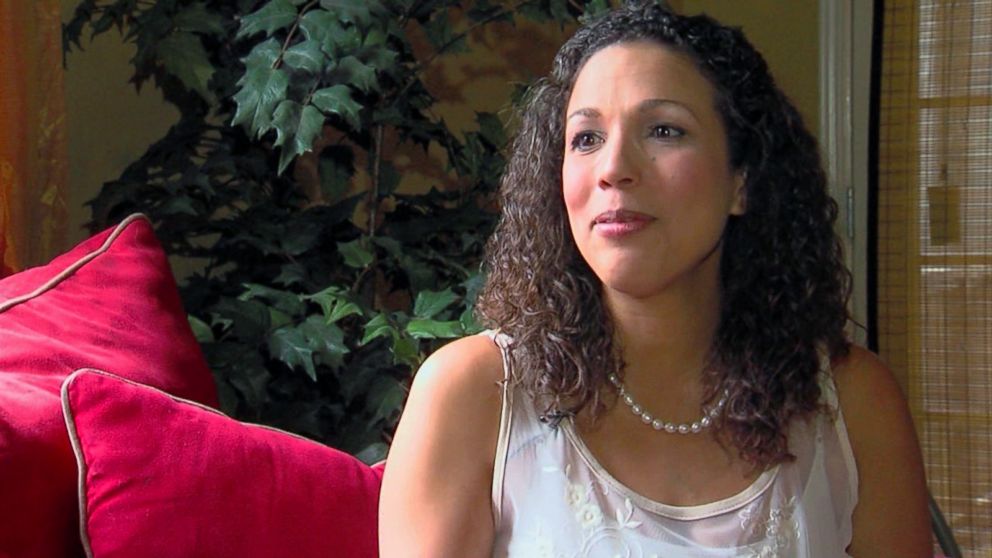 A photo captured at an Ohio wedding ceremony left guests teary eyed after the bride's father, Todd Bachman, paused the event to allow his daughter's stepfather to finish escorting her down the aisle.
Brittany Peck told ABC News in September that she wanted the two men to walk her down the aisle, but didn't know how to tell her dad.
"He said, 'You don't have to say anything more. I already have a plan for everything. I know what you want. Don't you worry about it. I've got it covered,'" Peck recalled.
Photographer Delia Blackburn shared her touching photos of Bachman grabbing stepdad Todd Cendrosky's hand on her Facebook page, where they were shared more than 400,000 times.
Airline Kindness: Amazing Gesture of Stranger Captured in Viral Photo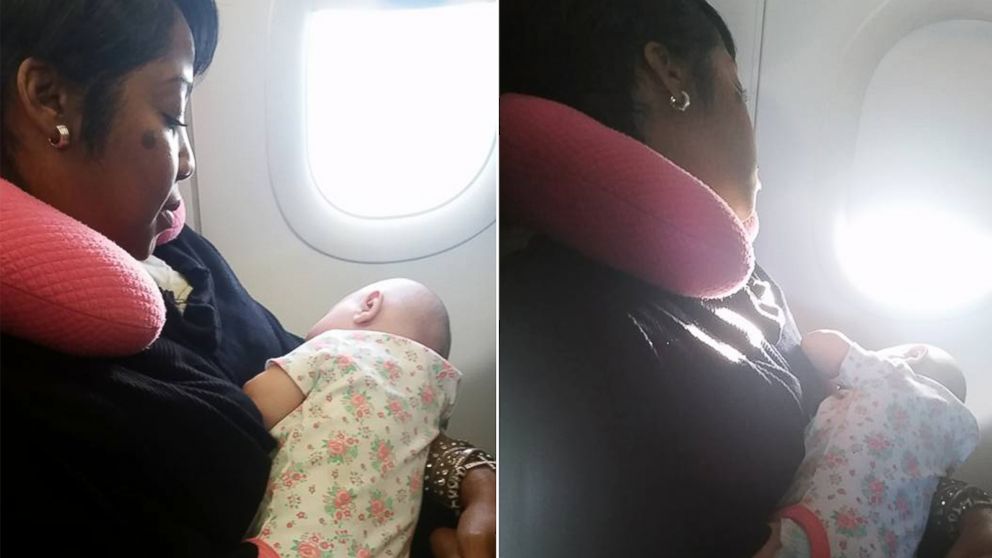 When Rebekka Garvison's baby Rylee started crying aboard their Spirit Air flight from Chicago to Atlanta, she noticed her in-flight neighbors were far from pleased.
But after asking to change seats, Garvison's new seatmate brightened the day of the young mom from Kalamazoo, Michigan, who was on her way to surprise her military husband.
"Rylee wouldn't stop crying no matter what I would try and do ... so she had asked if I didn't mind if she tried and of course I let her," Garvison wrote on Facebook. "As soon as she had her, Rylee was looking out the window and stopped crying. When we got in the air she fell right asleep and slept in her lap the whole flight until we got to our gate. She kept saying it wasn't a problem at all and it was actually a comforting feeling for her. She even carried her off the plane and held her so I could get the stroller and carseat put back together so I wasn't struggling to try and do it all alone."
Garvison told ABC News in September that "airplane angel" Nyfesha Miller is "an incredible woman who deserves all the accolades she is getting."
Dad Fulfills Dying Wish to Walk All 4 Children Down the Aisle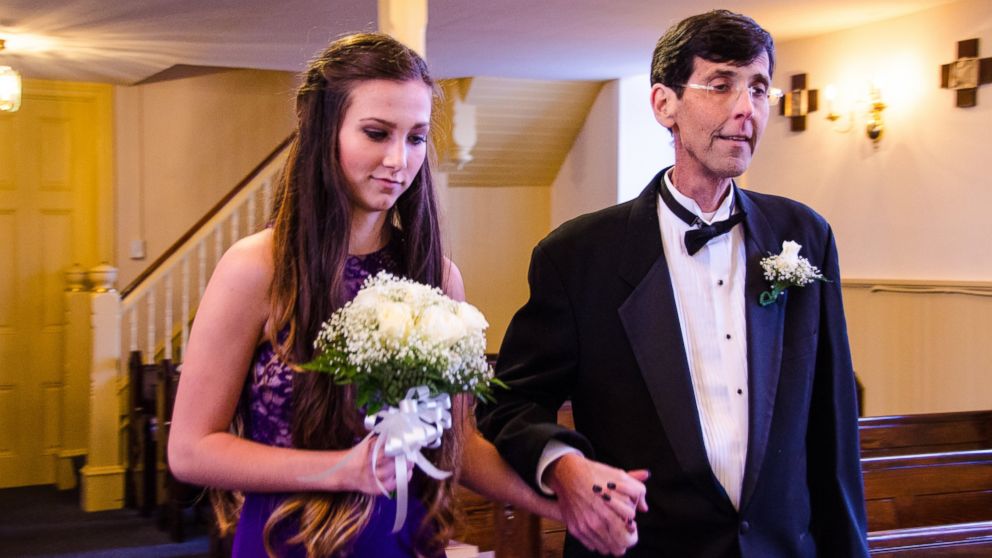 In early October, a terminally ill Pennsylvania dad fulfilled his dying wish after walking all four of his children down the aisle to make up for the wedding days doctors say he'd most likely miss because of his prognosis.
With the help of Team CMMD, a Pennsylvania-based cancer foundation, McHugh said Ken was able to walk his daughters Samantha, 19, Julia, 15 and Kathryn, 14, and son Dylan, 17, down the aisle Oct. 3, in what they named "the family wedding."
In addition, Ken and his wife, Tammy, after being married for 20 years, renewed their vows with the kids serving as witnesses, Tammy told ABC News.
Ken died from pancreatic cancer Dec. 19. He was 47.
"Because of you, my life has been a fairytale," Tammy wrote on Facebook the day of her husband's death.
Dad Shares Story Behind Tearful Post About Becoming Single Parent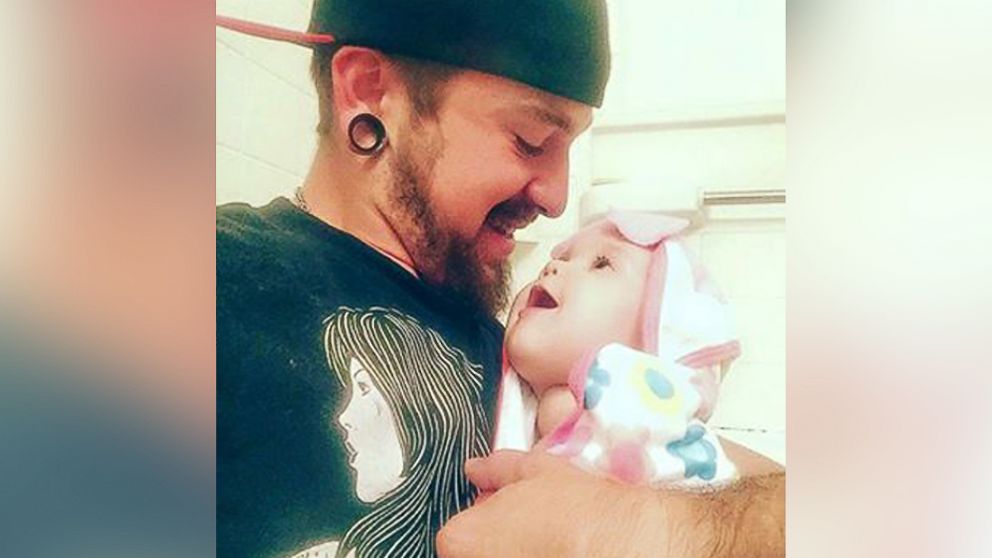 A Las Vegas father inspired single parents all over the world after a well-known daddy blog shared the touching letter he wrote thanking the owners for helping him become a "better father."
"They helped me become the father my daughter needed and the man I always wanted to be," Richard Johnson told ABC News in November. "I am forever in debt to them. I'm shocked at the attention it's gotten. I've gotten incredible messages [from other parents], but they are the ones who helped me."
With Johnson's permission, the blog "Life of Dad" shared his heartfelt words with its followers on the social media site, where it quickly racked upward of 20,000 "likes."