— -- When Tennessee Titans' cornerback Logan Ryan wed his college sweetheart Ashley Bragg Ryan, he had already received the best gift for a football player.
Ryan, 26, earned two Super Bowl titles with the New England Patriots before being signed to the Titans in March.
"Their wedding donations really helped us in a time of need." - Help Animal Welfare in St. Lucia
So when Ryan, 26, and Bragg Ryan, 26, jumped the broom in front of eight guests inside St. Lucia's Jade Mountain Resort on April 7, instead of gifts they asked their guests to donate to a local animal shelter, Help Animal Welfare in St. Lucia.
The couple, who met while attending Rutgers University in New Brunswick, New Jersey, got the idea when they arrived in the island country.
"When we got to St. Lucia we noticed on our drive all the stray dogs and cats on the street. It was very strange to us," Bragg Ryan told ABC News, who is a certified professional dog trainer.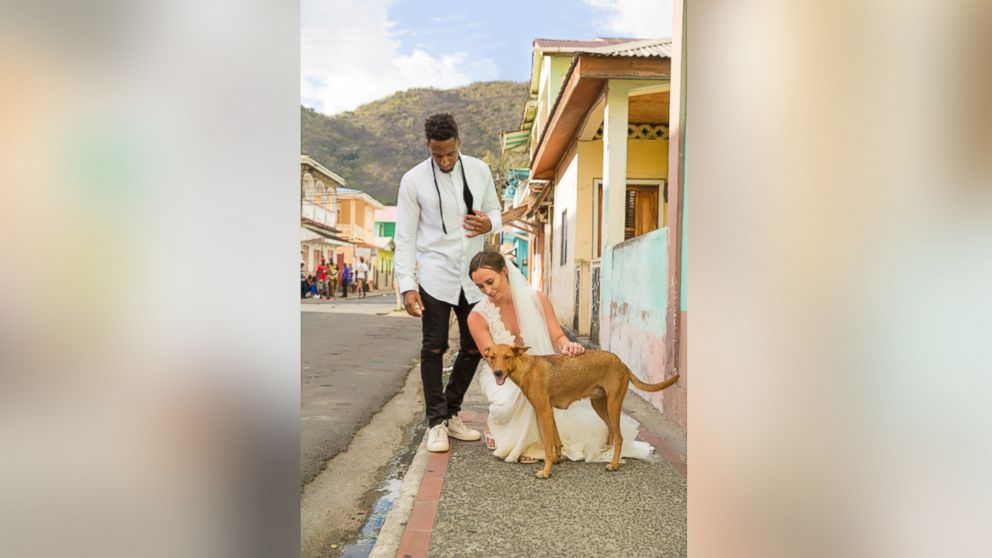 Their idea was confirmed after their wedding, which featured their 1-year-old daughter, Avery. The two did a photoshoot around Soufrière, Saint Lucia when they spotted a stray dog, Ryan told ABC News.
"We were just having fun, having just gotten married," he recalled. "We're walking the streets, doing this photo shoot and this dog kind of chose us."
"The dog was following us and I was just worried about Ashley's dress, because it was so expensive. It was Ashley who welcomed it, petting this dog -- that's just the type of person she is. When I saw she was OK with it, I was OK with it," Ryan continued.
Ryan said they "felt attached" to the dog, and after leaving to go back to the resort, they felt they had to do something more.
Their photographer, Bernd Rac, told them about a local animal rescue organization, Help Animal Welfare in Saint Lucia.
"We got in touch with them, and talked about how we could help because we got married in Saint Lucia and it had become a special place for us, so it was a great way to give back," Bragg Ryan said.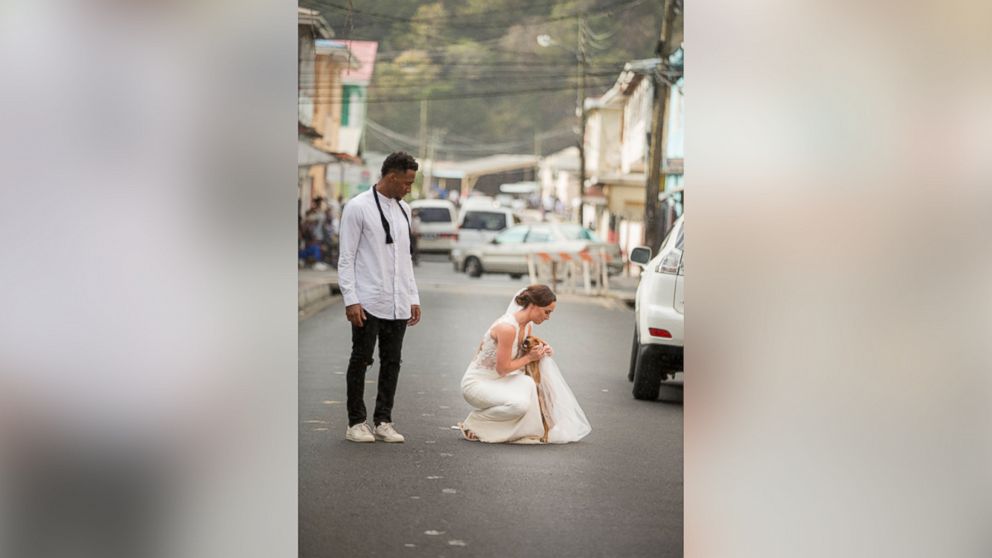 Help Animal Welfare in Saint Lucia, founded in 2012, said in a statement that the wedding's donations did truly help.
"Running a rescue anywhere in the world is financially, physically, and mentally draining and it is impossible to do it without help from people like the Ryans," their statement began. "It is so easy to see a problem and walk right past or continue scrolling through your news feed hoping someone else will deal with it. Not many people actually stop to see what they can do to help when faced with a situation like this.Their actions showed us how big their hearts truly are."
"Without people like them who go above and beyond to help, we would not be able to continue saving lives in Saint Lucia," their statement continued. "The animals we rescue almost always have pre-existing conditions, which become expensive to treat and their wedding donations really helped us in a time of need. They haven't only have they helped us financially though, they've also helped bring awareness to our organization which is invaluable."