— -- A 6-year-old boy who communicates through sign language has found a new best friend in a deaf foster dog.
Connor Guillet met Ellie the boxer in December and the two have been inseparable ever since.
"It was immediate the way she reacted to my son," mom Brandi Guillet of Cocoa, Florida, told ABC News. "She let Connor grab her face, hug her, kiss her, it was amazing. When he [the rescue employee] said that she responds to sign language, I had to try it. We brought her home a week before Christmas and that was it."
Guillet, 42, and she and her husband Chad adopted Connor when he was 4 weeks old.
Connor was diagnosed with 22q deletion syndrome, a genetic disorder, at birth, and is as a result nonverbal. Connor was also born addicted to opiates, which may have contributed to his developmental delays as well, Guillet said.
"The second I saw him, I knew -- he needed a family and we needed a family," Guillet added of her son. "He literally is our wish come true."
Today, Connor is developmentally, psychologically, physically and emotionally delayed. He receives occupational therapy.
Guillet decided in December that it would be beneficial for her son to have a special companion, and after meeting Ellie, an 8-year-old boxer from Coastal Boxer Rescue, Guillet knew it was love at first sight.
Connor and Ellie play tug-of-war, go on the playground and jump on the trampoline together. While Ellie is deaf, she is still able to respond to Connor's simple sign language, Guillet said.
"He loves her, it's his buddy," she added. "He doesn't have a lot of human friends, but he has her."
The family is currently fostering Ellie, but will finalize the adoption in the coming days, Guillet said.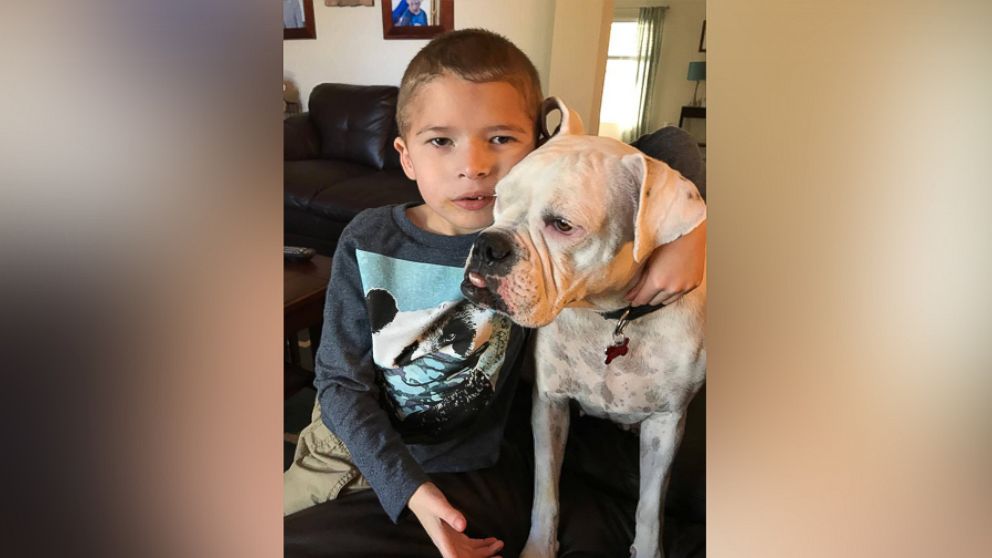 Liz Pobjecky, a registered behavior technician, has been working with Connor for a year at the Caladium Learning Center in Titusville, Florida.
Pobjecky told ABC News that she's witnessed firsthand the heartfelt bond between the boy and his dog.
"It's a win-win for both of them," Pobjecky said. "It's almost like she's a human to him. Connor communicates mainly through sign language and that's the whole thing about him and this dog. She answers him and most importantly, she understands him. She gets him and that's something he doesn't find a lot with his disabilities.
She added: "With people, when they have a disability, they're underestimated and it's unfortunate because Connor especially is extremely intelligent. People often forget that there's a person in there. With Ellie coming into his life and understanding him, it makes a world of a difference. I fell in love with Connor the moment I met him. He's everybody's sunshine on a rainy day."
Guillet plans to document the adventures of Connor and Ellie, she said.