— -- One Girl Scout troop is using Leonardo DiCaprio's recent Oscar win as a winning marketing strategy.
The troop, from the Girl Scouts of Suffolk County, New York, put up a hilarious sign insinuating that good fortune will come to those who purchase Girl Scout cookies, like how DiCaprio won his first Oscar at the same event where he bought Girl Scout cookies.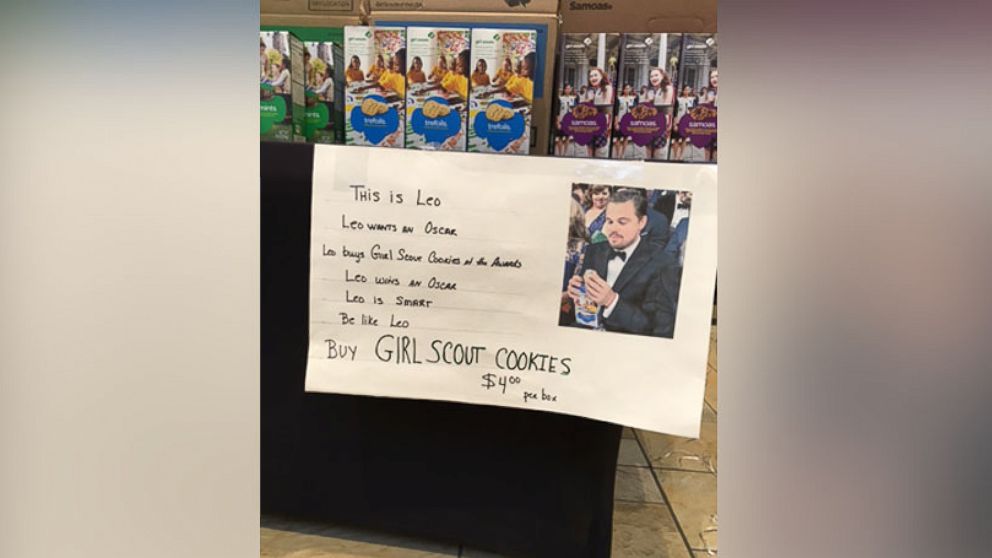 The official Girl Scout Cookie Facebook page shared a photo of the poster on Monday, and it's since received more than 55,000 Facebook reactions and been shared more than 13,000 times.
The Girl Scout troop behind the clever sign told ABC News that they came up with the idea for the poster after watching the Academy Awards and noticing that the actor, who won his first Oscar for his role in "The Revenant," bought a box of Trefoils from host Chris Rock during the show.
"We thought the photo was funny and would help make people buy cookies," the troop said. "We saw the Academy Awards and thought it would be a good idea if we could do something like that."
The troop's marketing strategy was success, as the girls noted that their sign caught the attention of many people walking by who were so amused by the poster that they stopped to take photos of it.
When asked if the troop thought the sign helped them sell more cookies, the answer was a resounding "Yes!"
"It made people stop at the table to read the sign, and then we were able to ask them to buy cookies. It's hard to say no to a Girl Scout," the troop said.
Nine-year-old Girl Scout Molly noted that the cookie sales helped her troop complete a number of different Girl Scout activities and earn badges.
"We completed a lot of badges with our cookie money, and we do many community service projects such as perform for the local convalescent home, food drives, planting projects, and holiday tree decorating at the local park," Molly said. "My favorite community service has been working at food pantry where we sort food and stock shelves."
For those of you who can't make it to the Girl Scouts of Suffolk County's cookie sale, you search for cookie sales near you by entering your zip code here.