5 Offbeat Ways to Celebrate Easter
Move over, Christmas tree.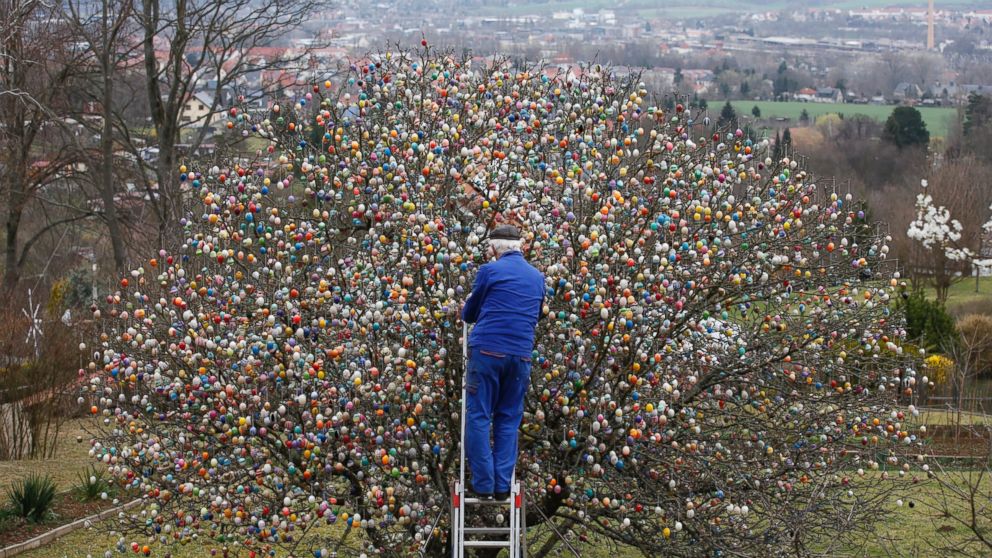 — -- intro: Easter's almost here, and while egg hunts, brunch and bunny-hopping are all good and well, there's no harm in thinking outside the basket. While the meaning of Easter remains the same for Christians around the world, there are many different traditions that can make the holiday more fun. If you're looking for a few ideas of how to differentiate your celebration this weekend, here are five ideas.
quicklist: 1title: Bunny Beauty Pageantstext: A Bunny Beauty Pageant is part of New York City's Full Bunny Contact event -- with games like Shoot the Peep and Egg Putt. Even if you're not in New York to enter your rascally rabbit, there's no reason you can't get your bunny-parent friends together for an event of your own. Todd Hanebrink, pictured, is a proud rabbit parent to Dumbo, Diva and Diesel. He's competing his furry friends in the New York event. "Rabbits aren't only for Easter but a pet that lives 10 to 12 years," he said in an email. "So education on them needs to be put out there and I'm trying to do my part with my YouTube channel, NYC BUNS, & my instagram, nycbuns."
His secret to bunny pageant success? Keep it natural. "You can't wash a rabbit and manipulate their fur with shampoos and Sheens. It's all natural, that's what makes them so beautiful to me."
media: 30049942
quicklist: 2title: Easter Bonfires text: In some parts of Germany, Sweden and the Netherlands, the practice of building Easter fires -- usually on Good Friday or the night before Easter -- is a tradition. While today the bonfires are mostly a way for a community to come together, the origins of the fires may have been to use their light to chase the darkness of winter away. Many beaches in the U.S. allow bonfires before Memorial Day with a permit. So why not light your own and (hopefully) say goodbye to the cold until next year? media: 30046028
quicklist: 3title:Unwrapping Egg Surprises a la YouTube text: If your kids are among the millions -- yes, that's millions -- of people obsessed with YouTube's chocolate egg-unwrapping videos, there's no time like the present to bring it to real life. Choco Treasure, the only legal chocolate egg with a toy surprise inside in the USA, is launching an expanded collection for Easter to include a limited-edition Hello Kitty and Penguins of Madagascar series, along with the already available Sports Balls and Original Eggs series.media: 30048347
quicklist: 4title: Kite Flyingtext: Go fly a kite isn't an insult in Bermuda, at least not on Good Friday, where the practice is a popular way to spend the day. Horseshoe Bay Beach is the place to be, but if you can't make it to Bermuda, there's no rule you can't fly your own kite this weekend. So why a kite? According to Bermuda-Attractions.com: "The legend says that a local teacher was trying to explain to his students during his Sunday school how Jesus elevated himself to Heaven by self power, i.e. about Christ's Ascension. Since he could not convince the students, he launched a kite that looked like Jesus Christ to explain the matter." media: 30050311
quicklist: 5title: Easter Treestext: Move over Christmas tree: Trees filled with pastel Easter eggs are as beautiful in spring as twinkling lights are in winter. Though the origins are unclear, the practice of decorating trees with eggs is most popular in Germany and Austria. The decorating typically begins several weeks before Easter, but there's no reason you can't take your kids' eggs outside to the nearest branches this weekend for a twist on the traditional egg hunt. But its unlikely you'll set any records: A German family in the town of Saalfeld have decorated their apple tree with as many as 10,000 hand-painted eggs. media: 30050550