Ohio hospital creates infant-cuddle program for babies withdrawing from opiates
Miami Valley Hospital launched the pilot program July 1.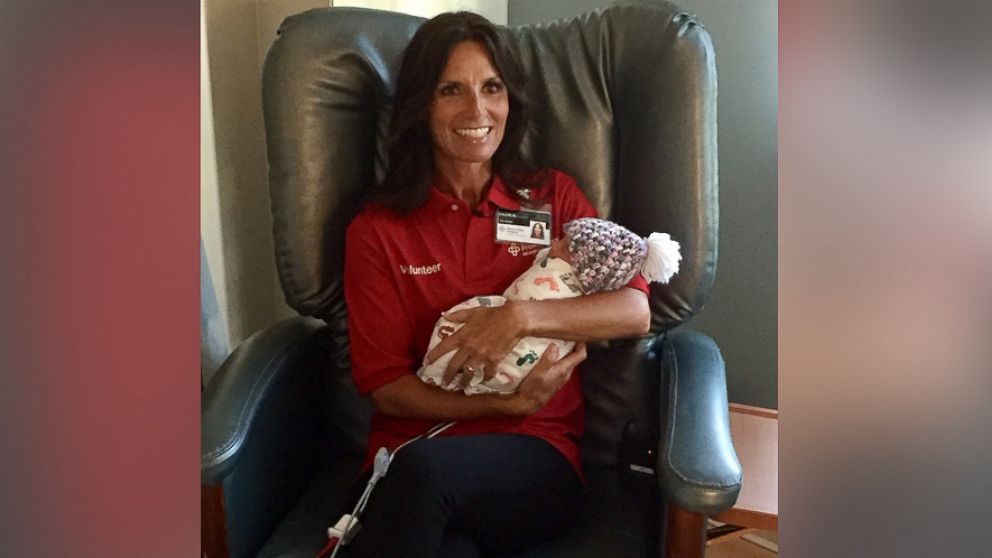 — -- When Floyd Chriswell retired for the second time in 2010, he knew he wanted to volunteer.
"I didn't want to sit down," the 74-year-old told ABC News. "I still wanted to do something."
Chriswell, who had worked in sales, said that after his granddaughter was born at Miami Valley Hospital in Dayton, Ohio, he noticed a few elderly people cuddling newborn babies.
"I told my wife that's what I want to do," he recalled. "I love little babies."
So when the hospital launched its volunteer infant-cuddle program for newborns diagnosed with neonatal abstinence syndrome, which affects babies suffering from withdrawal due to their mother's use of opiates or other drugs, Chriswell said he wanted to be the first in line to volunteer.
Amy Clayton, a clinical nurse educator who has worked at Miami Valley since 1998, said the hospital last year admitted approximately 90 newborn babies with the syndrome, often referred to as NAS.
After five years of research on pharmaceutical and non-pharmaceutical treatment options, the hospital launched an infant-cuddle pilot program on July 1.
The hospital said the initiative is already making a difference in the lives of her tiniest patients, whose moms are often not available because they are seeking treatment for their opioid use or have returned to work or gone home to tend to their other children.
"The moms' arms are the best medicine for these babies, but if the mom cannot be there to provide the cuddling social interaction, the cuddlers can help fill that void and help soothe and comfort these babies," Clayton told ABC News.
"I don't like to see little babies hurt at all. I don't like to see little babies cry," Chriswell said, tearing up.
He, like the other 14 volunteers in the pilot program, had to undergo a background check, medical testing and a nearly four-hour orientation "to make sure we're safe to handle the little babies," Chriswell said.
"The moms' arms are the best medicine..."
Dr. Kruti Jambula, a neonatologist at the hospital said babies with NAS often show symptoms like irritability, jitters, high-pitched cries, clamminess and sensitivity to bright lights and loud noises.
"They don't eat very well either, and if they do they might throw up," she said.
Jambula said it's important that the babies are treated not only with pharmaceuticals but with occupational therapy, such as a "good massage, nice soothing music," and of course the new cuddle program.
Since the program launched, the hospital has been "overwhelmed" with interest from prospective volunteers and is no longer accepting applications, Clayton said.
Still, Jambula suggested that people wanting to help could reach out to their local hospitals.
"If we can inspire other places ... it can only do more good," she said.