— -- Biglerville High School senior Brianna Burtop said she was surprised and offended upon seeing a letter that was given to her by her high school regarding the dress code policy for her graduation day.
"You're supposed to feel safe and comfortable here," Burtop, 18, of Pennsylvania, told ABC affiliate WHTM ABC27. "For a letter like that to come from the administration is really appalling."
The letter -- titled "Proper Attire and Etiquette for Awards Program and Graduation" -- was given to students after graduation practice on Tuesday. It describes the rules, guidelines, and dress code for graduation and the senior awards ceremony, both of which are taking place today.
But it was the specific language used in the ladies' attire section that prompted Burtop to share the document on her Facebook page.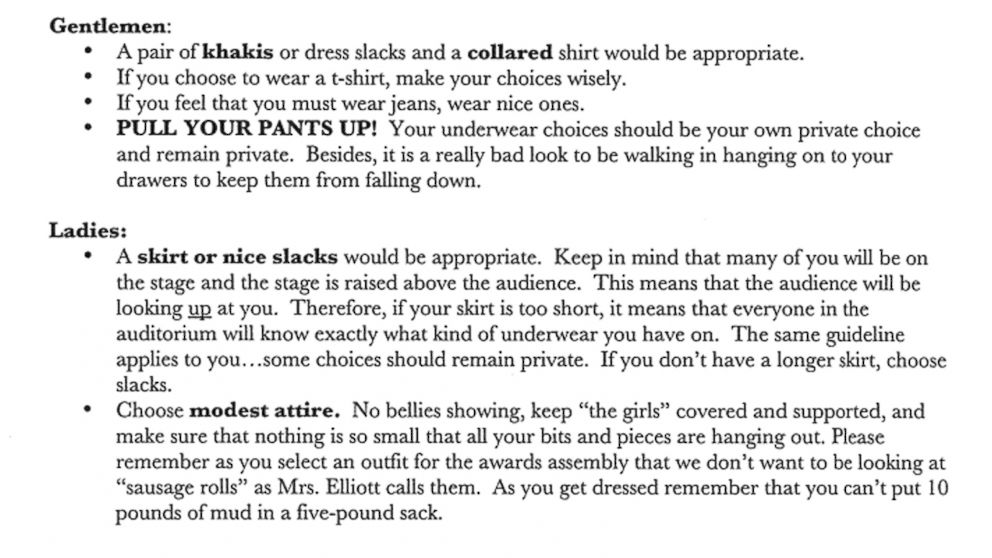 It read, in part: "No bellies showing, keep "the girls" covered and supported, and make sure that nothing is so small that all your bits and pieces are hanging out.
"Please remember as you select an outfit for the awards assembly that we don't want to be looking at 'sausage rolls' as Mrs. Elliot calls them," the letter continued. "As you get dressed remember that you can't put 10 pounds of mud in a five-pound sack."
Burtop's mother, Jessica Burtop, agreed with her daughter's initial reaction to the letter.
"You can't talk to women like that in a work place," she said. "It's just totally wrong. It's totally degrading."
The school published a public statement online, citing that they respect their students and that they regret the inappropriate language used in the letter.
They went on to say that the document was drafted years ago, and that the original author has since retired.
Although she felt insulted, Burtop said her only request is that the school issues a formal apology and that the they change the contents of the letter once and for all.
"As 18-year-olds we're all insecure and impressionable," she said.