— -- If newlyweds Ross Cohen, 31, and Blair Delson Cohen, 29, have kids in the future, they might have to wait a few years before they show their offspring all of their wedding pictures.
Along with the traditional photos with their wedding party and family, the Philadelphia couple's wedding photo album will forever include photos of them right in the middle of thousands of nude cyclists.
The Cohens' wedding photographer, Joe Gidjunis of JPG Photography, noticed about a week before the couple's Aug. 29 wedding that their big day in their hometown of Philadelphia would coincide with the Philly Naked Bike Ride, an annual event where thousands of cyclists ride naked through the city to, "promote fuel conscious consumption, positive body image, and cycling advocacy," according to the event's website.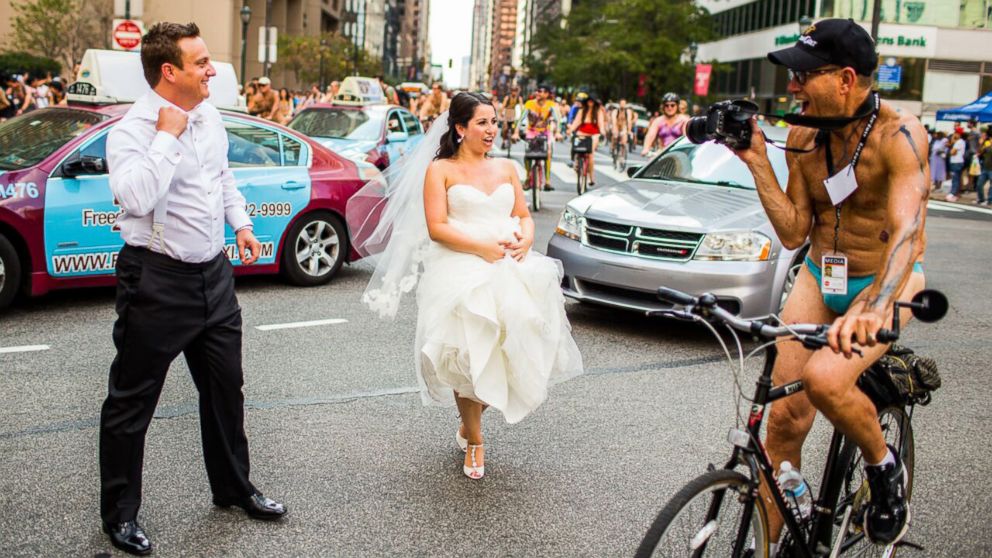 "I had mentioned the idea that it could happen," Gidjunis told ABC News of the chance that the couple's photos around Philadelphia landmarks could be interrupted by thousands of nude people.
"I thought maybe they should get mentally ready for it," he said. "And I wanted to take their temperature to see if they'd hate it."
Gidjunis said the couple, currently honeymooning in Hawaii, were initially "not thrilled" with the idea but by the day of their wedding had warmed up to the idea of the bike ride as presenting the opportunity for some not-so-average wedding photos.
As the couple and their wedding party took photos at Philadelphia's City Hall before the wedding, Gidjunis said the nude bikers began to approach and the couple followed their photographer's lead.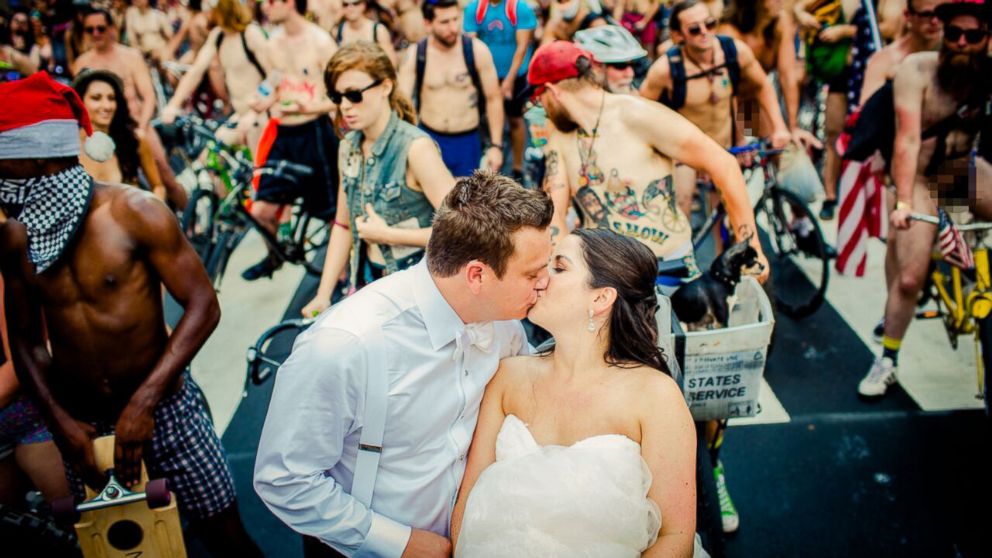 "We just kind of ran into the mix, into the pack of where everybody was," Gidjunis said. "They were looking at me like, 'What do we do?'"
The Cohens started getting high-fives and cheers from the bikers and the crowd of spectators who had come to see the bikers but got a bonus of seeing a bride and groom as well.
"It was so much fun and extremely comical to be in the center of everything," Blair told ABC News by email from Hawaii. "It was such an energetic vibe and we loved being a part of it."
"It really was a memorable moment during the best day of our lives," the bride wrote.
"Clearly they were overdressed for the situation," Gidjunis joked of Ross and Blair. "There was so much energy and chaos and I was just trying to put together a few shots for the couple that they're going to remember forever."
Gidjunis, a Philadelphia-based photographer since 2008, described himself as proud of the Cohens for embracing a wacky situation.
"They embraced it and didn't shy away," he said. "That's why the photos are great, because it's their real reaction."
"At the end, Blair came up to me and was like, 'It was so crazy,'" Gidjunis added. "She said, 'It was kind of smelly in the middle of that pack.'"