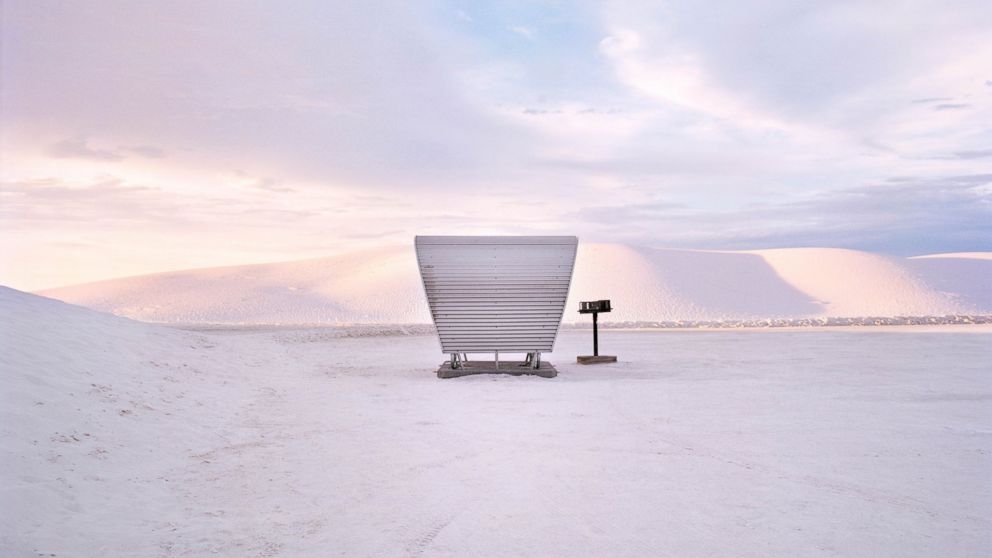 — -- Through her photographs of modest roadside rest stops, Ryann Ford captures an optimistic moment in American history when highways began to span the country.
"I was originally drawn to the stops visually," Ford told ABC News. "I am a minimalist, and love mid-century modern architecture, so the combination of these two things really drew me to these scenes."
The design aesthetic from the 1930s to the 1950s developed in response to a changing and more interconnected American landscape, according to Sarah Whiting, the dean of Rice University's School of Architecture.
The time period in which rest stops were first being built marked an era of change for the country. President Dwight Eisenhower passed the Federal Aid Highway Act of 1956 and created interstate highways for the first time in American history.
Ford was partially inspired by a 1958 brochure titled "A Policy on Safety Rest Areas for the National System of Interstate and Defense Highways," which highlighted floor plan guidelines and also four different style possibilities (modern, rustic, regional and utilitarian) for rest stops.
"Modernism was going through its adolescence, started in the teens and '20s, by the '30s, it had adopted a localized inflection," said Whiting. "A softer gentler modernism was used for American projects like community centers, and if you think of houses at the time, there was a shift towards the ranch style which developed in the 1950s, immediately post-war."
States were given jurisdiction to choose the designs and the architects for the rest stops. As a result, local influence is reflected in the structures, such as one photographed by Ford in Flower Mound, Texas, which has a shape reminiscent of longhorns and is painted with the state's flag.
In more recent years, some of the more distinctive rest stops have begun to vanish.
"I've always loved the southwest, road trips, roadside culture and Americana, so this project was an easy choice. Once I learned that they were disappearing, I was determined to document them before they were lost forever," wrote Ford.
The vehicular culture that dominated the 1950s changed the design of cities and towns, and helped make rest stops ubiquitous.
"The sense of a new life, a faster life, an optimism is all part of that," said Whiting. "What I find sad today is that infrastructure is seen as a problem. Whereas at that time, it was offering a freedom that doesn't exist anymore."