— -- It's a big day for Pizza Hut. The chain announced new menu items including 10 crust flavors, five new ingredients and four "drizzles," new "Skinny" pizzas, 11 new branded pizzas, all-new boxes and uniforms – plus a new logo. That's a lot of new.
It all makes for more than two billion possible flavor combinations on their new and improved menu that will be rolling into stores nationwide on Nov 19. We tried at least 15 of them today, making this evening's activity definitely the gym.
The most exciting additions of note are the drizzles and crust flavors. The drizzles are free sauces that the chain will add to any pizza in balsamic, barbecue, buffalo and honey Sriracha flavors.
The balsamic was my favorite, akin to a thick, sweet and tangy balsamic glaze that added acidity to the pizzas that I often crave and solve by dipping mine in red wine vinegar. This took away that necessity. If it's hot sauce you like on your pizza, then the buffalo or honey Sriracha may be more your speed, though those sauces didn't taste as good as, say, Frank's Red Hot Buffalo Wings sauce or your traditional Huy Fong Sriracha. Rather, they tasted like cheap imitations of the two without any of the aforementioned's depth. The barbecue had a nice smokiness.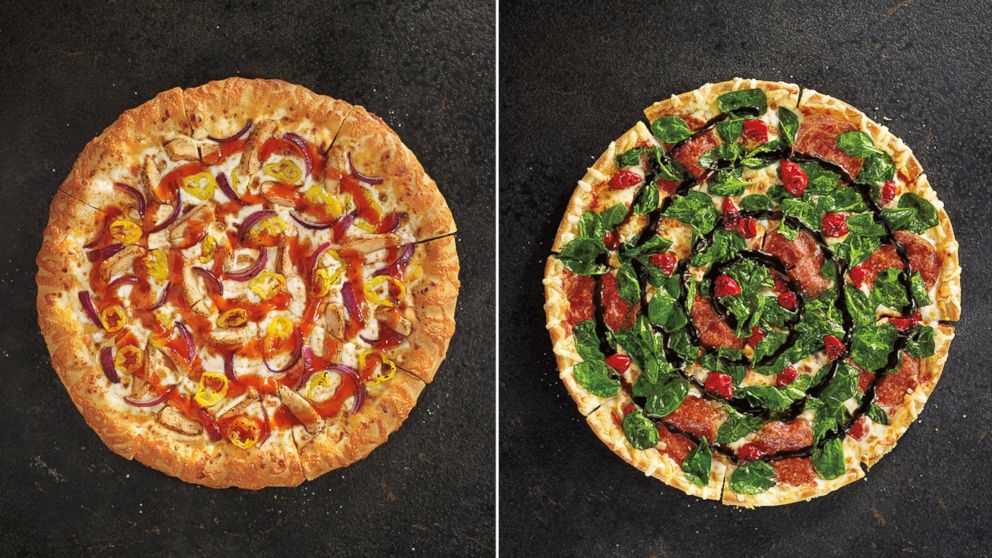 The crust flavors are the other big addition, but it is misleading. But the flavor isn't baked into the bread, rather it's only put around the edge of the pizza where you hold it. Some, like the toasted cheddar, are baked on, but most, like the honey Sriracha and ginger boom boom (yes, that's really a flavor) are brushed on after the pie is cooked. My favorite of these was the salted pretzel crust – you really can't go wrong with adding butter and salt to anything. I didn't dislike any of them, though. It's a nice way to add more flavor to your meal.
There are also new "premium" toppings like Peruvian cherry peppers (which many people at the event were sure to tell me are actually sourced from Peru), salami, meatballs and fresh spinach. The salami definitely tastes more premium than their pepperoni, and the fresh spinach was a nice addition to many of the pies for a lighter taste.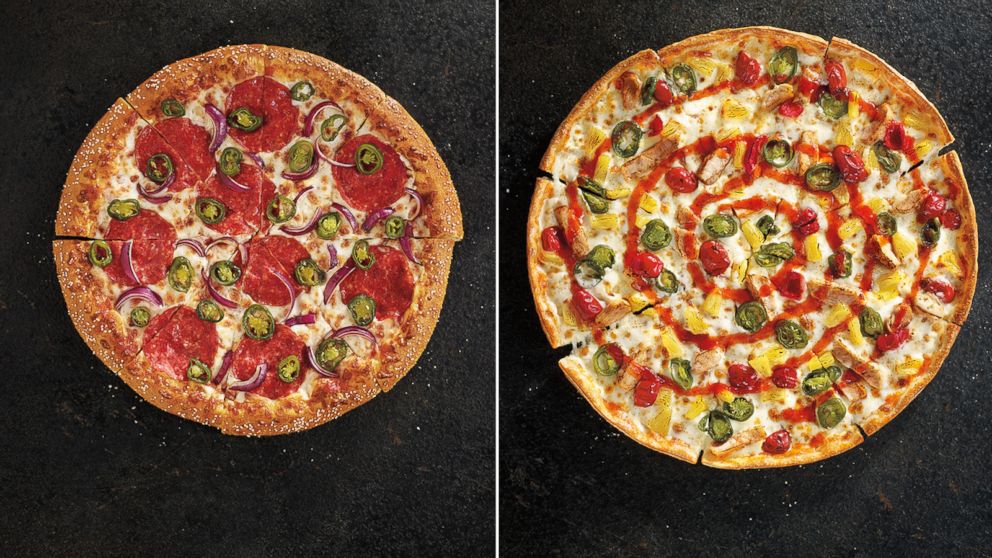 For those overwhelmed by all these changes, Pizza Hut created 11 new pies meant to showcase the new options so you don't have to choose. The "Hot and Twisted" is topped with their new crushed tomato sauce (less herby than the original), premium salami, sliced jalapeno peppers, red onions and with a salted pretzel crust edge. For serious Sriracha lovers, the "Sweet Sriracha Dynamite" is topped with their honey Sriracha sauce, grilled chicken, sliced jalapeno peppers, sweet pineapple, those from-Peru Peruvian cherry peppers and drizzled with the honey Sriracha sauce all with a honey Sriracha crust edge.
Back in September, Pizza Hut flew 1,000 of its employees to Texas to teach them all these new additions, and since then, those 1,000 people have been training the company's 130,000 employees on all the new offerings. Come Nov. 19, those employees will be sporting all-new uniforms and the pizzas will come in new boxes, and you can give it all a try.