Former Police Officer Reunites With Abandoned Baby He Rescued 50 Years Ago
George Leuckel rescued Toni DiPina from an abandoned parking lot in 1963.
January 22, 2015, 4:39 PM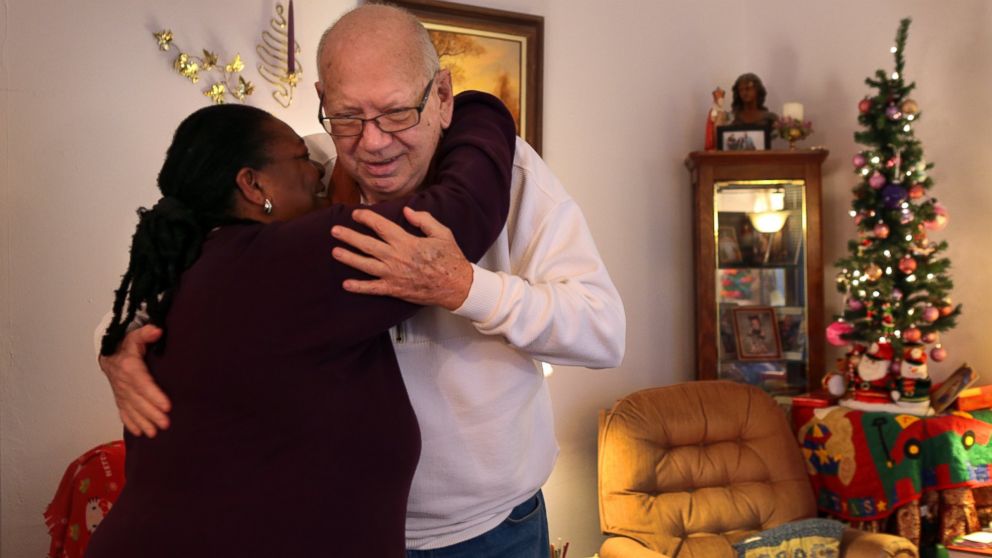 — -- It was a heartfelt reunion 51 years in the making.
A St. Louis police officer and the baby girl he had once found abandoned, sitting alone on a blanket in an overgrown lot surrounded by dilapidated, rundown mansions on May 26, 1963.
"I remember getting a call and I parked. It was a pretty isolated area," George Leuckel, now 79, told ABC News of that fateful day. "One side of the street was old mansions from the 1800s and half of them had been torn down. Half of it was the veteran's hospital and the other half was an abandoned, overgrown trash dump. I didn't hear anything but I walked up into the woods there. There was a circular drive with a park in the middle where the mansions had been. I found her in the brush on a blanket."
A delicately dressed 9-month-old baby in a checkered dress and bonnet lay upon a clean blanket not making a noise, just staring at the police officer as if she had been waiting for him.
"I saw this baby sitting on the blanket and she wasn't moving, just looking at me, befuddled as to what's going on," he recalled. "She was perfectly dressed like she was ready for Sunday church."
Leuckel, who now lives in Oakville, Missouri, with his wife, Barbara and their daughter, remembers feeling as though he was being watched that day as he stood there with the baby in his arms—unsure at this point what call had even been placed that led him to the abandoned lot to begin with.
"I picked her up right away and held her and was looking around but I didn't see anything, didn't hear anything," he said.
The officer followed the protocol for an abandoned child, taking her to the hospital to have her checked and filling out his police report, recapping all the mysterious details. But there was something different about this baby.
"She hung on to me and we were buddies," he said. "I was with her most of that evening. And then I had to go back to the station and they called and said they couldn't find anybody for her. They finally located a foster mother that could take a baby, so I took her up there and that was the last time I saw her."
Despite that being 51 years ago, "I never forgot her," said Leuckel.
He even recalls wanting to adopt her that day, but "back in those days," he said, in a deeply segregated 1960s St. Louis, with three daughters of his own already, it just wouldn't have worked.
The baby girl, who came to be named Antoinette Baker by the state--and now goes by Toni DiPina--grew up, moved to Massachusetts and eventually went to seminary school to become a pastor.
In 2008, a reporter with the St. Louis Dispatch was profiling DiPina's remarkable story. It was throughout that process that DiPina received her first real lead into reconnecting with Leuckel.
"When she [the reporter] was fact checking, she got in touch with the officer," DiPina, of Worcester, Massachusetts, explained. "That's how I was able to connect with him and his phone number. I knew his name and how to contact him, but I just don't think I was ready for it."
DiPina held off until the end of 2014 when she realized time was running out. Leuckel was much older now and she certainly didn't want to miss out on the opportunity.
"If I wanted to meet him, I better meet him," she said.
And that's exactly what she did. On January 3, after 51 years of "not knowing, but never forgetting," the big-hearted police officer and the mysteriously abandoned baby girl reunited, embracing each other at Leuckel's home.