— -- They're called the Rat Pack, and the internet has fallen in love.
Sasha the dog, Jack the cat and Tweaks the rat formed an unlikely bond when living with a Wisconsin family.
But when the family members had to move and weren't able to take the pets with them, they dropped them off at the Oshkosh Area Humane Society in Wisconsin on March 1, the organization's admissions manager, Cari Tetzlaff, told ABC News.
"The owner had mentioned that the animals were bonded together," she said.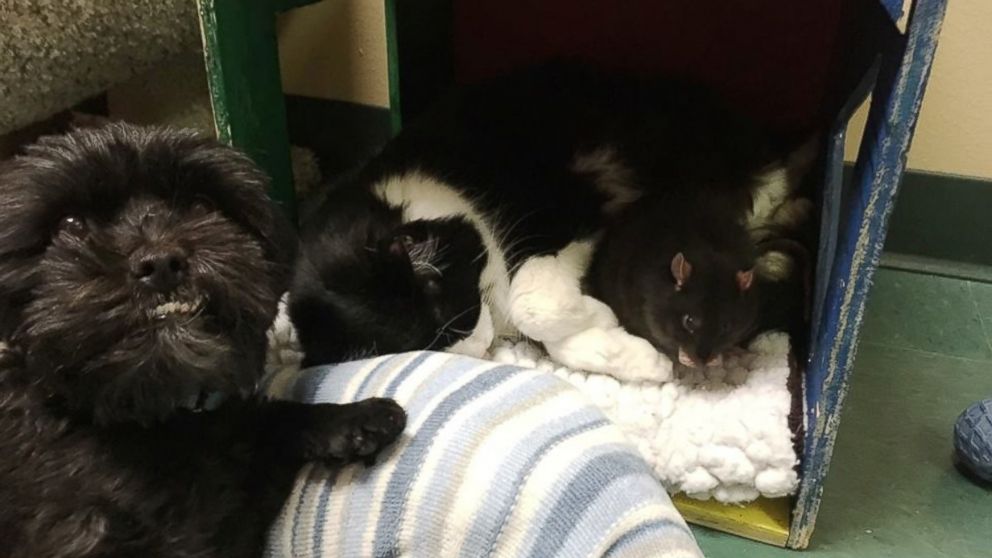 Their bond was proved when Sasha, Jack and Tweaks had to be separated to undergo the Humane Society's evaluation process.
"It was immediately obvious to us that Jack was extremely unhappy. A staff member had the idea of putting the dog back with Jack to see if it'd have a positive impact," said Tetzlaff, who has worked with the organization for six years.
"As soon as Sasha was in the room, Jack perked up. We were able to touch him for the first time. He instantly felt more comfortable," she added.
The transformation was so astounding, Tetzlaff said, that another staff member "half-jokingly said, 'Try bringing the rat in,' and Sasha instantly started wagging her tail and approached to play. Tweaks was even grooming the top of Sasha's head. It was so heartwarming."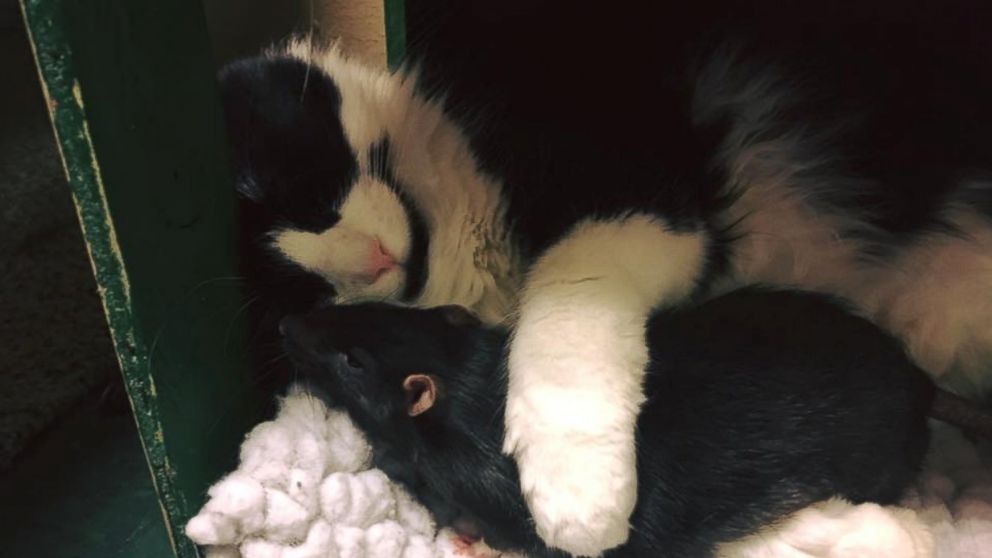 The internet agrees, and photos of the trio have been liked more than 1,000 times on Facebook.
"It's really common to see two cats or two dogs," Tetzlaff said. "But to have a trio try to stay together for their own emotional benefit was pretty remarkable to us."
After three weeks at the Oshkosh Area Humane Society, the three were adopted and taken to their new Wisconsin home last Friday, Tetzlaff said.
She added that the owner — who went in looking for a dog and a cat — was initially hesitant to also take home Tweaks.
"She immediately softened to the idea after seeing how friendly he was," Tetzlaff said.