— -- It's more than a drink -- it's a lifestyle. At least, that's what so-called Rosé people say.
Rosé, the pink wine now synonymous with summer, is enjoying its time in the sun.
Rosé has experienced a meteoric rise over the past decade in part thanks to new brands and celebrity backing.
Brad Pitt and Angelina Jolie-Pitt are the faces behind Chateau Miraval. Drew Barrymore is out with a new line called Barrymore Wines. Josh Ostrovsky, aka the popular social media comedian who goes by the stage name "The Fat Jew," launched his own line of wine called White Girl Rosé, priced at $17 a bottle.
Ostrovsky and his co-founder David Oliver Cohen are now launching a new product, Babe, the first sparking Rosé in a can.
"Just make life less unbearable," Ostrovsky said, laughing. "Have it with you at all times. You can't always carry a huge bottle of Rosé."
"We literally knew nothing about wine or the wine business," Cohen added. "But we have been sort of developing this relationship with our consumer for years with our books and other products that we're talking about, and we just sort of dove right in and tried to figure out exactly how we can make a wine."
According to Nielsen research, Rosé represents a booming market, with sales growing 10 times faster than overall table wine. There are nearly 300 million gallons consumed around the world each year, according to the London-based research firm Euromonitor International.
Millennials make up a big part of that market, using hashtags on social media like #roseallday, #brose and #yeswayrose with photos of them enjoying the pink wine, only fueling the fanfare.
Sarah Billstein has tapped into the millennial market with her Instagram account, Rosé Season, which has about 20,000 followers. She travels the world to snap photos of herself enjoying the finest rosés.
"It's a more millennial [audience] -- people who like to travel, like music, they are social and like to share things on Instagram," Billstein said of her followers. "They go to the Hamptons, they are looking for the next hot spot, trendy."
The Rosé Season Instagram represents "a chic lifestyle," she said, showing, "Beautiful people drinking beautiful wine in beautiful places."
"It's good times, it's having fun, being with friends," Billstein continued. "You can't say 'rosé season' and think of a bad memory."
Not to mention, Billstein pointed out, that rosé has a somewhat unique color.
"It photographs very well," she said. "I mean, I don't know any Instagram accounts dedicated to red or white wine and the Instagram accounts for rosé just keep coming every day."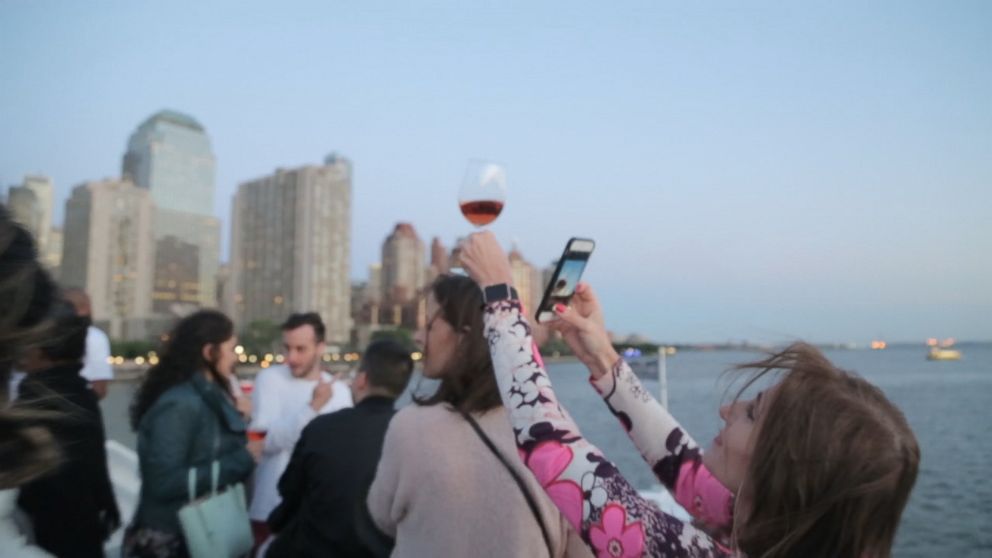 Pierrick Bouquet, a wine entrepreneur and the founder of Pinknic, a New York City food and music festival dedicated to rosé wine coming in July, said one of his previous rosé events featured over 150 different types of the pink wine.
"To be a rosé, it has to be a red grape originally," Bouquet said. "It's the certain maceration of the skin and the juice of a duration period of time. You know, like, about an hour or two, when a red wine would macerate for several days, several weeks. So producers today, they try to find the right color. The color is very important."
The United States isn't just consuming the pink wine -- it's now the third biggest exporter of rosé, right behind France, famous in the rosé world for its Provence region grapes, and Italy.
Paula Croteaux of Croteaux Vineyards, has been making rosé wines on the North Fork of Long Island, New York, for 13 years on her 17-acre farm. She said it takes about four vines to make one bottle of rosé.
"The soil here is very fertile and the sandiness is great for drainage and great for the flavors of making rosé because the roots are in sandy, mineral-type composite and it adds to the flavor," she said. "It's about $10,000 dollars an acre to keep them growing, so it's a very expensive crop to grow because of the hand labor."
Wine experts say rosé is best enjoyed soon after it's made, so look for a bottle labeled with a recent year. A decent bottle will cost around $20, but Croteaux said the product makes it worthwhile.
"There's ritual in drinking wine, but it's not just a ritual in drinking rosé. It's a lifestyle," she said. "You're buying wines that have complexity, but they're romantic, they're you just fall in love with looking at the color, the shape of the bottle, you just want to buy five of them."