Runaway 'Unicorn' Leads California Highway Patrol on Hours-Long Chase
Sandra Boos spent more than three hours chasing her pony after it escaped.
February 26, 2016, 12:33 PM
— -- An escaped "unicorn" gave authorities a run for their money on Wednesday.
Sandra Boos -- and the California Highway Patrol -- spent more than three hours chasing her runaway pony, who was outfitted with a unicorn horn, through orchards and roads in California, but she says that isn't even the wildest part of the story.
Boos says what stopped her in her tracks was the reaction of some bystanders.
"I heard crazy things like, 'They are real!' and 'I didn't know unicorns were real,'" Boos, of Fresno, California, told ABC News. "I would just stop running and say, 'They're not.'"
Boos, a professional photographer, was doing a photo shoot with her white pony, Juliet, near the Madera Ranchos, California, ranch where Juliet is boarded when the pony got loose and ran away at around 5 p.m. Juliet was wearing, as she often does for photo shoots and birthday parties, a pink halter with a gold unicorn horn attached.
"She moonlights as a unicorn, which helps offset the expenses of having a horse," Boos said, adding that the pony was a gift to her 5-year-old daughter, Tatum.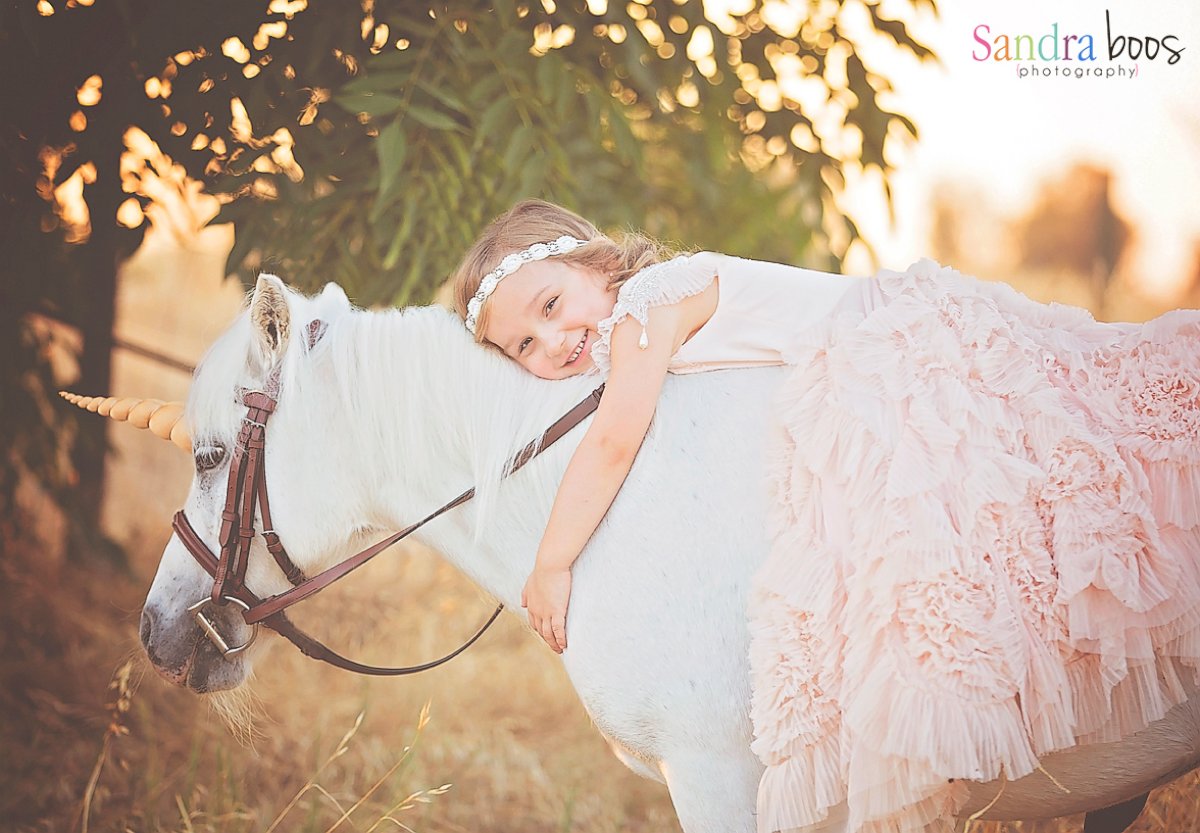 Once loose, Juliet ran through more than five miles of orchards and traffic in rural Madera Ranchos. It was not until California Highway Patrol officials activated one of their helicopters in the search that Juliet was able to be corralled into the fenced-in property of a nearby house.
"They tracked her down with infrared lights, then they'd switch to flood lights and we were able to see where she was," said Boos.
"A friend hitched her horse and rode into the orchard in the pitch dark -- wearing a reflective vest -- and she called out to Juliet and she ran right to her," Boos said.
Juliet was "a little tired and cranky" after the chase, but not injured, according to Boos.
The first call Boos made after Juliet's capture was to her husband so he could let Tatum know her pony was okay.
"She was absolutely elated but also said that she was a very naughty pony and needed to go in time-out," Boos said.