— -- A once struggling teen mom sent the ultimate thank you to her former teacher this week by posting a photo on Facebook of him holding her toddler son before her graduation.
"It was a great feeling to this day," Kimmy Lopez of Atlanta, Georgia, told ABC News. "I can't thank him enough. I have no words because I am so grateful for what [my teachers] they have done for me."
"I felt like they were all my guardian angels," she added.
Lopez, now 20, said she was an 18-year-old single mom living in a shelter when she enrolled in the Commerce High School summer re-engagement program in Springfield, Massachusetts -- an education plan that gets students back on track to graduate.
"I was having a little bit of issues doing my credit because I was so delayed after I had my child," Lopez said. "They wanted to help me out as best as they could because they knew I was motivated and I didn't want to take the easy way out and get my GED."
With not many family members or resources for childcare, Lopez said it was her teachers and counselors that helped her reach her graduation goals.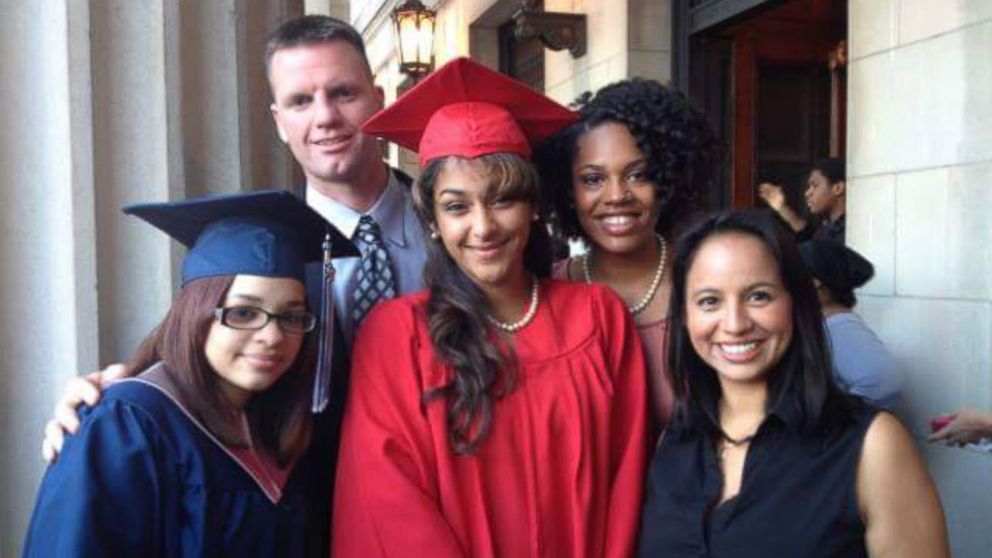 "They knew I was taking a 30- to 45-minute bus ride all the way to the school. They also know I didn't have anyone to help me with my son at the time. I said 'Hey, don't think I'll be able to come to school anymore because I have no one to take care of my son. They said, 'You know what, just bring him here.'"
"It was beautiful," Lopez added. "They just lifted my spirits."
During one of her summer classes, Lopez said Mr. Guy, her education program coordinator, was captured in a photo holding her son Javiour, who was 10 months old at the time.
Lopez said since she graduated high school, completed her first semester at culinary school and landed her own apartment, she decided to post the photo on Facebook on Monday to thank Mr. Guy for contributing to her success and for being so kind to her and Javiour, now 3.
"Some teachers go all out for their students, they will do just about anything to help you succeed!" she wrote on Facebook. "Teachers are your second parents."
Tommy Guy told ABC News that he isn't surprised that Lopez has gotten as far as she has in such a short time.
"The first time I met her, I was very impressed with her," he said. "Even in the situation she was in, she was very positive. She was living in a shelter, a single mom with her son. She took advantage of everything she had, even thought it was a very tough spot."
"I knew when she left, I knew she was going to go on and do good things," Guy added. "I think she's a hero. She's someone that people could look up to."