— -- Video surveillance footage from a Los Angeles pop-up museum features a selfie attempt gone horribly wrong, ending in what's said to be a loss of sculptures valued at $200,000.
The incident took place two weeks ago inside an art installation room at The 14th Factory art exhibition in Lincoln Heights, Los Angeles, a museum spokeswoman told ABC News.
In the video a woman can be seen trying to take a photo of herself when she appears to lose her balance and knocks into an art display, causing a domino effect that takes down 11 identical display pillars, each with a sculpture on top. Three of the sculptures were permanently destroyed, totaling $200,000 in damages, according to the museum.
According to the spokeswoman for The 14th Factory, the woman seen on the video and apparently responsible for sending the art tumbling was a student. The nonprofit is calling the incident an accident.
The sculptures in the space were made of brass, nylon, gold plate, marble, wood, stone and metal.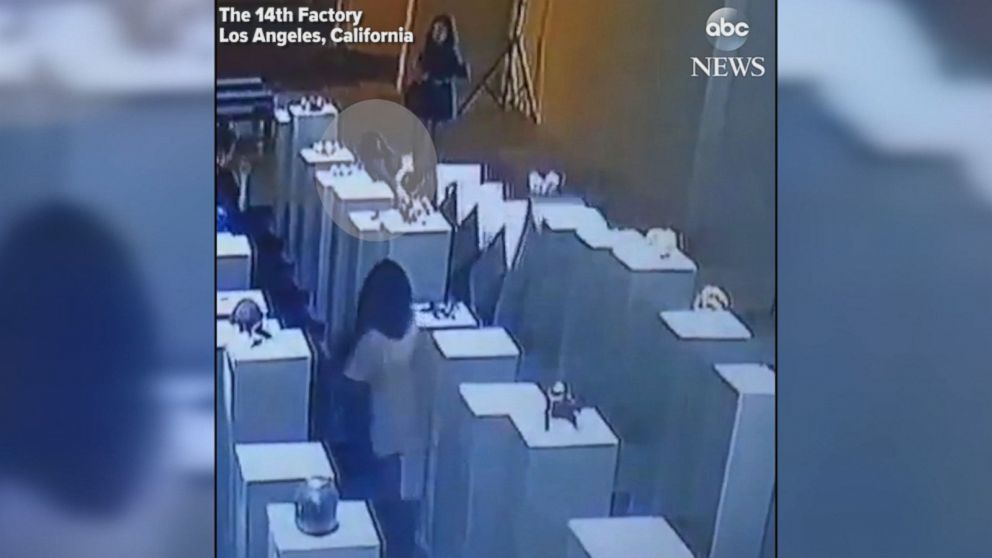 The spokeswoman said the student, whose name was not released, was apologetic and offered the museum a donation. The museum would not disclose whether or not they accepted the donation or the amount.
Although the sculptures were not insured, The 14th Factory said it will not be suing the student to recover damages. It is believed that the video was leaked by a staff member at the exhibition, the spokeswoman added.
The exhibit features works by artists Simon Birch, Gloria Yu, Gabriel Chan and Jacob Blitzer.
All four artists have not yet responded to ABC News' request for comment.
If visitors want to see this installation and all others at The 14th Factory, they can reserve their entry on the exhibit website.