— -- A high school senior's kind gesture toward a young cheerleader received a round of applause Saturday, after he willingly stepped in for her father who was unable to attend her performance.
Addie Rodriguez, 9, was cheering on her team that morning, which also happened to be "Parents' Day."
Addie's father Abel Rodriguez, a senior airman in the Air Force, was away for training at the time and had to miss the game.
"The moms did a cheer with their daughters and I was there, so I smiled with her and took a picture and hugged her," Alexis Perry, Addie's mom, of San Antonio, Texas, told ABC News. "When I saw the dads lining up I said, 'Oh my gosh. What am I going to do?' The girls would recite the cheer and the dads would follow along with a trick and the girls would get picked up on their dads' shoulders. But Addie didn't have anybody. My poor baby. It was the worst. That's when that young man jumped the fence. It was just so sweet."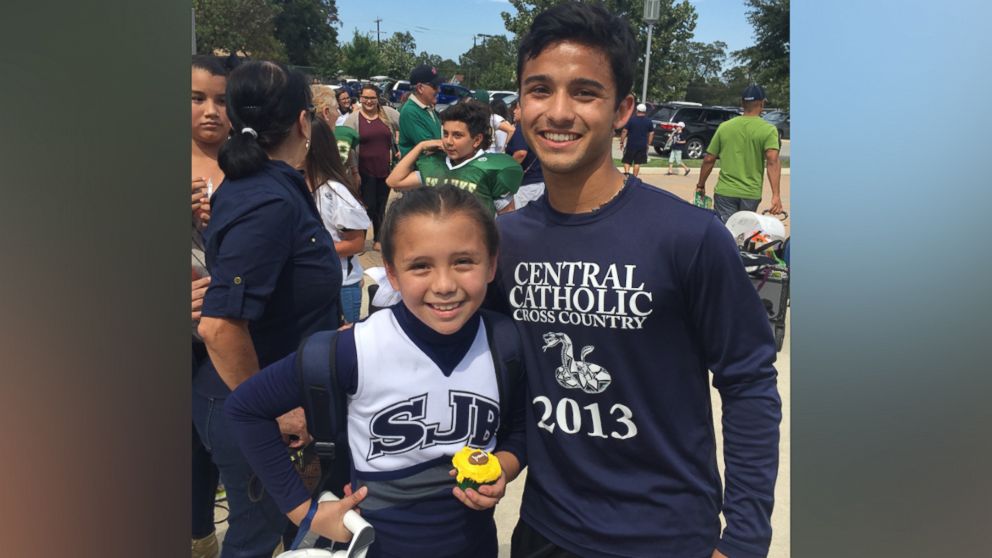 Matthew Garcia, 18, was nearby, watching his younger brother Roland, 13, play in his middle school football game.
He noticed Addie was crying in the stands so he approached her.
"I ran down the bleachers and hopped down near the fence," Garcia told ABC News. "I asked, 'Do you mind if I pick you up?' She said, 'Yes.' I turned and saw the crowd clapping. I would consider doing that every time. It [isn't] anything special. After the game, she came up to me and said, 'Thank you so much' and gave me a hug. We took a picture and she had the biggest smile on her face."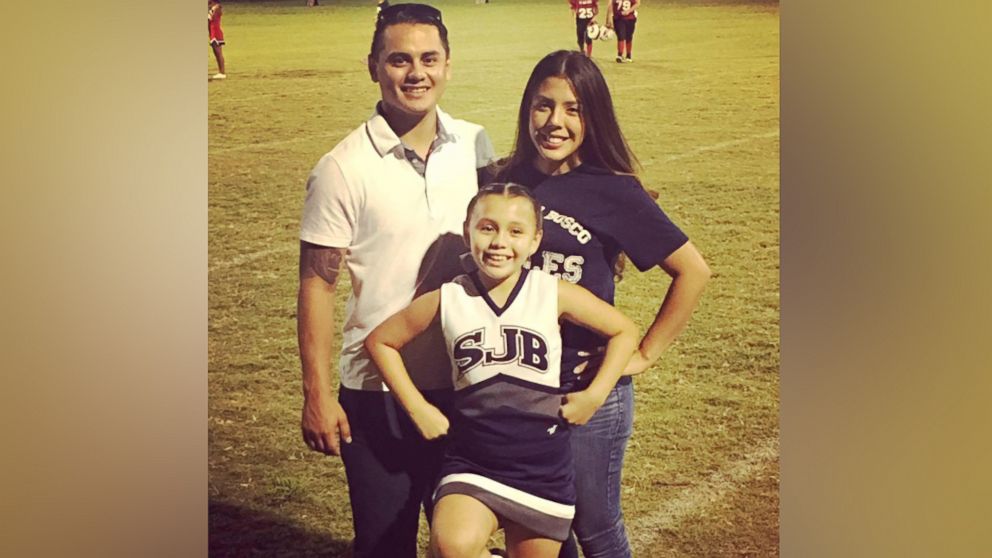 After the game, Perry shared the photo of Addie and Matthew on her Facebook page, where a fellow community member identified him.
Perry has since made contact with Garcia's mother, Rosa Garcia.
To thank Garcia for being kind to their daughter, Addie's parents said they'll support the teen at one of his upcoming cross country meets.