— -- It was all celebrations in one Wisconsin courtroom Monday, after a 10-year-old girl's adoption was witnessed by her teachers and classmates.
Abby Novotny, 10, was officially adopted by her foster mother Anne Novotny after being in her care for two years.
"It was incredible," Anne Novotny of Milwaukee, Wisconsin, told ABC News today. "The kids were so well-behaved but their faces, right when they saw Abby, gave her the homemade cards and the gifts ... it was so thrilling for all of them. Everywhere Abby looked there were kids, teachers, siblings, aunts and uncles. She could hardly stop smiling."
Novotny, a social worker, has been fostering children since the late 1990s. The now-mother of nine met Abby in March 2013 when she took her into her home. Before Abby, Novotny had adopted seven other children and had one biological son.
"I had no intention of adopting, at all," Novotny said. "God had other plans, I guess. My goal is always to get a kid home. When a kid can't go home back to their parents, I will always adopt them before moving them into a stranger's home. That is extremely traumatic for a child to be moved from everything they've known, even if it's a wonderful home.
"Abby moved in and we loved her," she added. "We worked with helping her become a better person. She was behind in some areas. We brought her up to speed we found her resources at St. Coletta Day School. That school had brought her an immense amount of growth."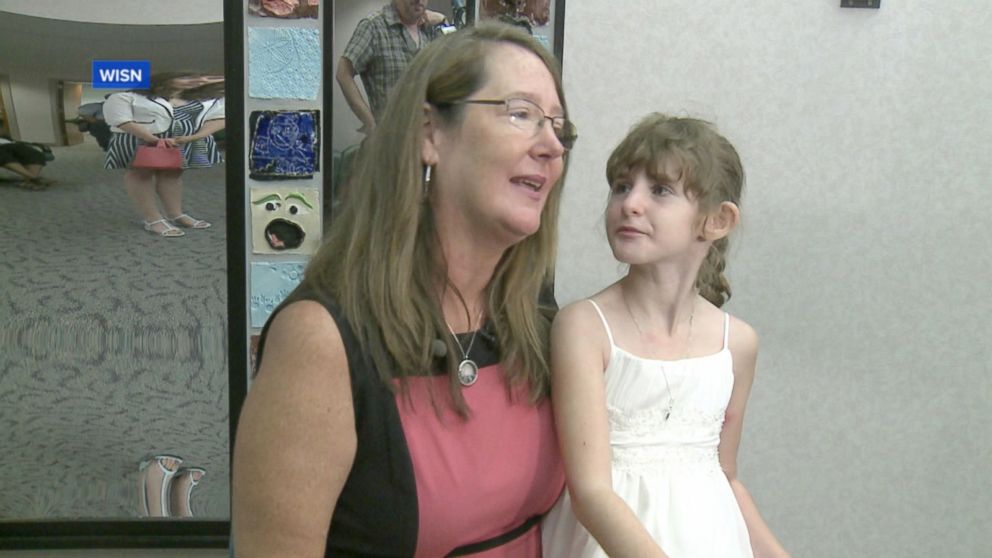 On Aug. 29, the first day of school, Abby officially became a Novotny. Her entire class of 24 students and parents were present for the occasion at the Milwaukee County Children's Courthouse Wauwatosa, as was head teacher Bill Koehn.
Koehn said that Abby's been overjoyed ever since she learned of her adoption one year ago.
"Abby got up in front of her classmates and teachers and announced 'I'm going to be a Novotny!'" he wrote in an email to ABC News. "Big smile and bouncing up and down."
As for Abby, her teachers labeled her desk with her new name, Abby Novotny, for her fifth-grade start on Tuesday morning, her mother said.