— -- When a cat-loving teacher heard about a friend's feline with mobility issues, she had an innovative idea to use 3-D printing to help get the kitten moving a little easier.
Carrie Barron from Portsmouth, New Hampshire, adopted a loving and feisty 6-month-old Maine coon kitten named Ray from the Odd Cat Sanctuary in Salem, Massachusetts, despite his physical limitations.
Veterinary experts warned Barron that Ray had an inoperable spinal condition that immobilized the animal's hind legs, but Barron fell in love anyway.
"He's a special little guy," Barron told ABC News.
Her neighbor and fellow cat lover Erin Bakkom came up with an idea that would be beneficial for Ray as well as educational for her students at Portsmouth Middle School.
Bakkom assigned her eighth-graders to split into two teams and create a 3-D-printed design concept for a wheelchair for Ray.
"[Erin] came over to visit Ray and proposed the idea. I thought it was an amazing idea and was on board immediately. I thought Ray would really enjoy it and it was a great opportunity for the students to create something for someone [in this case, Ray] in the community," Barron said.
The public library next to the school has a 3-D printer and encourages the community to send in designs.
"I was obviously very excited when she emailed me," Michaela Pugh, an emerging technologies assistant for the Portsmouth Public Library, told ABC News. "This is what our goal was, to have people come up with real world applications and it gave us a chance to work with students and help them with their designs so they could see the whole 3-D printing design and redesign process," Pugh explained.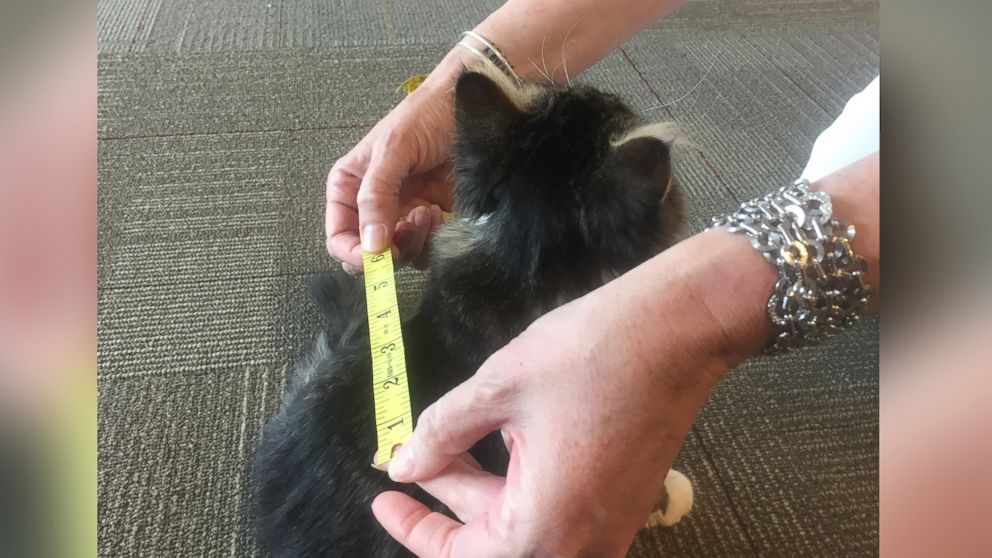 Just before summer vacation last month, two designs became a reality. Barron took Ray to the classroom, and he was fitted for two prototypes.
"He was not a fan at first," Laura Horwood-Benton, a community relations librarian, told ABC News. "He was kind of biting on the Velcro and playing with it," she said.
But Ray's two wheelchairs made with Razor scooter wheels and a 3-D-printed frame were both very promising to help the kitten become more mobile.
"He's just going to take some time to get used to it," Pugh said confidently.
And the cat's owner said she is sure that the wheelchairs will be successful for Ray.
"We have been working with Ray and getting him more comfortable with the wheelchair. We are working to modify it a bit as the initial design allowed him to pivot, but we are hoping to have the modified chair ready very soon," Barron said.
The library staffers, Barron and Bakkom said this was an overwhelmingly positive experience.
"The experience of watching the students connect and create something for Ray was very impactful for both Erin and I. In many shelters Ray would likely have been euthanized. He's an incredibly special guy who is very happy and loves life," Barron said.