— -- A family painting now hanging above the fireplace in Tony and Laura McBride's Texas home holds special meaning because it is a portrait the couple never thought would be possible.
The portrait, photographed over the Thanksgiving holiday, shows the McBrides appearing to walk with the angelic-looking shadows of three young children.
The children in the photo represent the three children the McBrides say they lost at birth.
"We just wanted to reference a point in time," Laura McBride, 40, told ABC News. "Christopher would be 22, Tyler would be almost 18 and Kieran Shane would be just over one-year-old."
"When you lose a child early at birth, it's uncomfortable and people don't talk about it and women just live with it, so it's nice to have this tangible memory," McBride said.
McBride said she got the idea for the photo last year when she saw a story about a Georgia-based photographer, Brandy Angel, who gave a bride the gift of having her deceased son included in her wedding photos.
"I saw it and thought, 'Oh my goodness," McBride said. "I knew Brandy was in Georgia and I didn't know how that would work but something compelled me to call."
"I told her we live in Texas and she said she was going to be in Texas over Thanksgiving," she continued. "She was going to be in Killeen which is only an hour away. We knew that was divine intervention."
McBride wanted to surprise her husband for Christmas so she told him that it was a family photo shoot that included their in-laws and nieces and nephews. Angel asked to take a shot of just the couple together and then, after the photo shoot, got to work adding in the images of their children.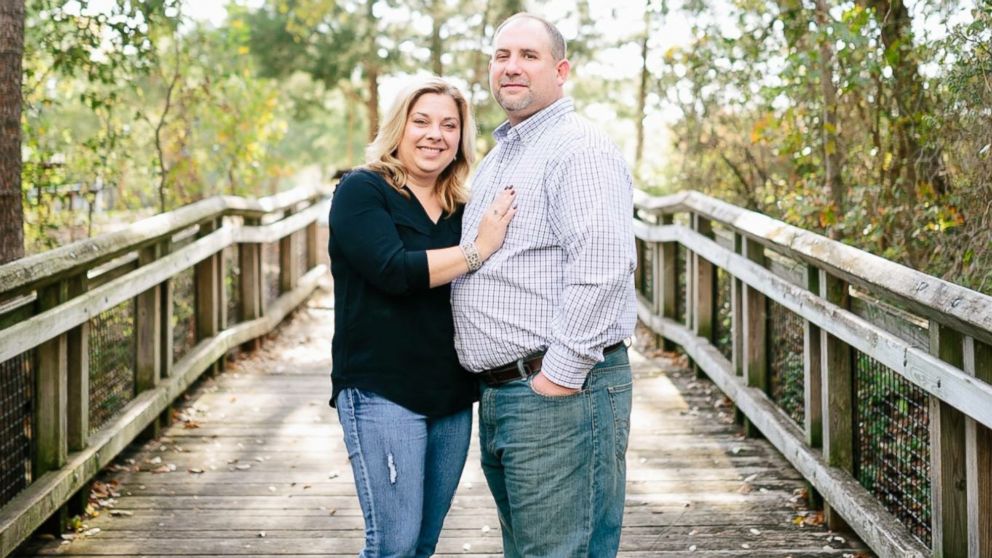 Angel worked on the photo with Heather Pinheiro, a New Jersey-based web designer who donates her time.
"We went back and forth with ideas on how to accomplish what Laura wanted," Angel said. "What Heather created was so stunning I was speechless."
McBride says her husband was equally stunned on Christmas morning when he unwrapped the photo.
"He cried," McBride said, tearing up herself. "He was very surprised and very moved and said it was his favorite gift ever."
"What a great memory and comfort it is," she said of the photo.