— -- As enthusiasm for hybrid stunt desserts wanes, pastry chefs all over the country are shifting their attention to the classics. As a result, one French favorite is reappearing on menus all over the country once again.
Move over macaron, it's the season of the éclair.
Named after the French word for "lightning quick," éclairs are made by steaming pâte à choux dough into hollowed cylinders, which are then filled with cream and topped with a slick glaze--historically made from chocolate.
But with renewed interest comes a desire to play with tradition, and new, exotic flavors are currently de rigueur.
Dessert-Muffin Hybrid Causes Controversy in the UK
Meet the Cronut: Croissant-Donut Hybrid Takes Pastry World by Storm
"With the long history of eclairs, I think people are seeing what flavors can be combined to revamp it and make it fresh again," said Yukari Kamiya, pastry chef at CiBOTECA in Santa Monica, California. "I sometimes like to infuse my Japanese taste into my pastries and with the éclair I recently paired a white chocolate glaze with a sesame cream center, which I loved! Also, it's so easy and light to eat. At CiBOTECA, people grab an éclair to go and then walk off straight to the beach!"
The Borgata Baking Company in Atlantic City, New Jersey, is also betting on the French pastry being a winner. Open since Memorial Day, the bakery features creations made by Borgata's award-winning Executive Pastry Chef (and former White House Pastry Chef) Thaddeus DuBois.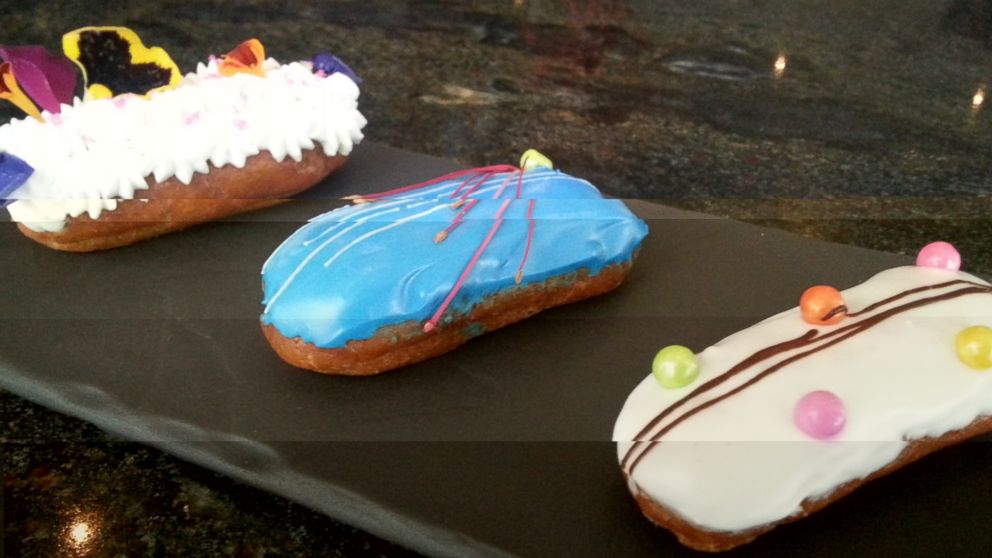 "Éclairs have a shell, cream filling and glaze, so they have an interesting mouth texture which is more complex than other baked goods like, for instance, a cupcake," said DuBois. "The pastry itself has a classic, almost timeless feel. I think the ability to create a multitude of unique flavors is what may place the dessert more on trend. We are currently featuring a Hazelnut Éclair which has been very well received."
At Maison Kayser boulangerie in New York City, seasonal variations over the last year have included pumpkin for the holidays and a light strawberry cream. Bakery owners feel that despite new riffs on creams and glazes, the essence of the pastry has more staying power than recent wackier dessert concepts.
"What's a Cronut?? The Éclair have been around since the 19th century," said CEO Louis-Jean Egasse. "The pâte à choux and the pastry cream filling allows endless combination of flavors, and the top part of the eclair is a great playground for creativity: colors, adding texture, graphic illustrations."
But restaurants and bakeries aren't alone in their love affair with the sweet. Hotels are also offering up new incarnations.
At Measure Lounge at Langham Place, Fifth Avenue, each month a new seasonal selection of éclairs are offered on the menu. June's flavors have included Apple Pie, Peach Bellini and Hibiscus. Previously, the chef also designed a decadent Salted Caramel & Popcorn L'éclair.
But Le Meridien Hotels and Resorts are perhaps taking the treat to its zenith, having recently announced a collaboration with James Beard award-winning pastry chef and Bravo star Johnny Iuzzini to create a series of regionally inspired éclairs for select properties from Tampa to Budapest.
At Le Méridien Dallas, Stoneleigh, Iuzzini created a Texas Praline-flavored éclair, while the Philadelphia location is serving up Strawberry Cream stuffed with fresh strawberry and Philadelphia cream cheese mousse, and topped with cream cheese icing.
With Sunday being National Chocolate Eclair Day, there seems no better time to try one.