— -- Vincent the Cat is a very special feline. Though he's what his owner Cindy Jones calls an average domestic short-haired cat, Vincent is one of few animals in the world to be fitted with prosthetic legs.
A video of the nearly 3-year-old cat walking on his short, metal legs has gone viral after Iowa State University, where his surgeon Dr. Mary Sarah Bergh, an associate professor of Veterinary Clinical Sciences, posted it to YouTube.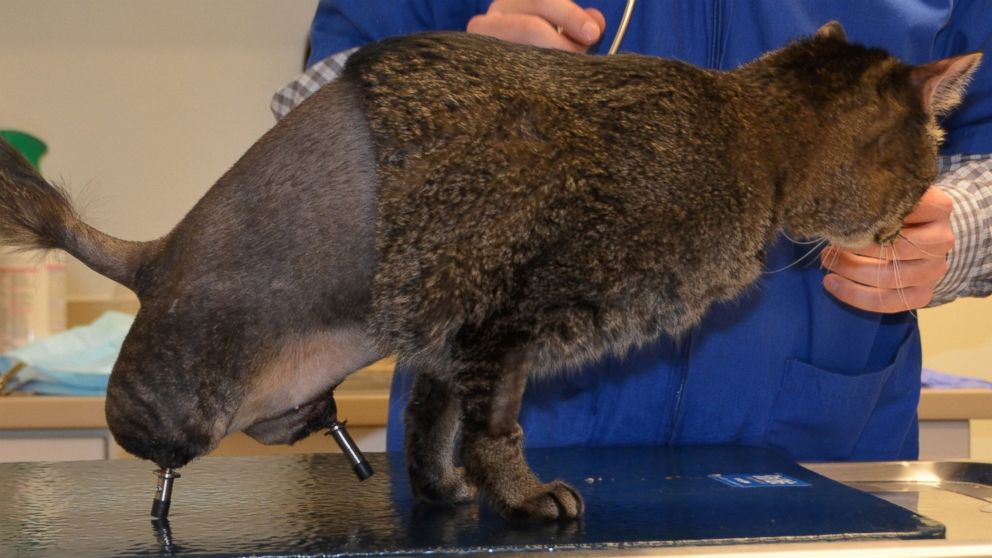 Vincent's story started about two years ago when his owner, Jones, 57, met him at the Story County Animal Shelter in Nevada, Iowa, where she works.
"He was surrendered to the shelter by a lady who was camping in a local campground. ... He was missing his hind legs from the mid-tibia down and when the lady brought him in, you could tell she was pretty worried," Jones recalled to ABC News, adding that she's still not sure if his disability was caused at birth or due to an accident.
But after the woman's husband refused to let her keep Vincent, Jones decided to take him into her home filled with three other cats, four dogs, four children and of course, her husband, whom she calls her "supporter."
It was Jones' 29-year-old daughter, Emily, who suggested that she take Vincent to Iowa State, where she's a student at the veterinary school. That's where Vincent met Dr. Mary S. Bergh, who would perform the surgery -- the first of its kind.
After trying physical therapy to save one leg and even outfitting Vincent with a cart, Bergh said she went ahead with the surgery. "It's the first one we've ever done and they've been very few people in the world that've tried to do something like this."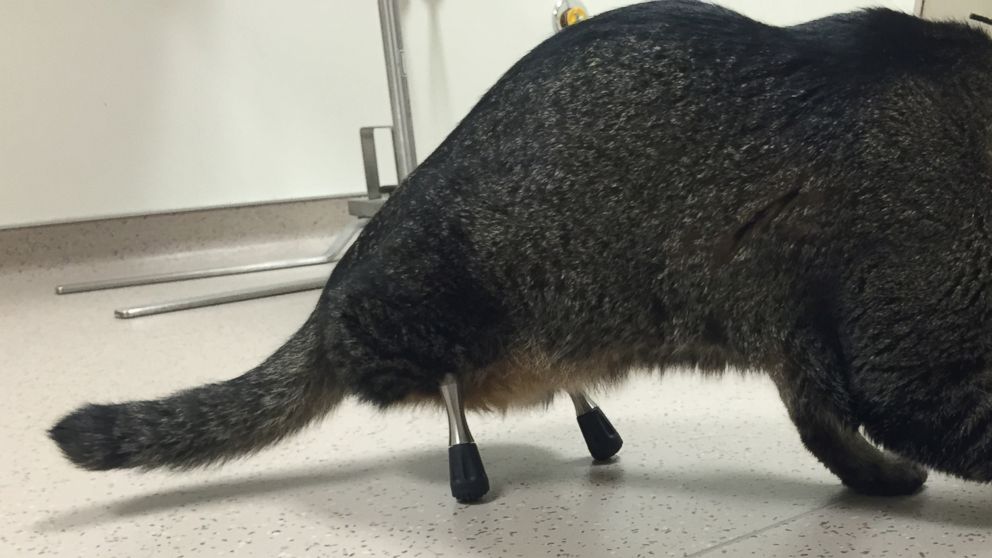 BioMedtrix, a veterinary orthopedics company, donated Vincent's customized legs created from 3-D models for the procedure, which typically costs somewhere in the "thousands" of dollars.
Vincent was walking within days after the initial surgery, but needed a second to be outfitted with longer legs. Months after his second surgery, Vincent is, according to Jones, a "super happy cat."
"He runs around. He plays with my dog Oliver. He lays in a bed. He grooms. He's just ... a great guy," she added. "In most shelters he would've been euthanized. He wouldn't have had a future."
That's why Bergh and her school, Iowa State, shared Vincent's story to inspire other pet owners, who may be looking for options.
"That's one of the things that makes it so special," Bergh said. "People can realize there are things we can do for animals that have disabilities like Vincent's. People don't have to assume there's no hope."
As for Vincent, he is a pretty normal cat despite his surgeries. There's just two things he can't do yet. "He can't jump yet ... and we don't let him go upstairs," Jones said. "You know he wants to and he'll look at a table top and he'll go, 'Hmmm.'"