— -- One woman is warning her North Carolina neighbors about her missing cat.
"She's kind of a jerk," Mary Irwin, 35, wrote in an ad.
Irwin's blunt description about her surly feline is now going viral.
The cat, named Babou, went missing in the Charlotte neighborhood of Ballantyne.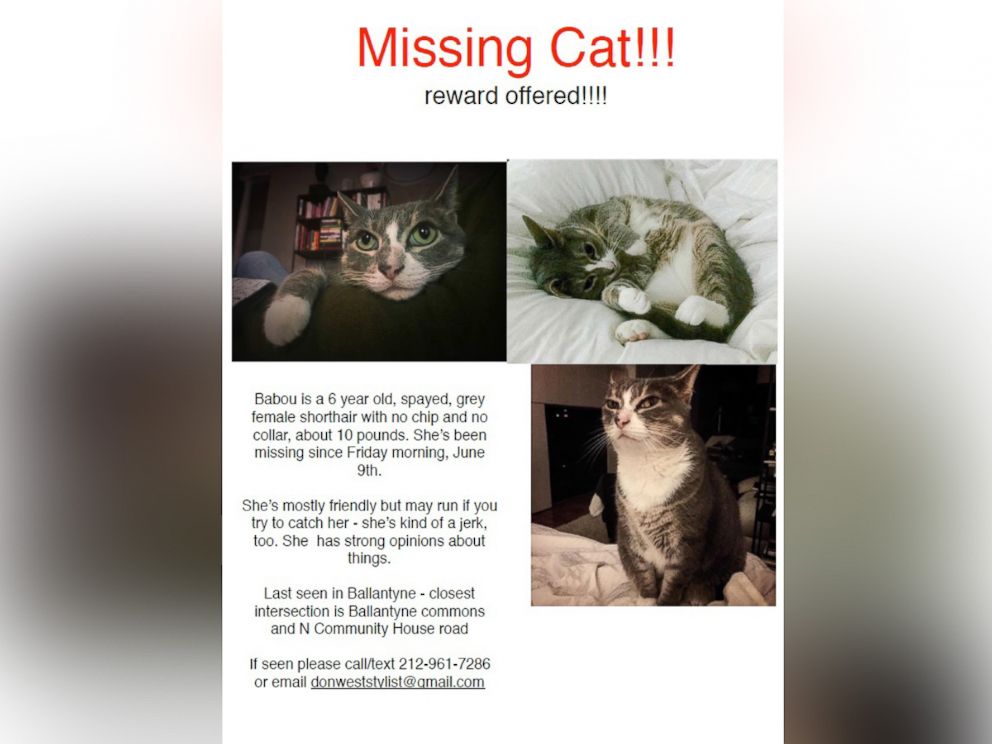 "She's probably hiding somewhere cursing my name," Irwin told ABC News.
The owner really misses her kitty and wants her home but warns "she may run if you try to catch her." Babou also apparently "has strong opinions about things."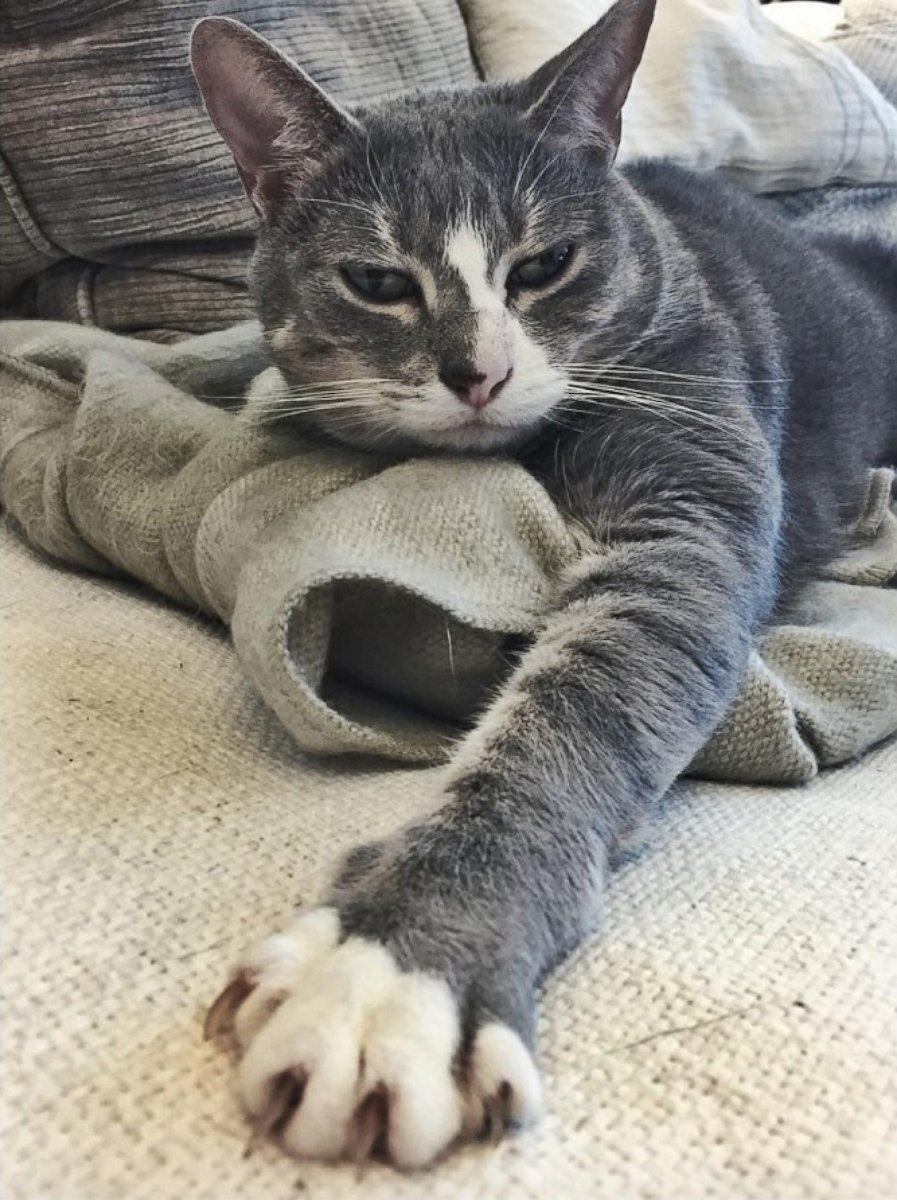 Irwin has high hopes that Babou is still safe and sound somewhere just playing a cruel trick on her owners, but imagined the day she potentially returns home would be like a scene from "West Side Story."
"It's going to be like the Sharks and the Jets and she's going to be leading this team of wild cats," Irwin said with a laugh. "She'll show up in two weeks missing an ear and patches of hair and smoking a cigarette all like, 'You should see the other guy. I'd tell you where he is but then I'd have to kill you.'"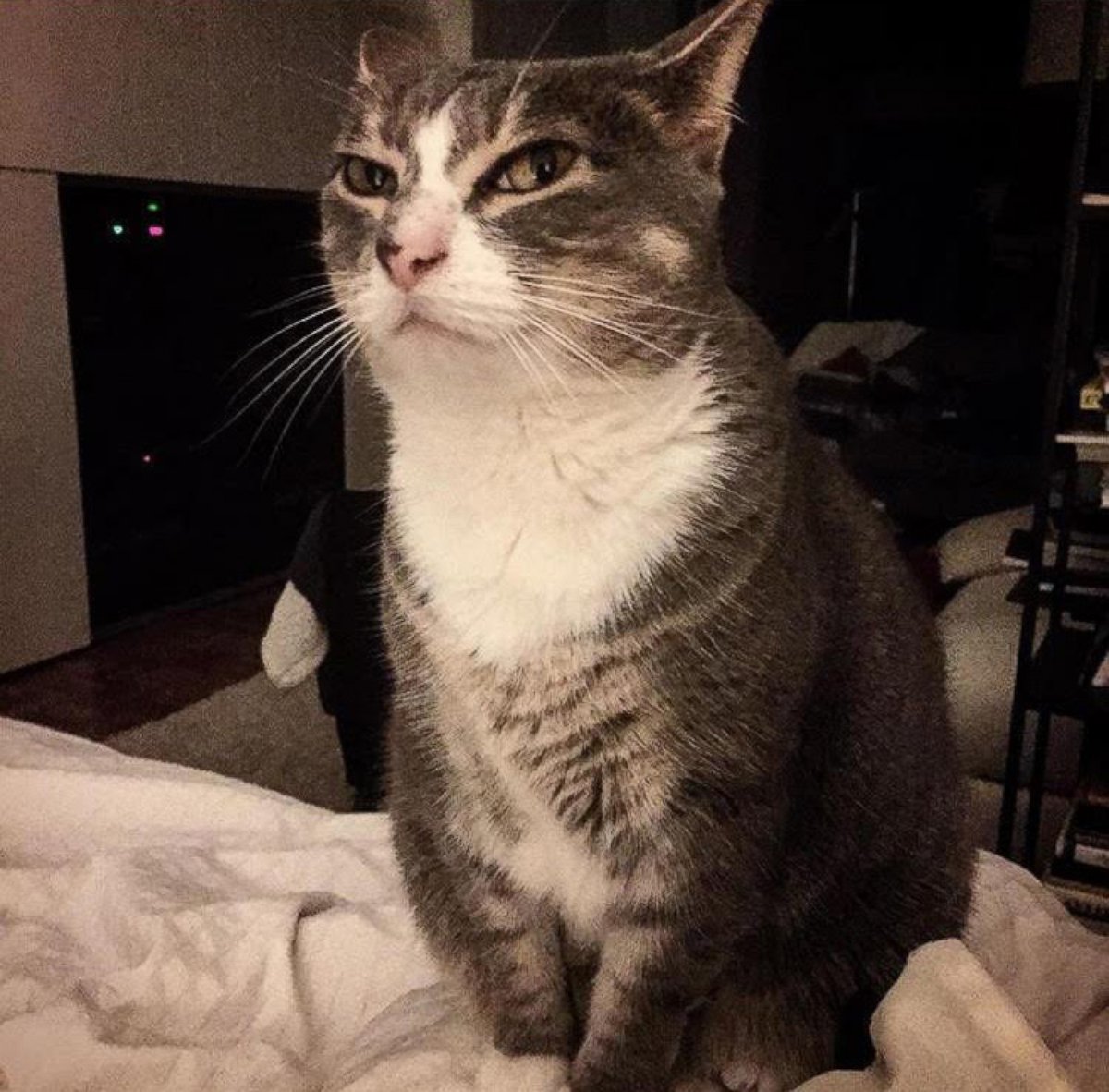 Irwin and her husband, Don West, originally found Babou in a Target parking lot in Miami in 2011. At first, the cat's demeanor was loving and friendly, but then her personality took a sinister turn.
"I had hurt my neck and my husband went into Target to get some medication for me and I said, 'Oh, God, we can't leave her here or she'll get run over,'" Irwin recalled of finding Babou. "She ran across the parking lot and jumped into my arms. She was the coolest cat for six months and then she got spayed and that changed everything."
So how is the cat such a "jerk"? Let Irwin count the ways.
"She knows how she is supposed to behave but she likes to see what she can get away with," the owner said. "She has a scratching post but if she's mad at us, she'll wait until we're looking at her, then she'll walk over to the couch and stick out one paw and run it slowly down the side of the couch. Like a teenager."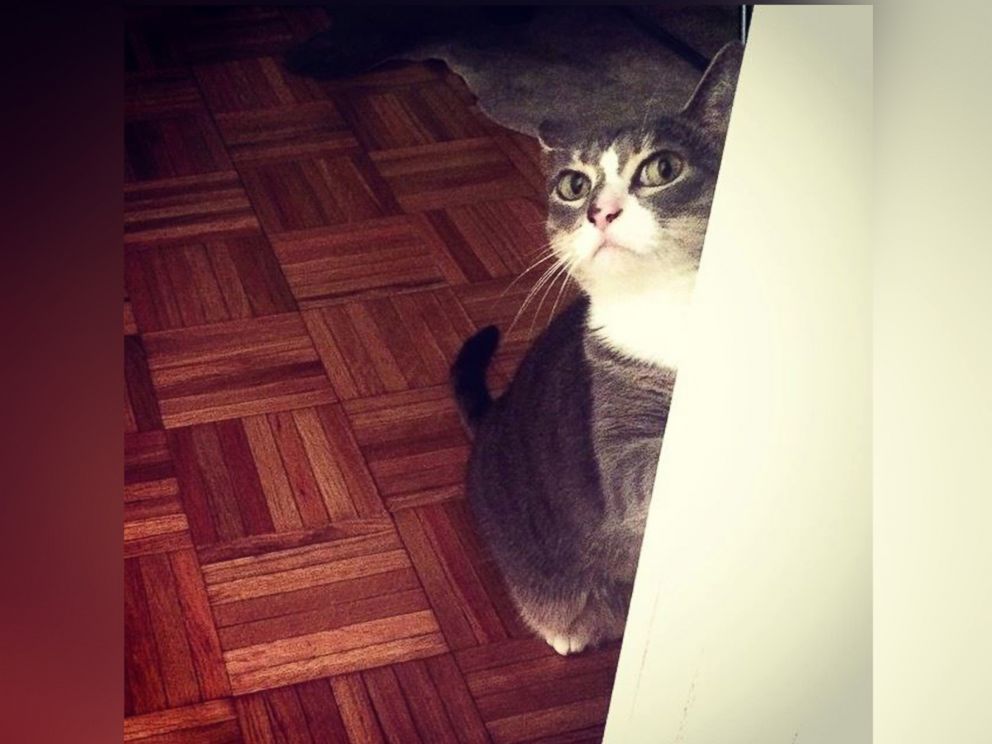 "She'll snuggle with you and then after 2.5 seconds will do that thing where she'll attack your foot," Irwin added.
"She usually sleeps on my husband because he's warmer," she said. "If he's sleeping on his side, I'll wake up and she's on his hip and she's staring down at the both of us. She just sits and glares."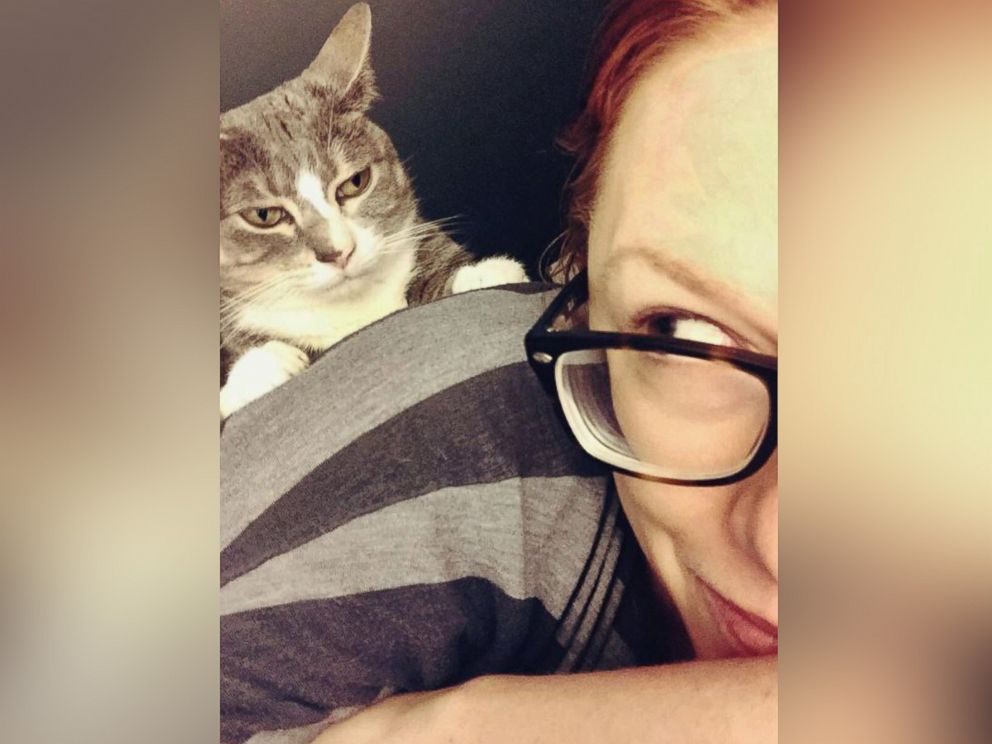 Irwin, a makeup artist, said the odd thing is that when Babou is at the vet, she's an angel.
"When she's around new, strange people she's really good, and when she's around the vet she's great," she explained. "But when she's home, she's like, 'Did you just look at me in the eyes? Did you make direct eye contact with me?'
"Ugh, she's a jerk," she added with a laugh. "Everyone who knows us knows it. I'm at work and people are like, 'How's the jerk?' That's just what she's like."
The cat's pesky behavior even made its way into Irwin's husband's wedding vows: "I will be by your side for richer or for poorer, in sickness and in health until death do us part or Babou finally accomplishes the world domination we both know she is plotting," he said on their big day in 2016.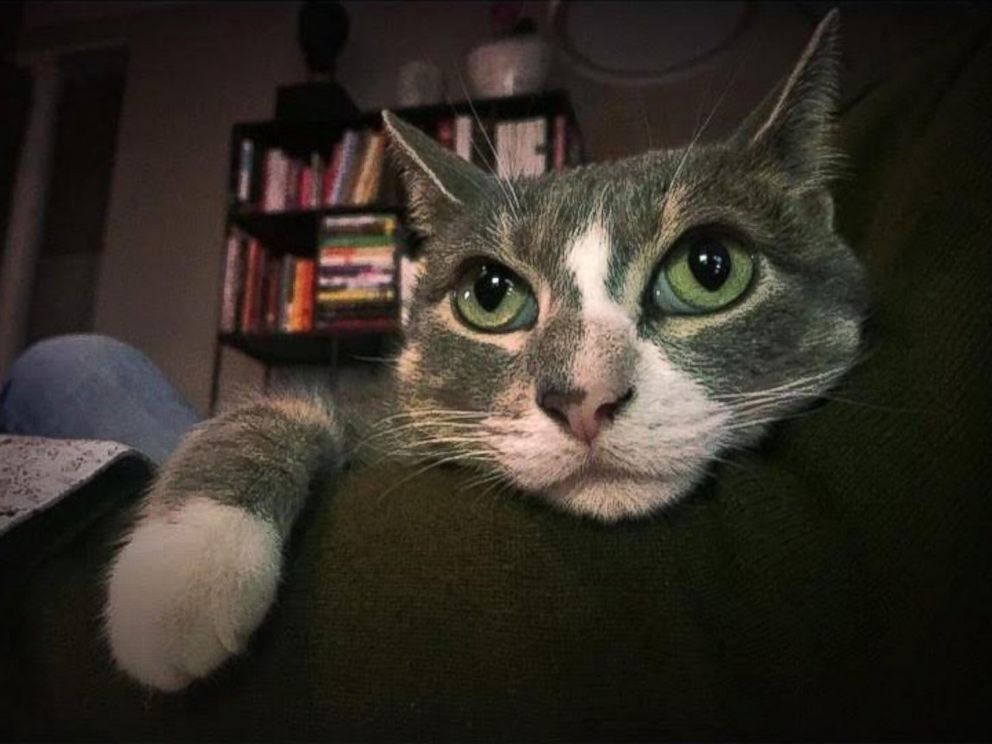 Nonetheless, Irwin is devastated she and her husband have no leads as to where their little "jerk" could be. She wanted to make the ad as descriptive of her personality as possible, so strangers would better understand her behavior if they happened to see her.
"She's my cat and I want her back," Irwin said. "I also figured for people who might try to take her to the shelter, in a new situation sometimes she's an angel, and sometimes they might be like, 'Maybe we'll just put this one back because she's kind of Satan.'"
UPDATE: Mary Irwin wrote to ABC News on June 14 that Babou has been found.
Irwin said she had been out searching again in the "pouring rain" on the evening of June 13 in "two places people had seen similar cats," but had no luck and headed home. That's when she said the cat returned home around 10 p.m. ET.
"Babou walked up to our front door in the pouring rain and meowed LOUDLY until we let her inside," the happy owner wrote in an email. "She's a little thinner and totally soaked but home safe and sound!!"