— -- He may only be six-years-old, but Lyle Drummonds is already quite the little gentleman.
Lyle's mother, reality TV star Nikkole Paulun posted a photo to Facebook that shows Lyle sitting across the table from her, opening a wallet and pulling out some money. In the text that accompanied the photo, Paulun explained that once a month, Lyle takes her out on a "dinner date," and the six-year-old even pays for the bill with his allowance.
"He opens doors for me, pulls out my chair, talks about his day & asks me how mine was...and even tips the waiter/waitress [sic]," Paulun wrote.
The 22-year-old mother described how there is a "no-electronics" policy at the table during their dinner dates, as she wants her and Lyle to simply enjoy each others company while they eat their meals.
"We put our phone and iPad away (except to take this photo) and sit and talk to each other about our days, things we want to do, etc," Paulun wrote. "I'm teaching him proper table manners and that it's rude to sit on your phone on a date with your mom or with anyone else."
Paulun's Facebook post about her dinner date with Lyle has received over 2.7 million "likes," and has been shared almost 500,000 times.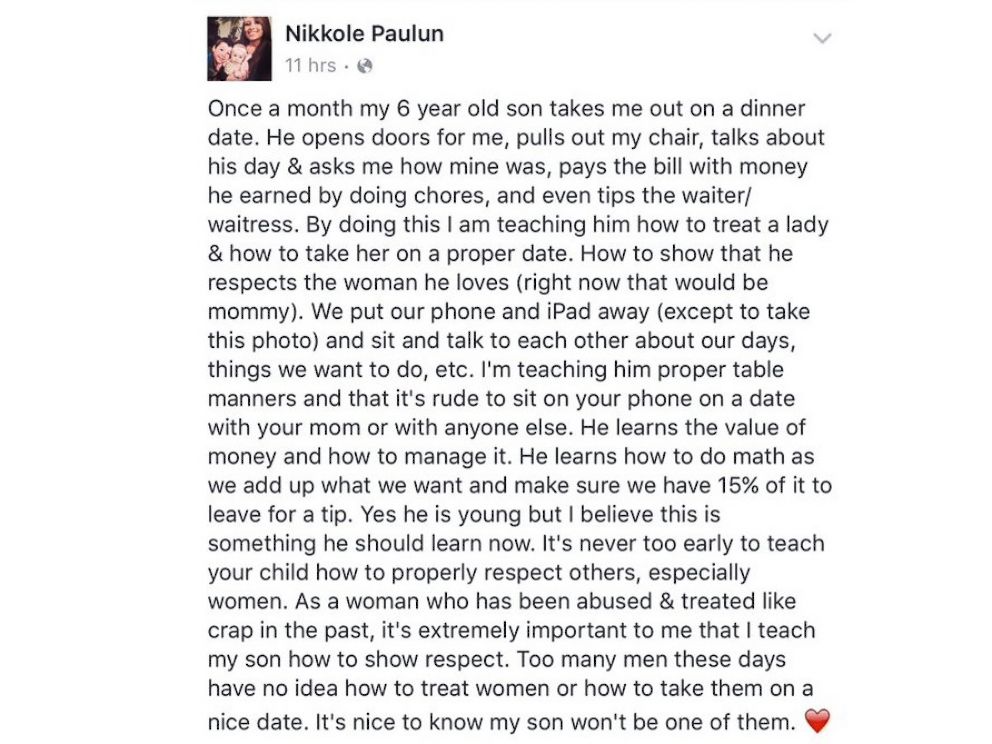 Paulun told ABC News that she came up with the idea for the mother-son dinner dates for her and Lyle in order to start teaching her son the importance of treating women with respect at an early age.
"The reason I started the dinner dates was [because of] the fact that I had been treated poorly in the past," Paulun said. "I see so many girls I know get treated badly, and I wanted to make sure my son didn't grow up to be like that. I suggested we start doing mommy-son dates and he loved the idea, and still does."
Paulun revealed that she and Lyle have been going on these dinner dates for four months now, and she believes her intended lessons of respect and good manners are "working well."
"It's a special day every month for him to feel like a big guy and get to spend extra time with mom," Paulun said. "It's definitely made us closer."
Paulun also noted that Lyle uses the manners he's learned from his dinner dates when he interacts with other people, including his classmates and teachers at school.
"I have seen him use his politeness everywhere," said Paulun. "He will ask people who come over questions about their day or their life. It's so cute."